Resurrection Blues
Arthur Miller
Old Vic
(2006)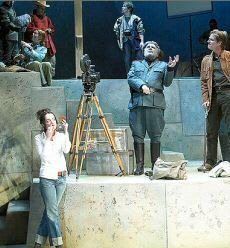 Arthur Miller's final play, written when he was close to 90 years old, has provided Kevin Spacey with the opportunity to bring together an iconic director best known for his film work and half-a-dozen stars, almost any one of whom would prove a serious audience draw, primarily for their own film work.
Miller will live on in history as the writer of some of the finest plays of the 20th century including Death of a Salesman and The Crucible. In his home country, he went through a long fallow period when he was better known as the husband of Marilyn Monroe than a playwright whose work would be produced on Broadway.
81 year-old director, Robert Altman has much in common with his writer, as a feisty and politically controversial veteran better appreciated outside his home country. This is an auspicious week for him, as together with his London stage debut, the director of such iconic films as MASH and Short Cuts receives an Oscar for lifetime achievement.
Resurrection Blues is a rather strange comedy that has something of the feel of a work-in-progress where the playwright had brainstormed a number of plot lines around an initial theme but not honed them all to perfection.
This two-hour parable is set in an unnamed South American banana republic that, judging by the costumes, may not be too far from Peru. The set, designed by multiple Tony winner Robin Wagner, is a combination of concrete bunker and Inca or Aztec ruin with a hazy mountain overlooking everything.
Felix, the country's president, is played by veteran actor Maximilian Schell, at times almost like the star of a Mel Brooks movie. He is losing his grip in the face of an age-old revolutionary struggle and has reached the last chance saloon where only some political masterstroke can save him. The solution that he comes up with is the showcase crucifixion of a revolutionary leader whose name changes as often as the weather.
In any event, this might be a fitting end to the life of a man who might just be the Messiah on a return trip. The difference 2000 years on is that the President can now improve the country's finances by selling the film rights to an American advertising company that specialises in products for bodily rejuvenation and repair.
So far so good.
The President's project is riven with problems, the first of which is his pretty niece Jeanine, played by Neve Campbell, star of the Scream movies. She is a disciple and possibly lover of the new Messiah and would happily give her life for him. She has almost done so and is now confined to a wheelchair with a broken back, but has lost none of her revolutionary zeal.
James Fox plays her father, Henri, a disappointed man who was once a successful industrialist but is now recast as the President's conscience. He is a philosopher who puts forward the proposition that the Messiah does not exist but is merely what each person needs to believe in for their own ends.
That is certainly the case with excellent Irish actor Peter McDonald's Stanley. This would-be Judas happily admits that he has followed every fad and religion that has crossed his path but his belief in the latest one is still touching. This is never more so than when his eyes light up as the sky does with the blinding aura that this contemporary Jesus regularly emits.
The party is completed when the American film crew arrive led by Matthew Modine's Skip. He is a one-dimensional producer whose only interest is in the money that this project can bring. Loss of life and human hardship are nothing to him when set against the potential sacrifice of a buck, if he loses his exclusivity to CNN.
His directorial colleague Emily Shapiro, played with good humour by Jane Adams, is his polar opposite. She literally cannot face the crucifixion and will seemingly do anything to save a man's life, including sleeping with an unattractive, elderly but impotent President. This seems like a wonderfully selfless act but strangely, having found that her efforts were unnecessary since the Messiah strolled out of jail through a wall, she inexplicably falls for the tubby tyrant.
Resurrection Blues is primarily to be commended for its writer's political fervour with attacks on tinpot dictators and American colonialism and globalisation. It is what Graham Greene would have described as an entertainment and will undoubtedly sell well through its short run, packed as it is with stars to die for.
Visit our sponsor 1st 4 London Theatre to book tickets for Resurrection Blues.
Reviewer: Philip Fisher