Reunion
John Caine
Polpo Productions in association with Jermyn Street Theatre
Jermyn Street Theatre
–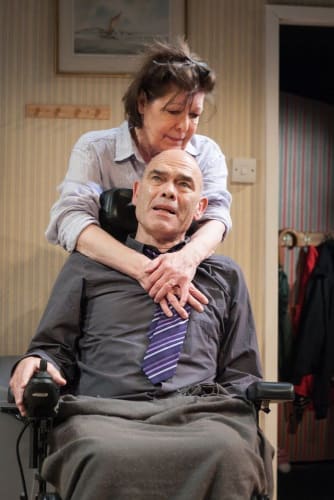 "You think I don't know how precious life is? I used to have one" That's how Raymond Dean feels when his Catholic wife chides him for wanting to end it. Stuck in a motorised wheel-chair with motor neurone disease and not able even to raise a glass to his lips so that he has to drink through a straw he feels he has had enough and he wants her help.
The second play within a week in the West End about assisted suicide, this is very different from An Instinct for Kindness, but it does emphasise just how important this issue is becoming in a society with an ageing population. Many of whom may live well past the biblical three score and ten. Advances in medicine may keep them alive but not in their estimation really living, especially when faced with incapacitating terminal illness.
The play at Trafalgar Studios is a very personal story, based on the actor's own experience. John Caine's play at Jermyn Street is, as he emphasises, fiction, but no less true for that. Raymond Dean is a lawyer, well aware of the current situation in law but his wife Antonia is not concerned with any temporal legality, she has been brought up to think self-killing, or assisting it, is mortal sin.
This play therefore is less about the barriers placed in the way of the would-be suicide but more concerned with the relationship between Raymond and his wife and the dilemma with which Antonia is faced. It is a very honest picture of the situation when an ongoing illness can leave the sick person feeling ignored and isolated as even close friends and family get on with their own lives and through the device of going through a box of accumulated bric a brac allows the couple to look back on their own relationship.
Designer Nicolai Hart-Hansen provides a very detailed kitchen setting which emphasises the ordinariness in which Raymond's clever navigation of his motorised chair becomes a metaphor for his clear-headedness in these awkward circumstances.
Peter Guinness both vocally and physically captures the exhaustion of this man coping with his condition but at the same times presents his determination finding energy and humour when it fits his feelings. As Angela, Roberta Taylor hides the turmoil of her emotions behind an efficient and cheerful front. As they recall past memories (among them a bonk in a phone box) or dig up old infidelities that still rancour to they present a very real-life couple, a pair whom it would be very nice to known.
Changes of mood and emphasis are easily negotiated in Anthony Biggs's fluid, perfectly-cast production. It may be dialogue rather than action but the drama is in the situation and, though Raymond's incapacities are not emphasised, his wheel-chair immobility provides a constant reminder, a physical image that is much more than a subtext.
Reviewer: Howard Loxton