Rhinoceros
Eugene Ionesco, adapted by Martin Mooney
Kabosh Theatre Company
The rehearsal space of the Lyric Theatre, Hammersmith
(2005)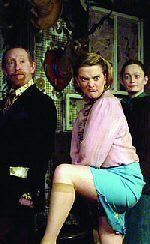 Eugene Ionesco was the master of the Theatre of the Absurd and he has found good partners in the Belfast-based Kabosh Theatre Company.
Their total approach to the play is demonstrated by the theatre that they have constructed within the rehearsal space at the Lyric Theatre, Hammersmith. On the inside, it consists of a gigantic living-room occupied by the four actors who play numerous parts; and also their not terribly comfortable audience.
A large shack, surely imported as an installation from a modern art gallery by designer Diego Pitarch is decorated in a weird and wonderful mix of wallpapers of every type, ageing pictures both photographic and painted, and animal head trophies.
This level of eccentricity is mirrored by the four cast members who for an hour, take us through the nonsensical happenings of a town in France, playing all of the residents with great skill.
Rhinoceros, which was written in 1958, starts as a rather quaint look at the rather strange inhabitants of an ordinary town. They like nothing more than bickering or showing off, whether in the street, the offices or people's homes.
However, as with the start of Hitler's totalitarian state in Germany and the take-over by Nazis, first one rhinoceros is seen and then in no time, everybody is enticed into a storming, green, horned existence.
The major transformation happens during a ten minute period of complete darkness that pleasingly did not send any audience member mad on the press night.
By the time that light returns, everybody has gone across with the exception of Sean Duggan's Berenger and Jo Anne Donnelly's Daisy. Eventually, even the lady was for turning, leaving her lover bereft as a lone figure of resistance rather like Winston Smith in Orwell's 1984.
The acting is universally good with the most memorable characters being Sonya Kelly's glaring-eyed, spinsterish Botard and a wacky logician played by Karl O'Neill, while Karl Wallace's direction is imaginative and very focused.
This version of Rhinoceros is constantly funny and surprising. It also has a deeper message that builds up nicely to a shocking climax.
This is a most unusual evening's Theatre with its combination of artistic experimentation and theatrical professionalism. It is well worth a visit if only because one is unlikely to experience its like again.
Reviewer: Philip Fisher