Rice
Michele Lee
Actors Touring Company and Orange Tree Theatre, in association with Theatre Royal Plymouth
York Theatre Royal
–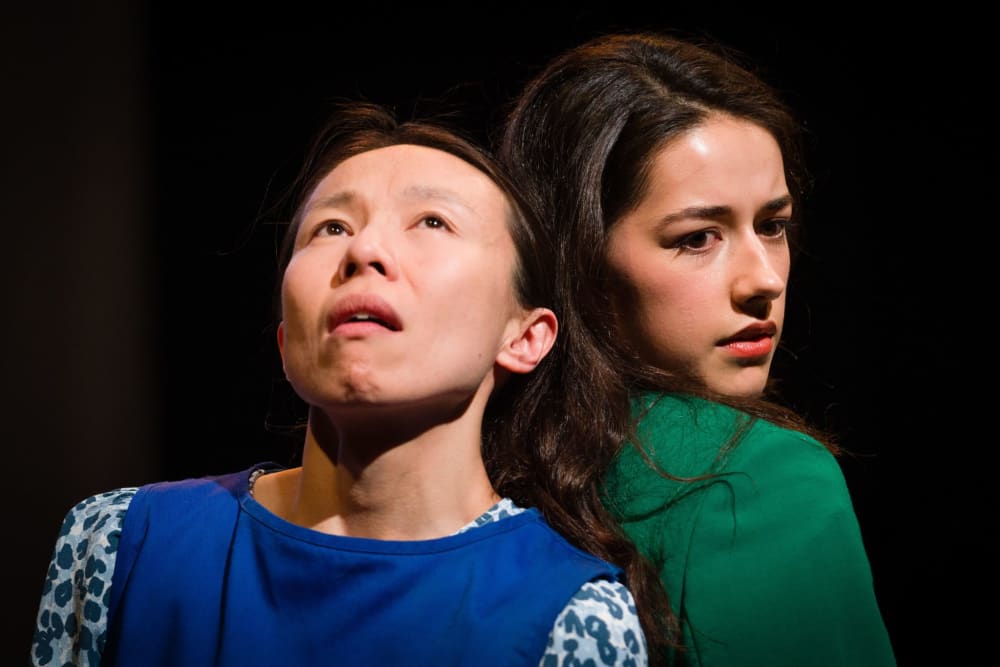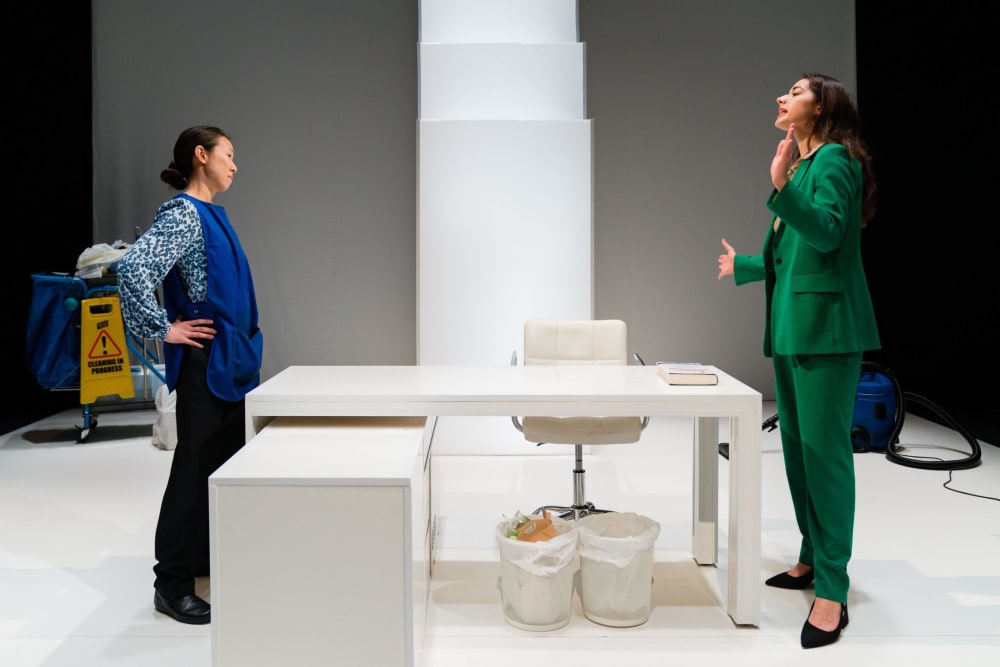 This UK première tour of a lauded play from Asian-Australian writer Michele Lee comes off the back of a successful run at the Orange Tree Theatre. It depicts Nisha, a young second-generation Indian executive at a powerful Australian rice company, and Yvette, the Chinese cleaner who services the building in which Nisha works. We first meet them as they're locked in a staring contest over who is going to clear the food detritus away from Nisha's desk: Yvette sees it as beyond her remit, while Nisha wants to keep her bin for paper and staples only.
As the story unfolds, we see both women—and Nisha in particular—struggling to keep their worlds orderly in the face of unpredictability and unwelcome interventions, mostly from the male characters who surround them.
This is a two-hander, but the actors (Anya Jaya-Murphy and Angela Yeoh) also incarnate a range of these secondary characters. Both Jaya-Murphy and Yeoh are chameleonic in their physicality and vocal deliveries, to the extent that their own speaking voices at during the post-show announcements came as something of a surprise.
However, I couldn't help but feel as though these additional characters lent the play a disparate and skittish feel, with something of a lack of clarity about where its heart really lies. The relationship between Nisha and Yvette felt too pat: we didn't really see it grow from that stand-offish opening into the intimacy that is assumed later. And in the latter half of the play, as more and more events and characters get stuffed in around the edges, the story becomes almost exclusively Nisha's for a while, making it feel uneven and leaving me unsure who or what was really in focus here.
Perhaps the fact that they are coming to the end of a long tour is partly to blame for the lack of sparkle on the night I saw it, but elements of the design and direction seemed slightly swamped in the large main house of the Theatre Royal. I'm a great fan of Matthew Xia's direction (for instance having really admired Wish List, which bears some faint structural and plot resemblances to this). But here I'd have appreciated either a clearer setting-up of the focus on Nisha, or a more even-handed dealing with her and Yvette.
Hyemi Shin's design—tourable, blank-canvas white with a few tricks up its sleeve—might also have done more to establish tone, and again felt a little isolated in the proscenium-arch setting at York. Lex Kosanke's sound design does some great atmospheric work, but relies jarringly on the blasts of high-volume inter-scene noise that are in vogue. I've nothing against them as such, when they're there for a purpose, but here they felt unsupportive of the onstage mood.
Overall, both Jaya-Murphy and Yeoh are quality performers whom I'll look out for in future. The writing touches on a number of fresh and engaging themes and stories. But the overall impression is one of surface-level engagement, without the depth of exploration merited by the subject matter. The play operates with a televisual restlessness of scene and character that left me longing for more time with the two women at its centre.
Reviewer: Mark Smith