Wish List
Katherine Soper
Royal Exchange Theatre and The Royal Court
Royal Exchange Studio, Manchester
–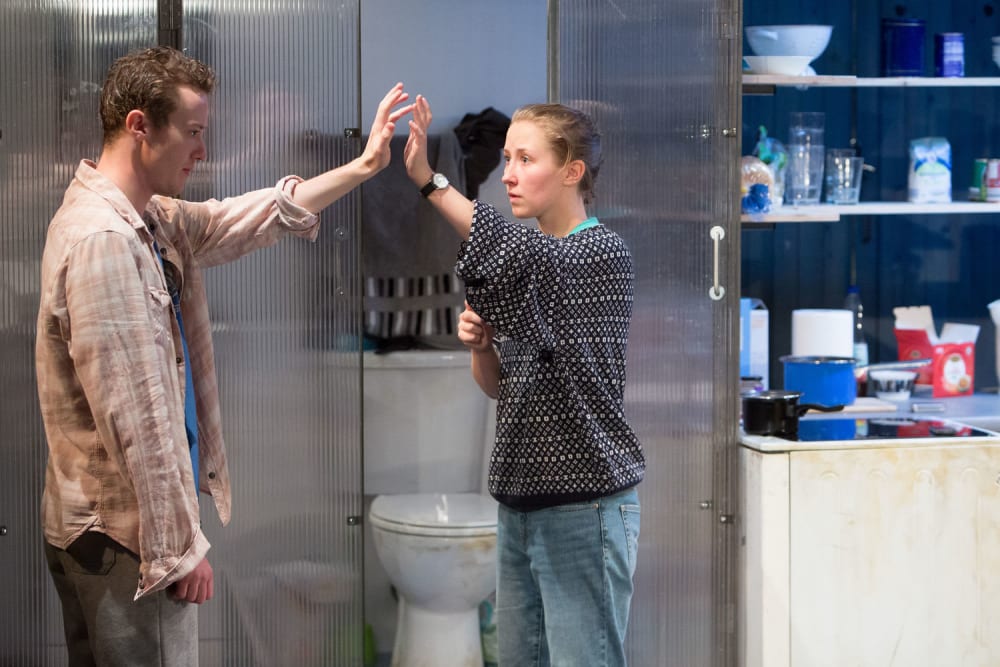 The winning entry in last year's Bruntwood Prize, the biggest playwriting competition in the UK, Wish List takes a hard look at the unforgiving and unrelenting world of zero hours contracts and fit-for-work assessments.
Tamsin (Erin Doherty) is a young woman faced with the prospect of caring for her brother, Dean, while attempting to make ends meet at a series of short-term jobs. We see her as she starts a new one of these: packing boxes of goods at the 'fulfilment centre' for an online delivery company which we assume to be Amazon.
While Tamsin learns the ropes and makes a friend in the shape of fellow packer and picker Luke (Shaquille Ali-Yebuah), Dean is housebound and unable to approach other people, let alone employment. He is frustrated by a number of behaviours reminiscent of obsessive compulsive disorder (though, as with Tamsin's employers, the condition is never named).
Soper's text carries off the remarkable and subtle achievement of presenting a series of observations about situations of everyday hardship and oppression that we know occur in contemporary Britain, while making the insights seem urgent and fresh. The situations are fictional, but they have such a ring of truth and inexorability that they bear an awful resonance.
As Tamsin and Dean struggle to get their situation understood through the red tape and presumption of guilt of the Work Capability Assessment, moments of hope are mitigated by the general sense that the world won't listen, and that the siblings' situation would take a herculean effort to change.
All of which is not to suggest this is an unremittingly dour night at the theatre. The script is peppered with humour and humanity, and the actors perform with assurance and charisma.
Erin Doherty in particular has a plausibility and a fizzing but grounded energy which carries her with apparent ease through what is in fact a demanding central role. She's called on to bring forth real reserves of steel, strength and emotion, as well as moments of humour and warmth. As in last year's otherwise patchy Headlong production of The Glass Menagerie, Doherty stands out.
Joseph Quinn presents a compelling and believable portrait of her brother, while Shaquille Ali-Yebuah offers a warm presence and lightness of touch. Aleksandar Mikic completes the cast as the 'Lead' at the warehouse: he's the unsmiling face of the company, imposing penalties and strictures when the workers fail to meet targets.
These targets are cleverly and simply visualised in Ana Inés Jabares-Pita's excellent design, with screens above the workers drawing the eye as we will Tamsin to improve on her numbers—an example of the insidious nature of neoliberal capitalism's cunning gamification.
The design, and Matthew Xia's production as a whole, is assured, dynamic and stylish while far from showy. Ciarán Cunningham's lighting design contains a few good 'tricks', and otherwise supports the production well. Special mention must go to Giles Thomas's sound design, too, which does great work evoking the worlds of the play, both external and internal.
There are one or two less plausible moments in the writing: out of the blue, the Lead shows a moment of softness towards Tamsin as well as launching into a detailed explanation of some of the politics at play. But overall, this is an all-too-believable look at the hardships faced by carers, people in precarious employment, and those facing debilitating bouts of anxiety and behavioural disorders.
Empathy is in short supply in the world depicted in Wish List, but Soper's debut work does not want for it, and asks that its audiences, too, take a feeling stance towards these human stories.
Reviewer: Mark Smith