Richard III
William Shakespeare
Almeida Theatre
–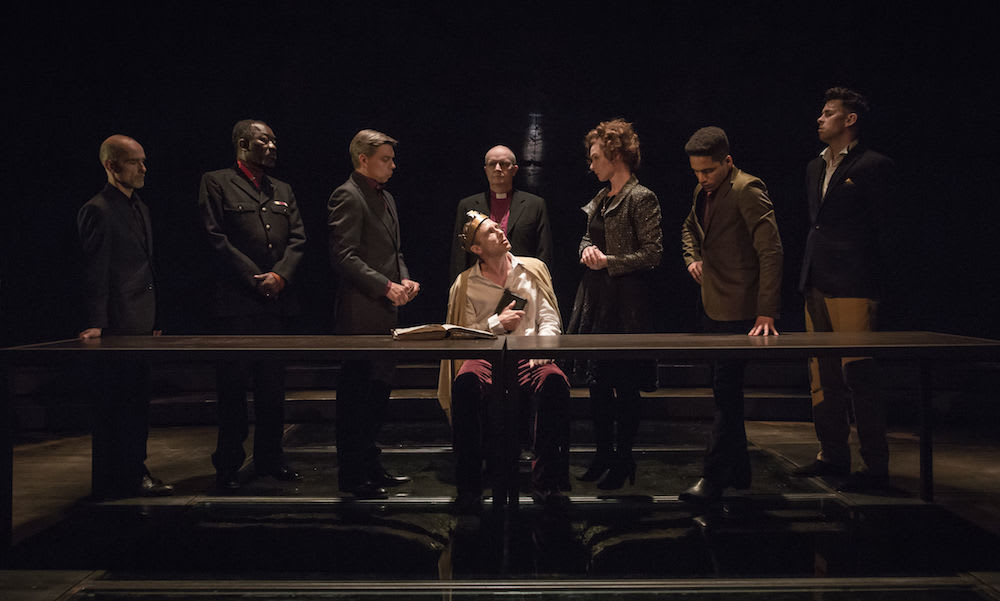 Rupert Goold is frequently at his best when directing Shakespeare. His record in this field has been helped by the ability to draw on actors of the highest quality and reputation.
Ralph Fiennes and Vanessa Redgrave come into that category, while the support throughout this cast is exceptional.
As so often in these ventures, Goold has set events in the present day. He has framed the production through the medium of workers digging up a Leicester car park to discover a skeleton with curved spine, identified by scientists as that of the much-maligned last member of the Yorkist line.
This also provides Hildegard Bechtler's design concept with a bare and barely-lit stage space surrounding the glass-covered pit/grave, which gets plenty of use through the evening.
From his opening line, Fiennes hits the right, consistent note, oozing a desire to climb to the top of the ladder and making it clear that he will allow nothing and nobody to stand in his way.
This determinedly immoral attitude is conveyed in clear, clipped tones that give one confidence that the Duke of Gloucester will achieve his goal.
His methods are simple. Kill, kill, kill and, for variety, charm and woo. Never does the actor's concentration lapse in a memorable performance that might well give viewers the kind of bad dreams that Richard's own conscience eventually generates on the eve of the fateful Battle of Bosworth.
Before that, his way is smoothed by Finbar Lynch's equally disreputable Buckingham, a calm fixer whose one tactical error, trusting a man whose lack of integrity is a watchword, proves a bad error.
The strongest opposition comes from a trio of courageous ladies, all worthy and brave. Miss Redgrave's ghostly Margaret, Susan Engel as the Duchess of York and a powerful Aislín McGuckin playing Elizabeth all railing and slowly wearing down the self-appointed monarch.
In supporting roles, Daniel Cerqueira as murderous Catesby and Mark Hadfield in a series of roles are a comically sinister duo always giving good value.
Rupert Goold has chosen a calmer and more intimate approach than the fireworks that have characterised most of his Shakespearean presentations to date but should have another experience winner on his hands for a number of reasons. In particular, he makes the most of the comic moments to lighten the bloody tragedy, ensures that the verse speaking is clear and ensures that a 3¼-hour evening is unhurried but never drags.
Tickets will be at a premium but those lucky enough to get in will enjoy a striking production and potentially award-winning performance from Ralph Fiennes who rises to the occasion as to the manner born.
However, Richard III will be available on the big screen as the debut production of Almeida Theatre Live in hundreds of cinemas around the country and the world on Thursday 21 July with international screenings throughout August.
Reviewer: Philip Fisher