Richard III
William Shakespeare
Shakespeare's Globe
–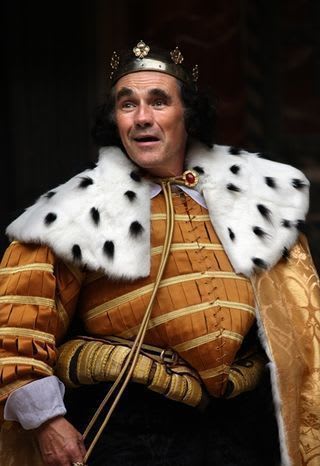 The return of Mark Rylance to his home of so many years for a double bill of Richard III and Twelfth Night was always going to raise expectations. These Tim Carroll productions are also transferring to the Apollo on Shaftesbury Avenue should tickets at the Globe prove hard to come by, as seems inevitable.
The trappings here are determinedly old school, featuring lavish period costumes and ancient music played primarily on horns and drums. In addition, the stage has been pruned back to its original dimensions, the actors remaining within its bounds rather than using walkways or additional aprons to engage more intimately with the audience.
All eyes are inevitably on the Globe's former, originating artistic director, on this occasion looking more like a rather cuddly if highly vindictive wasp than the traditional bottled spider, in a costume of gold and black.
This is the maddest Richard that most of us will ever see. From "The Winter of Our Discontent" onwards, it is clear that something is wrong in the head as well as about the body and some may wonder whether the King in (increasingly impatient) waiting might be a touch too fond of the ceremonial wine.
More likely, he is mentally unstable and one manifestation, over and above an evil desire to get his way and terrifying mood swings, is a slight slurring of his words throughout the 2¾ hours.
The Duke of Gloucester's determination to make up for divine retribution against his body stops at nothing, whether in finding brides or losing siblings and other close relations where they might block his path to the crown, eventually Richard even extends his murderous largesse to henchmen such as Roger Lloyd Pack's loyal Buckingham.
The only people capable of standing up to this personification of evil, who might just beat a long list of murder indictments by claiming diminished responsibility, are his womenfolk.
In this version, all of the regal females are played by men with Samuel Barnett particularly memorable as his sister-in-law, Queen Elizabeth, while James Garnon has an interesting evening doubling the ancient Duchess of York and usefully upcoming Richmond, the future Henry VII, each of whom detests the King to an equal degree.
The mad reading of the leading role is interesting if not entirely convincing and, despite Mark Rylance's undoubted commitment, is unlikely to live as long in the memory as the likes of Kevin Spacey or Sir Ian McKellen choosing from more recent, unforgettable Richards.
Reviewer: Philip Fisher