Richard III
William Shakespeare
Lunchbox Theatrical Productions
Shakespeare's Rose Theatre, York
–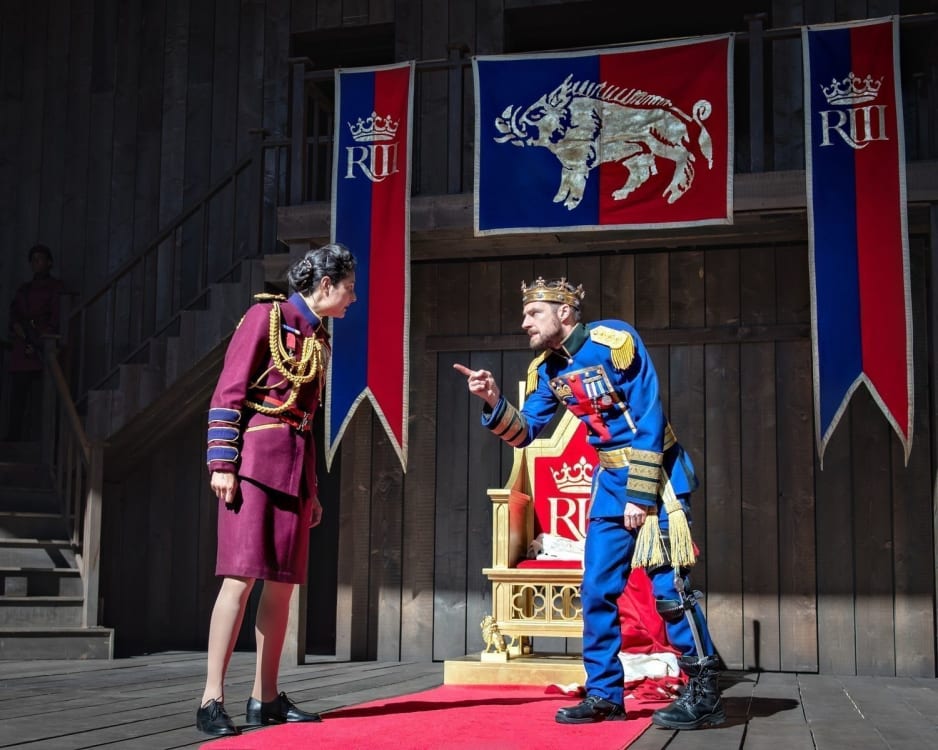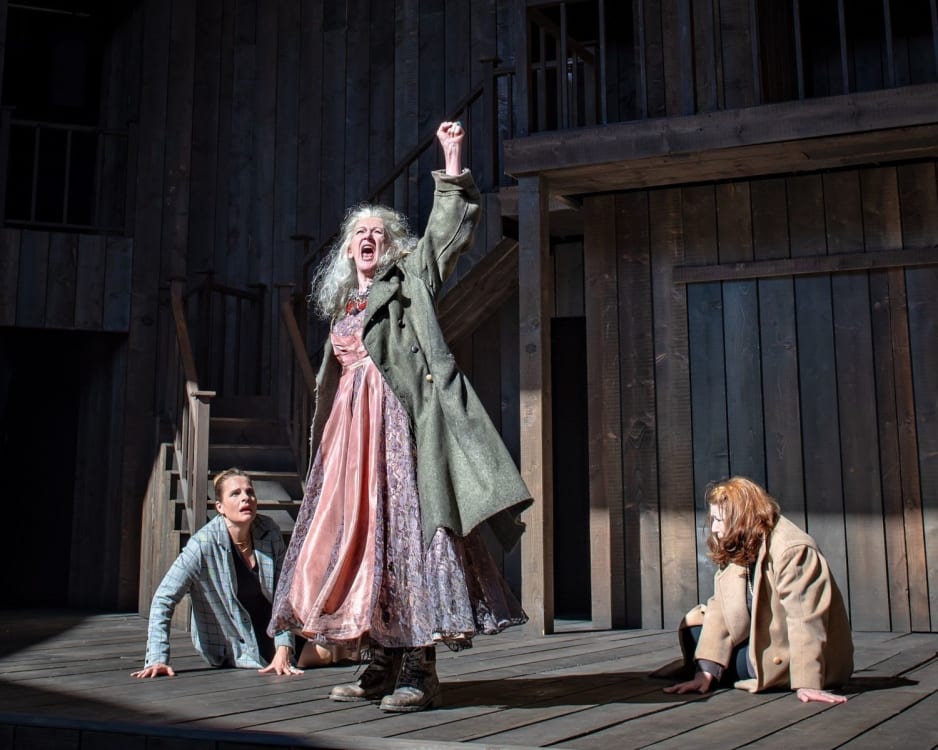 Rounding out the "Shakespeare's Rose" season, which runs in a purpose-built open-air venue in central York through to September, Richard III is again a well-acted, largely conventional reading of one of the Bard's best-known works.
It's a bewilderingly detailed play at times, with a procession of bishops, earls and lords requiring multiple doubling and calling for close attention to historical lineages and allegiances to make complete sense. At the heart, though, is an easily grasped tale of one man's ruthlessly duplicitous ambition: one of the most compelling anti-heroes ever crafted.
Dyfan Dwyfor sets about the title role at a gallop, racing through the famous opening soliloquy, pausing only for a local cheer at the phrase "sun of York". This initial scene sees Richard itching to get on with it, pacing relentlessly on his calipered leg as he belts through the verse.
Dwyfor is energised, versatile and quicksilver, with a controlled mania to his performance which enables him to wring black humour from scenes such as the (similarly pacey) wooing of Lady Anne, and to revel in sudden shifts, the staunching of tears turning easily to a gleeful grin. We witness joy at his own invention flashing in an instant to something more chilling and dangerous.
As Anne, Alexandra Dowling also gives a fine performance, pushing her voice down to lower, grief-filled ranges when compared to the Juliet she presents in this season.
Like in Romeo and Juliet, Shanaya Rafaat plays a classically male role, here taking on the part of Richard's key ally. Her Buckingham shows a calculated, watchful deference when needed, and Rafaat delivers text beautifully, clearly punctuating her speech with a series of gestures recognisable from the slick politician's repertoire.
Also standing out, in a smaller role, is Alexander Vlahos as an FT-reading, Starbucks-sipping Catesby. He makes a plausible politico, suavely sounding out Hastings's (Robert Gwilym) loyalties but becoming ever more unnerved as Richard starts to lose his grip.
Lee Newby's set and Sue Willmington's costumes are, like the production as a whole, modernised in a mostly familiar way: Richard moves from black-clad "bunch-backed toad" to ceremonial military garb and then into a more functional khaki. Prisoners are clad in orange jumpsuits and chillingly dispatched with bullets to the head.
One of this production's most daring inventions is the opening, which sees the whole ensemble amassed in a move which undermines possible expectations for a grim and weighty political drama. It's a bold move, and there are later dashes of such subversion such as Richard's own sudden, sneering (and horseless) end, but for the most part I longed for a little more such imagination.
Director Lindsay Posner's programme note links the play explicitly to this "era of 'fake news'", with "[i]nfamous figures in recent history" using "carefully crafted language and people-pleasing policy to provide the masses with a false sense of security." Given the hearty, hollow laughter resounding round the Rose, I wasn't the only one thinking of Chequers and the day's extraordinary double Ministerial resignation as King Edward urged Rivers and Hastings, "Dissemble not your hatred; swear your love".
Despite such moments of chortling irony and some dynamic stage images, it is a long evening, running to over three hours including interval. This enables effective use of the stage lighting as the sun fades over the scaffolded theatre space and the ghostly apparitions and brief confusions of the battlefield make their appearance, but it also becomes wearying and did not quite keep me fully engaged.
It's a largely integral version of the text (with just a few notable excisions); like the other productions in this season, it's clearly designed to give you the experience of having seen a Shakespeare. A Midsummer Night's Dream is fun, Romeo and Juliet is probably my pick of the four, but this too has its positives, and at least as a revision tool or site-based curio it is worth a visit.
Reviewer: Mark Smith