A Right Royal Farce
Toby Young and Lloyd Evans
King's Head
(2006)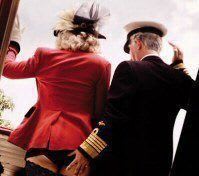 Following a short burst of the national anthem, A Right Royal Farce opens with the sombre announcement of the passing of Her Majesty Queen Elizabeth II.
For the next 1¾ hours, the Spectator's theatre critics pull out every old Royal joke in an all too often vain attempt to amuse and entertain their audience.
Part of the problem may be that these two representatives of an establishment journal do not have the vein of Republican cruelty required to rip into the uninspiring family left behind by the departure of our own dear Queen.
The ingredients are certainly all there. There is a wimpish new king, the randy widower after his haughty second daughter-in-law, two far from grieving grandsons and to add sleaze and glamour respectively, the first wife's ex-army lover and a bit of Australian fluff who might have come straight from Home and Away.
The thread that holds things together is a plot hatched by Prince Harry to enable him to advance from third in line to the throne itself. He plans to do this by persuading his father to abdicate the throne out of love for his gruff-voiced wife, having first sectioned his first-born, who has apparently seen a reincarnation of his late, lamented mother.
This is almost achieved courtesy of a series of false beards, wigs and erections, not to mention an archetypically Teutonic psychiatrist, all of which are designed to crack up the audience and keep the plot rolling forwards.
The problem is that this play feels as if it has been hurriedly put together with little thought going into the quality of the jokes. Weak direction and a lack of rehearsal mean that many of the better jokes miss completely, while far too many others lack originality.
The cast has been put together for its collective ability to imitate the royals and features Sara Crowe as the star-struck Camilla, Andrew C Wadsworth as her husband. However, giving the best performances are William Hoyland as geriatric, sex-fiend Philip and Katie Beard playing Harry's Australian pawn who may not become Queen but checkmates her dastardly lover with her final move of the evening.
Reviewer: Philip Fisher