Rigoletto
Giuseppe Verdi
Welsh National Opera
New Theatre, Oxford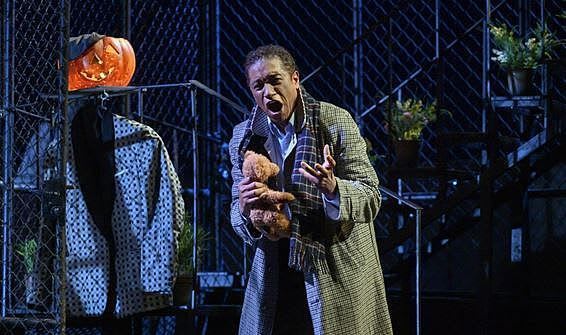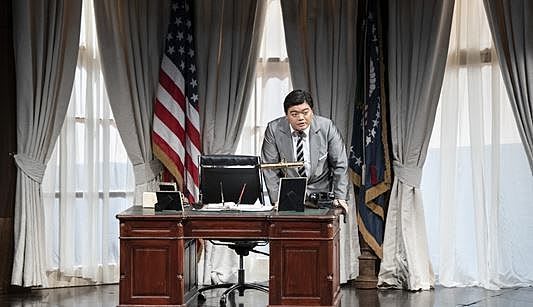 When the directors of Welsh National Opera planned this Rigoletto revival for their autumn season, they would have been aware of contemporary inferences some would draw from the production, which set the piece about immorality by great ones in the White House of the John Kennedy era.
There would have been no reason to remark, however, on the fact that the Royal censors of Verdi's time at first banned the work, because of its depiction of a duke involved with an underage girl. Plus ça change, but at least we don't have the Lord Chancellor's office to license plays any more.
In fact, the setting seems far too specific for what is a timeless and universal story of power and corruption, although locating the piece in the modern corporate or political world works well. It opens with a Hallowe'en party with drunken male revellers, female victims shovelled in and out like canapés and a grinning pumpkin face that will later taunt the desolate Rigoletto.
The American bass Mark S Doss, previously seen as Scarpia in WNO's Tosca, plays the lead, Swigalotto as he might be termed as, either to preserve his voice or as the jester seeking to control his emotions, he repeatedly sipped water from a hip-flask.
Doss is nevertheless in great form, especially in the second act, from the desperation of a father seeking his daughter to a towering figure of fury, seeming to lose all physical disability, his voice ringing with the passion, authority and the calculation of a man ready to commit regicide.
The Duke's duets with daughter Gilda, sung by Haegee Lee, and the final quartet with her, David Junghoon Kim as the Duke and Emma Carrington's Maddalena, among the finest in the repertoire, pulsated with the individual emotions of the characters, and projected clearly over the orchestra sympathetically conducted by Alexander Joel.
Kim was impressive in the more introspective section where the Duke seems ready to do the decent thing by Gilda. The voice has a distinctive quality, even if occasionally sounding a little forced, but little nervous gestures appeared at odds with the character of this over-confident aristocrat with a sense of entitlement.
I felt something similar in the performance of fellow Korean Lee, a young singer with a wonderful and precise vocal technique and sparkling top notes, but lacking in emotional impact.
Reviewer: Colin Davison