Ring Round the Moon
Jean Anouilh, adapted by Christopher Fry
Playhouse Theatre
(2008)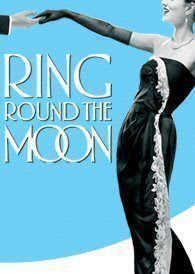 Jean Anouilh's 50-year-old comedy is a distinctly strange play, peopled by a cast of grotesques. Even so, it gives three actors in central roles the chance to show off their talent.
Ring Around the Moon is subtitled A Charade with Music and has apparent roots in commedia dell' arte, in which actors improvise around themes.
It was first seen in this country in 1950, directed by an enthusiastic Peter Brook, starring Paul Scofield in the wonderful duel role of Hugo and Frederic, charming a very young Claire Bloom twice over.
The contrasting identical twins are now played by Jude Law-lookalike, screen star J. J. Feild who has a great time and ensures that whenever he is on stage, we do too.
Thanks to his efforts, and those of director, Sean Mathias, the two handsome men are absolutely distinct, so there is never a doubt as to which of them is on stage at any time.
With one actor playing two parts, Ring Round the Moon has the feel of a three-act French farce that is building to a truly manic final act in which he chases his own tail, probably without trousers and with barely-dressed women fore and aft. In fact, if anything, the play calms down before the inevitable happy ending.
The action takes place in a winter garden, outside the ballroom of a luxurious chateau presided over by Madame Desmortes (originally Desmermortes). In Colin Richmond's design, this becomes a large, empty space looking rather like a cruise ship's dance hall. There, beautifully-accoutred, rich folk play at love and despair, often rather half-heartedly.
To add to the fun, wicked brother Hugo has imported a poor but very beautiful blonde beauty, Fiona Button's Isabelle, to serve the purposes of a plot that, to be honest, is rather too confusing to try and relay in a relatively short review. However, she comes with serious baggage, in the form of her mother, first seen in what looks like camouflage.
Belinda Lang has a whale of a time playing this enervating power talker, hamming it up for the audience's benefit; as do Joanna David, John Ramm and Leigh Lawson playing a trio of Chekhovian misfits.
The main thrust of the plot is connected to the two brothers and the women who are after them. "Good, kind, sensible and intelligent" Frederic has loser written all over his face and is only loved by Diana (Elisabeth Dermot Walsh) for his money and likeness to his twin. Meanwhile Hugo, his polar opposite, plays cruel games at his brother's expense for no good reason.
This merry-go-round of love, or perhaps lack of it, is at least spiced up by young Isabelle, the sweetest of innocents given great spirit and considerable pathos by Miss Button.
She promotes an anti-capitalist theme in debate and then a kind of "poor power" polemic that accompanies a very satisfying and extremely swift disposition of wealth.
Angela Thorne as the old chatelaine, a role created in London by Margaret Rutherford, is confined to a bathchair, uttering well-timed, bitter Wildean barbs. Suddenly, in the final act, she is transformed into a twinkling eyed fairy godmother matchmaking to ensure the happiest of ever afters.
Unsurprisingly, she does not come up with the best and most profound of the play's aphorisms, "money is only worth something to the poor". This precedes a female fight between symbols of wealth and poverty that appears to have been written into the script purely to excite male passions.
The 2½ hour-long play leads to a stream of pairings-off at the end, almost to the extent that one wonders why Peter Eyre's impeccable butler Joshua does not marry either the lady of the house or her hideous companion, to complete the set.
Ring Round the Moon has been updated to set it at the time when it was written sixty years ago but still feels like something conceived in another age, which it was.
It is rather fun and features some good performances. Whether West End audiences will find the attraction of some familiar names and sporadic spurts of wit enough to keep the Playhouse full for long though, is by no means certain.
Visit our sponsor 1st 4 London Theatre to book tickets for Ring Round the Moon.
Reviewer: Philip Fisher