Rise Up!
Chris Jones
Methuen Drama
Released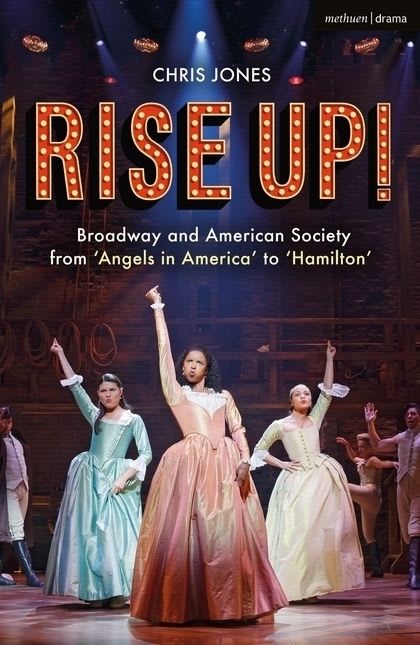 Although much of Broadway's cream eventually makes it across the Atlantic, there is still a great deal that we miss out on, in the same way that New Yorkers only ever get a sample of the West End's finest.
Rise Up!, which is subtitled "Broadway and American Society from 'Angels in America' to 'Hamilton'" is a perfect way to fill at least part of the knowledge gap.
It has been penned by Chris Jones, the Chicago Tribune's chief theatre critic since 2002 and a writer about stage matters for years before taking on that role.
Rather than reprint reviews, Jones has chosen to publish a series of themed essays about the ways in which theatre in the United States has become intrinsically linked with society. Throughout, he determinedly follows a line that starts and ends with the two plays referenced in the subtitle.
On the journey, readers are able to get a good feel for many of the most significant works that have graced the Big Apple from the late 1980s when Tony Kushner began to write his epic Angels in America, a play that broke every rule in the book, becoming a regularly revived runaway hit on both sides of the Atlantic.
You can gain a good flavour for what this book has to offer by reading no more than the introduction and first chapter. The latter brilliantly sets Angels in its political and social climate, going further by detailing the ways in which it changed the American theatre scene forever.
Stopping off periodically at productions commencing in 1993 and running through almost to date, Jones then writes cogently about game-changing plays and writers such as Rent and Jonathan Larson, King Hedley II and August Wilson and August Osage County and Tracy Letts.
In addition to the successes, Jones also takes us through works that were before or after their time such as Bloody, Bloody, Andrew Jackson and, in one case out of this world, the disastrous Spider-Man: Turn off the Dark, contrasting the latter with a far more profitable Julie Taymor venture, The Lion King.
While much of the underlying material may be familiar to readers, this writer always finds new angles and it is also fascinating to learn about the commercial side of theatre production, particularly the costs and revenues of the big musicals (can you believe that some of them have now grossed more than $1 billion worldwide?), along with the rise and scale of theatrical productions in Las Vegas.
The book builds to an epic final chapter paying homage to what the journalist (not to mention Barack and Michelle Obama) considers to be the best musical of his era and maybe ever, Lin Manuel Miranda's glorious Hamilton.
Sometimes, one can begin to believe that publishers have an inherent belief that theatre titles should be hard work, packed with complex theories and unintelligible language. Chris Jones is the exception who proves that rule, writing cogently and intelligently in a fashion that is easy to read and understand. In fact, this is a real page turner.
Reviewer: Philip Fisher