The Rivals
Richard Brinsley Sheridan
Theatre Royal Haymarket
(2010)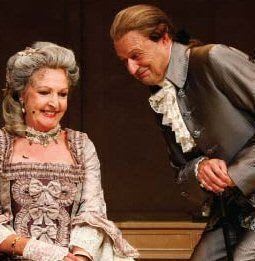 The heady combination of Richard Brinsley Sheridan, Sir Peter Hall and those stars of To the Manor Born, Penelope Keith and Peter Bowles, was always going to yield a popular hit.
This proves to be the case in a delightful revival of The Rivals, a play about hypocrisy and mistaken identity that always brings a smile to the face.
Appropriately, this production was first seen at the Theatre Royal in Bath, the city in which the events on stage take place, before moving to an equally regal playhouse on Haymarket.
The scene is nicely set by designer Simon Higlett, who invents a mix of Bath's Royal Crescent and a sample of its luxurious interiors to house the comedy.
Sheridan obviously had a jaundiced view of love and the efforts that people go to in order to find it. The Rivals is a continuous rollercoaster of the emotions until, after 2¾ hours, four couples finally pair off with every hope of future happiness.
The main cause of trouble is Captain Jack Absolute, a bit of a rake played by Tam Williams. He falls for Robyn Addison's frosty, disdainful Lydia Languish.
The 17-year-old beauty has two impediments, the desire to marry beneath herself and her aunt. The first forces young Absolute to reinvent himself as the swashbuckling Ensign Beverley, a commoner fit for a girl with a large inheritance but also a love of racy romantic novels.
Her aunt, Mrs Malaprop, was such a great literary invention that she remains in our language over 200 years on.
This is a dream role and one can imagine the alacrity with which Miss Keith must have leapt at the invitation. She proves to be perfectly cast, maintaining a notable innocence as she mangles the language to hilarious effect.
As Jack's old dad, Sir Anthony Absolute, Bowles proves a perfect foil, quietly entertaining on his own account playing a man constantly on the verge of frenzy, as his efforts to arrange an advantageous marriage for the boy are repeatedly thwarted.
The problems of one young couple are mirrored elsewhere. Their best friends, melancholy Faulkland (a particularly lugubrious Tony Gardner) and sorrowful Julia (Annabel Scholey) are equally bad at exchanging affections, while a couple of stage comedians, wealthy yokel Bob Acres (Keiron Self) and combative Irishman Sir Lucius O'Trigger (Gerard Murphy) also get into the mix, especially in a duel scene reminiscent of Twelfth Night.
The fun is stirred up by naughty maid Lucy, an expert at making money from young (and not so young) would-be lovers, and Jack's cockney man Fag, Carlyss Peer and Ian Conningham each offering fine cameos.
The Rivals is a great play and this entertaining new version should sell well, both thanks to a couple of star names and literary invention that is the mark of a good night out.
Playing until 26 February
Sheila Connor reviewed this production at Chichester

Reviewer: Philip Fisher