The Rivals
Richard Brinsley Sheridan
A Theatre Royal Bath production
Theatre Royal, Newcastle, and touring
(2006)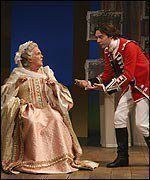 This Theatre Royal Bath production is being sold on the basis of the two big names in the cast, Stephanie Cole (Mrs Malaprop) and Edward Hardwicke (Sir Anthony Absolute, replacing George Baker who had to withdraw due to illness), but the real star of the production is undoubtedly Nicholas Boulton (Captain Jack Absolute). I have lost count of the number of productions of The Rivals I have seen over the years, the most recent being Compass Theatre's touring production at Durham's Gala Theatre, and good though most of them have been, I have not seen a Jack Absolutes to rival Boulton's.
An expressive face, an expressive voice and a body which reflected every change of mood, coupled with real stage presence, made his a fascinating performance which caught every nuance of the character and his emotions. Much of his work to date has been at Salisbury Playhouse, although he has also worked at the Almeida, the Gate and the RSC: on the basis of this performance, however, this man should go far!
Speaking of that elusive quality, stage presence, there is no doubt that Stephanie Cole also possesses it in spades. When, with her white make-up with the red cheeks and beauty spots and her billowing gown, she sweeps onto the stage like a galleon in full sail, our eyes cannot but watch her. Of course, Mrs Malaprop is a gift of a part for any actress of a certain age, but she does make it her own.
In a play in which is it is usually the women who take the spotlight - witness Anna Madeley, Carli Morris, Elisabeth Dermot-Walsh and Selina Cadell in Rachel Kavanaugh's Bristol Old Vic production of 2004 and on DVD - it is pleasing to report that in Jamie de Courcey we have a Faulkland in whom we can truly believe. It is difficult to convince an audience that anyone could be quite so pathetic as Sheridan makes him, but de Courcey manages it. Indeed, his character is written in his face and body language, and whenever Julia says something which makes him begin to mistrust again, we see it signalled in a change of bodily tension and a slight cloud across the face. The only truly unbelieveable thing - and this is Sheridan rather than the production or the actors - is how the eminently sensible Julia could ever fall for this man.
I yield to no one in my admiration for Edward Harwicke's television work - his was, I feel, the definitive Dr Watson - but I felt he rather underplayed Sir Anthony in places. I wanted something bigger in his rages: the contrast between Sir Anthony angry and Sir Anthony playful was, for me, a little too small. He caught the playful mood with its suggestiveness perfectly butI wanted more fire and power in the voice in his ire.
The Rivals is very much an ensemble piece and this cast did it full justice: Jasmine Hyde as a spirited Lydia, Kirsty Besterman long-suffering as Julia, Ian Midlane a genuinely nice but out of his depth Bob Acres, John O'Toole a coolly calculating Sir Lucius, Daisy Ashford an equally calculating Lucy, Martin Chamberlain an out of his depth Thomas and Matthew Cullum delightfully over the top in his pretentions as Jack's servant Fag.
It could, perhaps, have done with a bit of judicious cutting - at two and a half hours plus interval it was a little too long - but it is nonetheless an enjoyable evening of light comedy which still has something to say today: even though society may have changed, people haven't and we can still see Sheridan's characters all around us, ploughing the same furrow and making the same mistakes.
Reviewer: Peter Lathan