The Rivals
Richard Brinsley Sheridan
Compass Theatre Company
Theatre Royal, Winchester
(2004)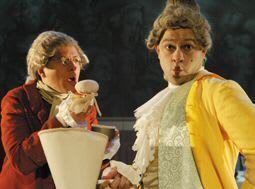 In May 1785 Winchester's new Theatre Royal opened its doors in Jewry Street with a production of Richard Brinsley Sheridan's latest work, The Rivals. Just 220 years later the same play is delighting audiences at the restored 'Royal' premises a few doors along the same street.
Neil Sissons' rumbustious 21st century version probably has much in common with its illustrious predecessor. For a start, the players are apt to hang on to their lines as though reluctant to part.
This is a pity. Not only does it impede patrons anxious to catch the 10.52 from another platform around the corner - it also interrupts the smooth progression of an otherwise enchanting performance by the Compass Company rightly regarded as specialists in this field.
Strange, too, because in Richard Stacey, as a gallant and generally upright Jack Absolute, and John Cormack, a burly, bustling Sir Lucius, the company has characters demonstrably capable of setting a cracking pace.
Not that we would expect pace from such as Danielle King who, after all, is a winsome if languorous Lydia Languish. Nor from Danny Nutt as a gregarious if neither timorous Bob Acres, nor even Robert Austin, preoccupied as he is with lengthy bouts of bucolic.
Least of all would we expect pace from Carol Macready as Mrs Malaprop. Yet it is within this generous bosom, heaving with misapplied if well intentioned grammatical form, that the trouble lies!
Because Malaprop's gems fall lingeringly from her lips to screams of laughter, that is no excuse for the entire cast to do the same. They haven't the lines to carry it off and merely succeed in emphasising how much better the old lady is at this sort of thing.
Or is it that Liam Doona's minimal settings give the players so much to do they are out of breath!
No matter, really, as the whole evening is most entertaining and guaranteed to lift the dullest soul.
The production is at Winchester until 15th May after which it tours.
Reviewer: Kevin Catchpole