Roadkill
Conceived by Cora Bissett, text by Stef Smith
Theatre Royal Stratford East in association with the Barbican
On a Bus and at a House somewhere in East London
(2011)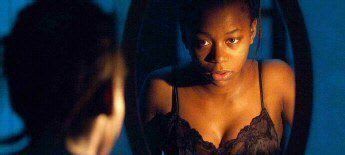 Roadkill is one of those productions that starts out on the Edinburgh Fringe and, unlike the vast majority, looks just as good filtered through the cold light of London.
It is something of a rarity as a site-specific, immersive play that is perfectly conceived by actress turned auteur Cora Bissett and hits its target in the middle of the bull's-eye.
The evening starts at the Theatre Royal, Stratford East, where around 20 visitors take a bus ride that ferries them through the East London traffic to a terraced house in Canning Town.
Along the way, our lives are brightened by wide-eyed little Adeola, a sunny, funny 14-year-old fresh off the plane from Nigeria.
She has come over with her Auntie to benefit from English education and the excitements of a new life.
That life is not quite what she, or we, might reasonably have expected. Having seen her new home, which she shares with a number of other girls, Mary, as she becomes, is quickly introduced to an Eastern European sleaze ball.
He starts Mary off in a painful new life by taking her virginity. We then follow her around the house, as under threat of violence or abandonment in a strange land, the little girl is initiated into the joys of her new profession, comforted by the knowledge that her earnings are finding their way home to the family in Nigeria.
The proximity makes what would be shocking on stage deeply moving and terrifying. Worst of all for the average theatregoer is when the inhumane beasts give way to lonely, sensitive but very married Peter, an ordinary businessman no different from men whom we all work with day in day out.
The brilliant Mercy Ojelade won awards in Edinburgh for her performance as Mary and richly deserves a London equivalent or two, while Adura Onashile as "Auntie" Martha and John Kazek playing all of the male parts are also good value.
The performance is just as strong viewed second time around and somehow, seeing it in one's backyard makes it even more chilling. The idea that these depravities could be going on in houses just along the Jubilee Line from home is enough to make anyone want the authorities to sit up and take action. That more than anything is a mark of the quality of Cora Bissett's marvellous invention.
Roadkill could change lives for the better and nobody could ask for more from a theatrical piece. All involved should be congratulated on their vision and humanity.
Reviewer: Philip Fisher