The Road to Mecca
Athol Fugard
Arcola Studio 1
(2010)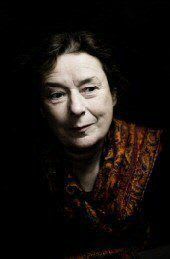 The second Athol Fugard play at the Arcola, playing alongside Coming Home, is distinguished by a memorable performance from Linda Bassett as Miss Helen.
This is a seemingly ordinary, if mildly eccentric septuagenarian Afrikaaner far out in the Karoo who hides enough secrets to fill the longest of plays.
We meet Helen in 1974 when she becomes the focus for a strange tug of love between Elsa, a friend from the city 40 years her junior, and Marius, a contemporary and a domineering Dominie or preacher.
The playwright takes time to allow the story to develop, opening out layers gradually until the final quarter of an hour when a stream of further revelations give these mis-matched lives connection, meaning and hope for the future.
Helen spent 55 years as a pillar of the fervently religious community until her husband passed away. Then she lost God and began to build a Road to Mecca, complete with idolatrous shrine.
As a result, Elsa describes her as "history's first reactionary revolutionary", though the cowed senior citizen that we see appears ready for the old age home to which Marius wishes to confine her - for her own good inevitably.
Schoolteacher Elsa, played by Sian Clifford, is equally unhappy after a failed affair with a married man and is weighed down by a whole cupboardful of her own metaphorical skeletons. However, she too is a revolutionary, who has risked her career to promote racial harmony and then driven the 800 miles from Cape Town to "save" her friend.
One question that is never adequately answered is how these two women met and befriended each other, as they appear to have so little in common beyond a shared sense of fairness.
Even so, with Elsa's help, Helen begins to snap out of her torpor and stands up to the Dominie, and by doing so proves that she really is "a truly free spirit". This in turn allows us to learn far more about James Laurenson's rather two-dimensional character and his relationship with the neighbour whom he has helped to ostracise for 15 long and painful years.
Russell Bolam's somewhat ponderous 2¾ hour production is not helped by the Arcola's commendable eco-friendly policy, which unfortunately leaves the auditorium imitating a sauna.
Even so, there is a great deal to challenge its audience in an apparently quiet play, with imagination and passion seething below a still surface.
Reviewer: Philip Fisher