Robert Lepage's Scenographic Dramaturgy
Melissa Poll
Palgrave Macmillan
Released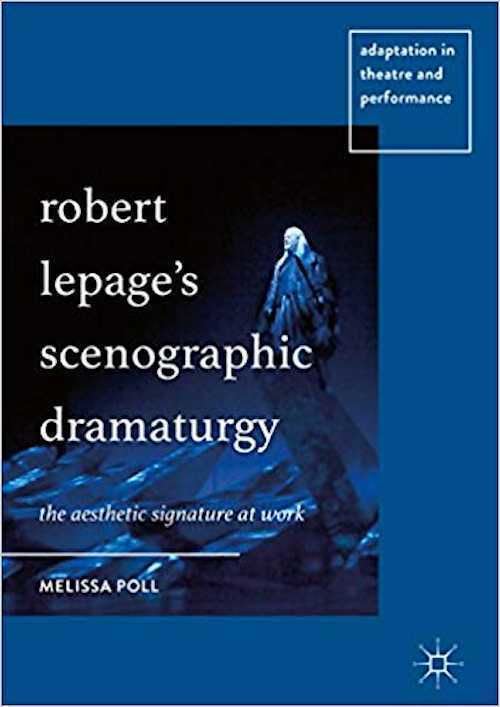 While the title and subtitle, "The Aesthetic Signature at Work", of this publication from Palgrave Macmillan may seem forbidding, it takes an intelligent and intelligible look at the work of one of the world's great theatrical auteurs.
In doing so, it also allows readers to consider a series of significant developments in world theatre over the last few decades.
The book's author Melissa Poll is, like its subject, a bilingual Canadian. This gives her added insights, which are particularly valuable in various chapters of a book that looks at different aspects of this iconoclastic playwright / director / actor's work through the medium of specific productions.
From the start, Dr Poll explains that where most theatre makers concentrate primarily on the written script, embellishing this with design and performance interpretations, Robert Lepage has a different starting point, taking a small vision, expanding and developing it not only through the rehearsal process but quite often also once it is in public performance.
His creative methodology is also close to unique, working very closely with his company, Ex Machina, to devise presentations that cross artistic boundaries between theatre, opera and circus, frequently combining different genres to create the desired effect.
Having introduced a man whom many regard as a genius, the book then goes on to provide a backdrop by defining Scenographic Dramaturgy and Auteuring Adaptations before moving into in-depth analyses of individual pieces, accompanied by helpful photographs and illustrations.
The chapter on Stravinsky's Rossignol a.k.a. The Nightingale stretches wider than its apparent brief, looking at the way in which Lepage has taken on and mastered complicated, abstract musical works, illuminating them with visual sophistry.
Perhaps the central section relates to the highly controversial, $16 million Metropolitan Opera presentation of Wagner's Ring Cycle. Having attended rehearsals before seeing the final productions, the writer is particularly well placed to identify trends. While there were both high and low points across the productions that comprise this series, the overall impact of the design in particular must have been stunning, if not always to the taste of regular opera-goers. In addition, a number of political and artistic decisions are analysed and contextualised in depth.
This is far from hagiography, since Dr Poll readily criticises some of Lepage's ways of working, particularly when it comes to his failure to understand the harm that she believes can be caused by ignoring sensitivities. This is most apparent in the chapters on The Ring Cycle and a French-Canadian version of La Tempete (The Tempest) presented in association with the Huron-Wendat First Nations community. It took time but eventually, the man behind what sounds like a stunning theatrical coup accepted the need to involve his performers and local teams, rather than merely imposing Ex Machina values on them without discussion.
Similarly, the author takes issue with some casting decisions when plays such as The Dragon Trilogy and Needles and Opium were first staged. In particular, the decision to use Caucasian actors to play those of Chinese extraction and black musician Miles Davis now feels outdated as well as culturally insensitive. In both cases, Lepage gave himself a second chance, redressing what he accepted were bad calls, thereby strengthening both the art and his own reputation.
At times, the strengths of this book can get hidden beneath overly technical academic language but overall, it makes a series of points very strongly and should be of value to readers who care about the inimitable work of Robert Lepage.
Reviewer: Philip Fisher