Robin Hood and the Babes in the Wood
Kenneth Alan Taylor
Nottingham Playhouse Theatre Company
Nottingham Playhouse
–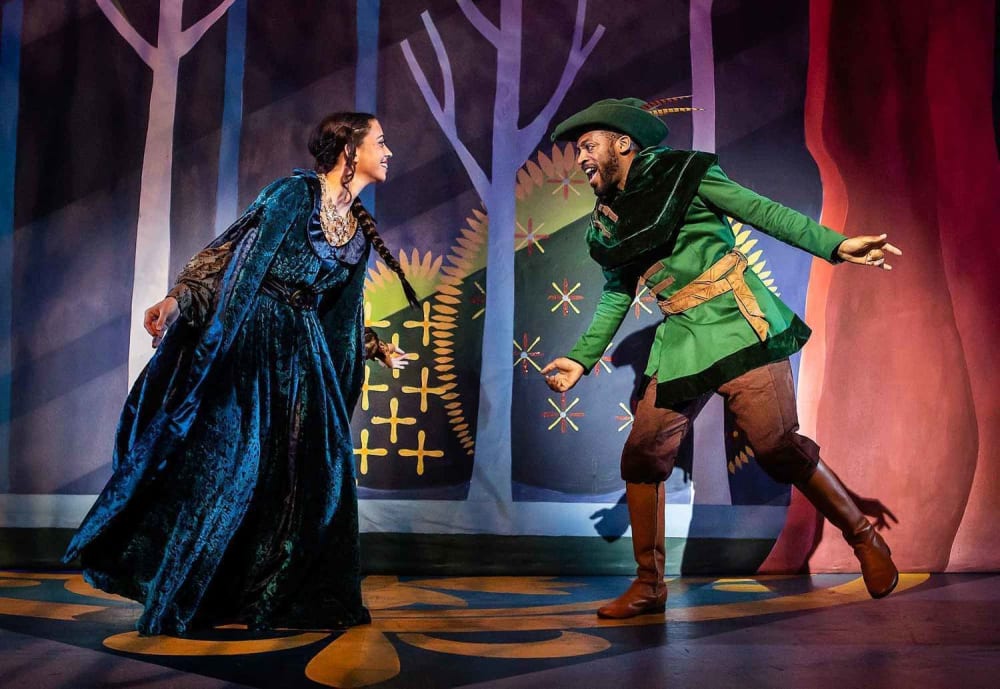 When a Christmas show is regarded as an institution, there can be pressure on the cast and creative team to produce something as good if not better than the previous year.
The Nottingham Playhouse panto has a solid reputation as a cracking night out for the family with all the trappings usually associated with a festive production: a good story, loads of laughter and an opportunity for the audience to participate.
Kenneth Alan Taylor has been writing and directing the theatre's panto for 35 years. But familiarity hasn't bred complacency. There are no big stars in a Nottingham Playhouse panto, just familiar faces who give their all to ensure everyone goes home happy.
On press night for Robin Hood and the Babes in the Wood, the audience arrived with the expectation of being entertained. They knew when to join in—sometimes anticipating what they were obliged to shout out—as well as singing along with most of the songs and laughing at the well-loved, "in" jokes which had been brought back from previous pantos.
Six years ago, the Playhouse produced Robin Hood and the Babes in the Wood. Now it has been brought back, updated and polished so that it gleams brighter than the Sheriff's chain of office.
Robin Hood and the Babes in the Wood is a simple story: the avaricious Sheriff of Nottingham is squeezing money out of people in the form of taxes. When his brother is "lost" in battle fighting for King Richard, he realises that his nephew and niece will inherit their father's money, so he plots to kill them and become even richer. He kidnaps Maid Marian when she overhears what he is about to do.
Nottingham's favourite outlaw Robin Hood and his merry men and women decide to thwart the Sheriff's plans and take the children to the wood where they'll be safe. They will also free Marian and steal the Sheriff's money to give to the poor.
Kenneth Alan Taylor isn't the only stalwart at Nottingham Playhouse: John Elkington is playing dame for the 19th year while Rebecca Little who takes the role of Tilly the Tomboy first appeared in the theatre's panto 20 years ago.
There was an enthusiastic round of applause when Elkington first appeared on stage and it was soon apparent that many people had turned up just to see him as Nurse Nelly Noggins. With Elkington, there's no silly voice or feminine flamboyance—he simply radiates warmth and laughter. He's also adept at throwing in ad libs when something unexpected happens. A scene in the kitchen when he's preparing the Sheriff's supper which involves water pistols of differing sizes is hilarious.
Little makes the most of Tilly the Tomboy, as does Kelly Agredo as Maid Marian although Robin's girlfriend doesn't have a lot to do.
Tim Frater who played Buttons in Cinderella at Nottingham Playhouse in 2017 gets the audience on his side from the start as Robin Hood while Robin Kingsland, appearing in his first panto in this theatre, is evil enough for you to believe he might actually succeed in doing away with the two children.
Twelve months ago, Darren Southworth was an ugly sister. Now he shines as the Sheriff's dim-witted servant Arnold from Clifton—it's a Nottingham joke—who can't get anything right.
Robin Hood and the Babes in the Wood is a slick, well-rehearsed production. It oozes class and quality. Nottingham Playhouse has again hit the target with its panto—and that's no legend.
Reviewer: Steve Orme