Robin Hood
Andrew Pollard
Greenwich Theatre
–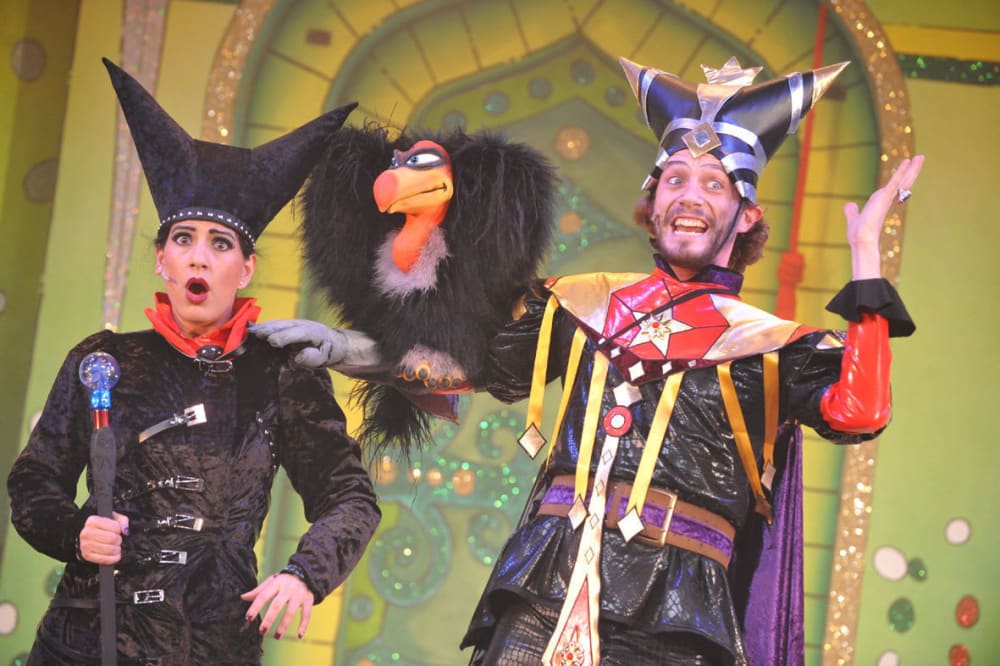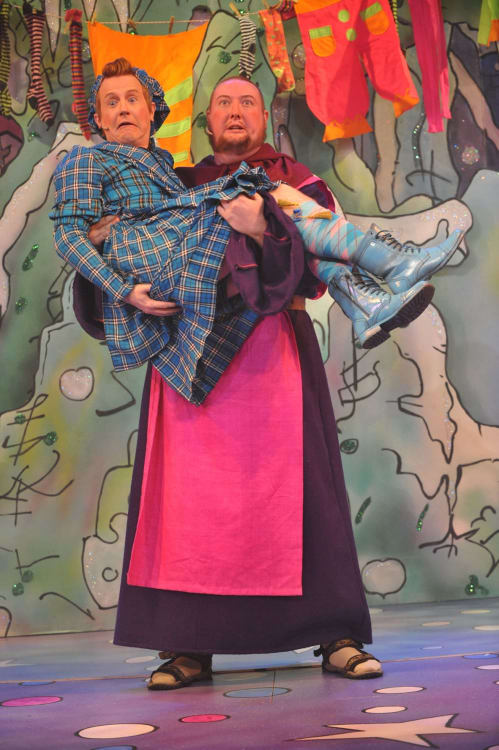 Panto season is finally here and what better way to kick it off than with Robin Hood at the Greenwich Theatre?
When I interviewed Andrew Pollard in 2010 he said that he wouldn't rule out directing the annual Greenwich pantomime alongside his regular writing and Dame duties and in his eighth year at the theatre his wish has been granted, directing for the first time whilst still proving that his Dame is one of the best in the business.
Pollard's naughty, naughty Nursey is a real lesson in the art of playing Dame. Saucy for the adults and silly for the kids, she titillates the audience with her asides and ensures the panto staples are delivered with gusto. In an array of outlandish frocks, including one that brings to life the true meaning of having a bee in one's bonnet, Pollard's Nurse Joan Germoline is a bespectacled sight to behold.
Pollard's regular sidekick Paul Critoph is also back for his seventh consecutive year, this time as a beat-box-rapping, food-lover-snacking Friar Tuck with Anthony Spargo returning too having joined the team for 2011's Aladdin.
Spargo's slimy Sheriff of Nottingham steals the show. His facial contortions and sneers have the audience booing so passionately that he declares a tax on such taunts, but it is in Act Two that the stage truly becomes his, strutting his stuff to Maroon 5's 'Moves Like Jagger' which begins a glorious mash-up concluding with 'I'm Sexy And I Know It'. A firm favourite, Spargo has surely secured his right to join Pollard and Critoph for many more seasons upon the Greenwich stage.
With the popular panto staples firmly ticked off under Pollard's writing reign, Robin Hood ventures in to new territory for the venue. First seen as a panto in 1795, the title is now rarely produced and it is easy to see why. A narrative must be invented and extended if dispensing with the Babes in the Wood aspect and here's where this year's production runs into problems: the second act is very musical number heavy, whilst the first act appears a little over-stuffed.
A scene in which Nurse Germoline comes to the Sheriff's aid to remove remnants of an arrow from his bottom doesn't really go anywhere and is devoid of any slosh or rib-tickling slapstick. With most of the action occurring behind a hospital screen, an expectation of suggestive shadow play is sadly never met and the piece appears to have been included to ensure Act One breaks the 60-minute barrier. Similarly Act One's triumphant conclusion complete with 'special effect' lacks a big enough build up and still seems to be finding its feet a week into the run.
Where Pollard's script excels, however, is in his decision to include not only a primary and secondary, but also a tertiary romance, each one perfectly plotted and defined.
As the principal lovers, Michael Harris makes a heroic Robin Hood with Arabella Rodrigo's feisty Maid Marian proving that Principal Girls today are so much more than passive ballad belters. Both Harris and Rodrigo have glorious singing voices and although Rodrigo would benefit from toning her performance down at times, the two achieve that real rarity in Pantoland: believable chemistry.
In the role of Alan McDale, Garry Ellis is a giggling Scottish delight providing some leg in the absence of a female Principal Boy, whilst Caroline Koutsoudes's Spanish senorita Consuela delivers plenty of Hex Factor with perfect comic timing.
A colourful set from Cleo Pettit suggests a new partnership at the theatre after she and Pollard provided script and scenery for Watford Palace's Jack and the Beanstalk last year and once again Steve Markwick's band treat the audience to the best of the year's music together with a few all-time classics thrown in for good measure.
Having looked forward to this since the Olympics were in their borough earlier this year, the people of Greenwich are in for a real treat. As Robin Hood's opening number decrees, 'The Boys Are Back In Town!'
Reviewer: Simon Sladen