Robinson—The Other Island
Devised by the company (after Daniel Defoe and Michel Tournier)
Give It A Name
Seligman Studio, Chapter, Cardiff
–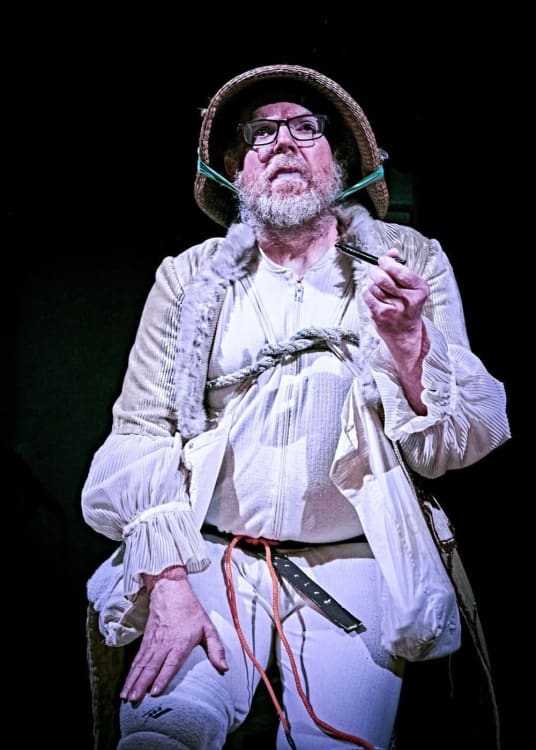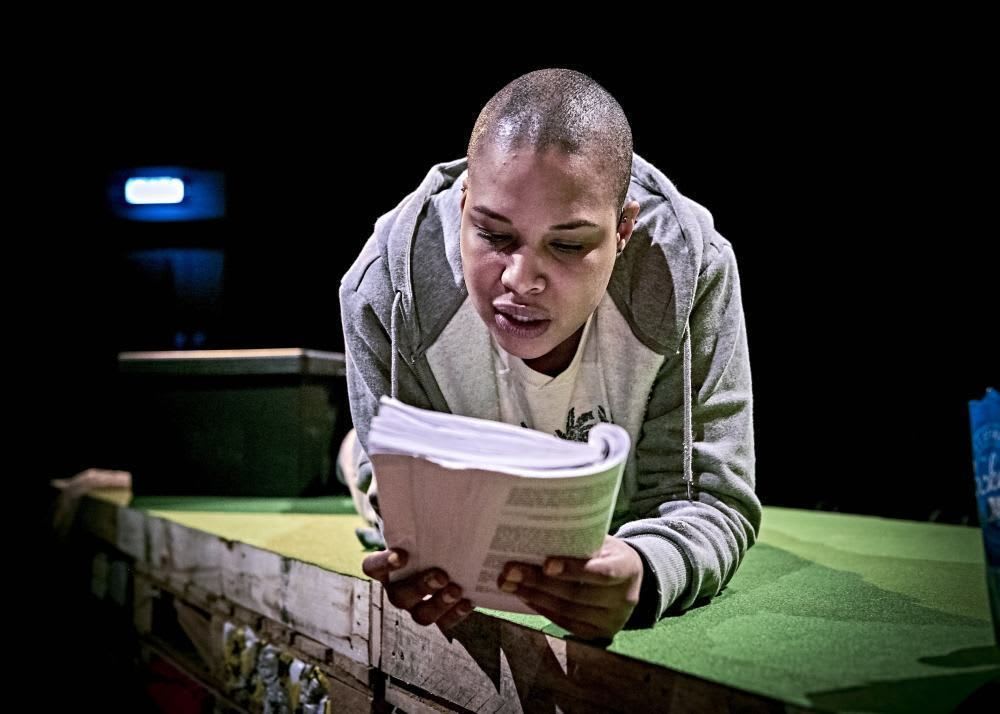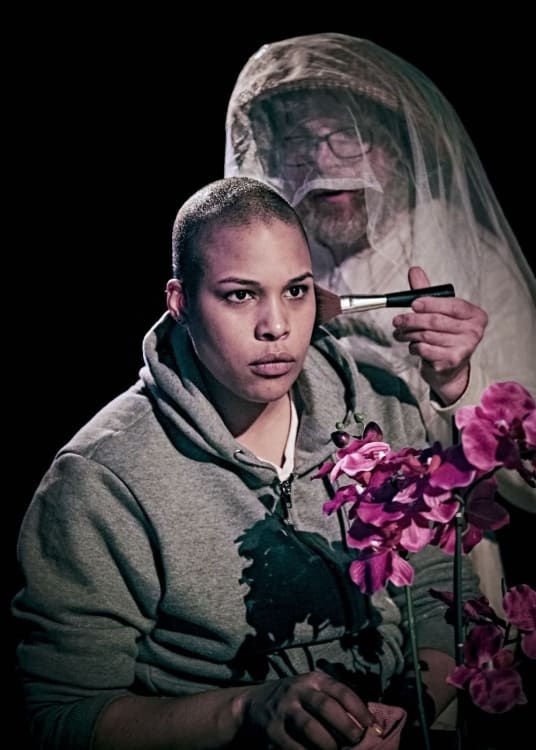 I suspect that I'm not the only person of a certain age who has convinced themselves that they have read Daniel Defoe's Robinson Crusoe (which has a claim to be the first novel published in English) when, in reality, our memories are of the Franco-German television series which was seemingly on permanent rotation during the summer holidays of our childhood.
It is evident that, however we have absorbed it, this fact-based tale of shipwreck and survival is sufficiently secure in the public consciousness to stand any number of retellings in various styles and genres. This take on the tale, by Give It A Name, is determinedly experimental, incorporating elements from Michel Tournier's 1967 novel Friday, or The Other Island.
It also utilises technology to attempt to give the audience an experience which simulates the currently voguish concept of ASMR (autonomous sensory meridian response), whose adherents report extremely pleasurable tingling sensations when they are exposed to relatively mundane stimuli.
Thus, as we enter the studio space, each audience member is provided with a set of headphones. We are seated on either side of a playing area dominated by platform covered in green baize (set design by Ben Pacey), which represents the living-space of a young woman, Luciana Trapman's Bianca, who is clad in tracksuit bottoms and a hoodie, but clearly has no intention of leaving her flat.
Instead, she is engrossed in Defoe's novel, reading it aloud to herself, her voice and other mouth noises (e.g. eating a ready meal), gentle in our ears. Around her, Crusoe himself, played by John Rowley, is struggling to survive on his new island home, building a shelter, retrieving items from his recently sunk vessel, seeking sustenance etc.
Bianca seems isolated, communicating by phone only with her affectionate but distant father; although her solitude seems to be more voluntary than that suffered by the island-bound Crusoe, who is shown to be slowly losing his reason—the discovery of a strange footprint seems, in this interpretation of the story, to be a dead end.
The heroine's identification with Crusoe hits a stumbling-block when the protagonist of the novel starts to speak of his former participation in the slave trade. She seeks a fantastical revenge, but is soon apparently at one with him once more, as she seeks to make her flat a home—the ASMR-friendly activities of watering plants and kneading dough providing some comfort.
Mathilde Lopez's direction is a little more stylistically subdued than is usual for her, although chaos does intervene at intervals, as members of a book group, embedded within the audience, crowd into the performance area, sharing their thoughts on the novel. The not-quite-interaction between Trapman's spiky Bianca and Rowley's increasingly unhinged Crusoe is cleverly handled.
The sound design by Jack Drewry and the company's artistic director John Norton certainly enhances the immersive nature of the piece, incorporating music as well as physiological and ambient noise, although to the ASMR non–devotee the effect is unsettling rather than stimulating, which is probably more appropriate.
Towards the end of the hour-long experience, the text (presumably courtesy of Tournier) enters some strange sexual territory; and the piece ends on a note of uneasy harmony between the two protagonists in their separate universes.
Robinson gives us a sustained mood rather than a coherent narrative, and it is frequently baffling. It is never boring, however, and its insights into the deleterious effects of loneliness and the seductive experience of finding meaning in other people's unhappy stories mean that it lingers, if not entirely comfortably, in the memory.
Reviewer: Othniel Smith