Robot
Choreography and direction Blanca Li
Blanca Li Company
Barbican Theatre
–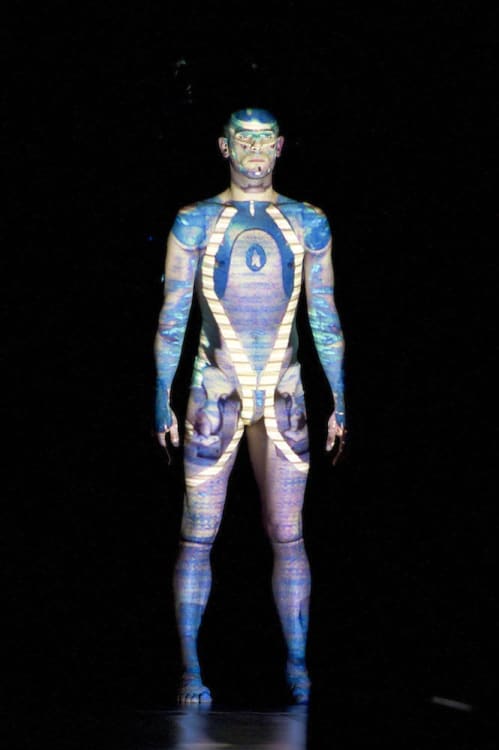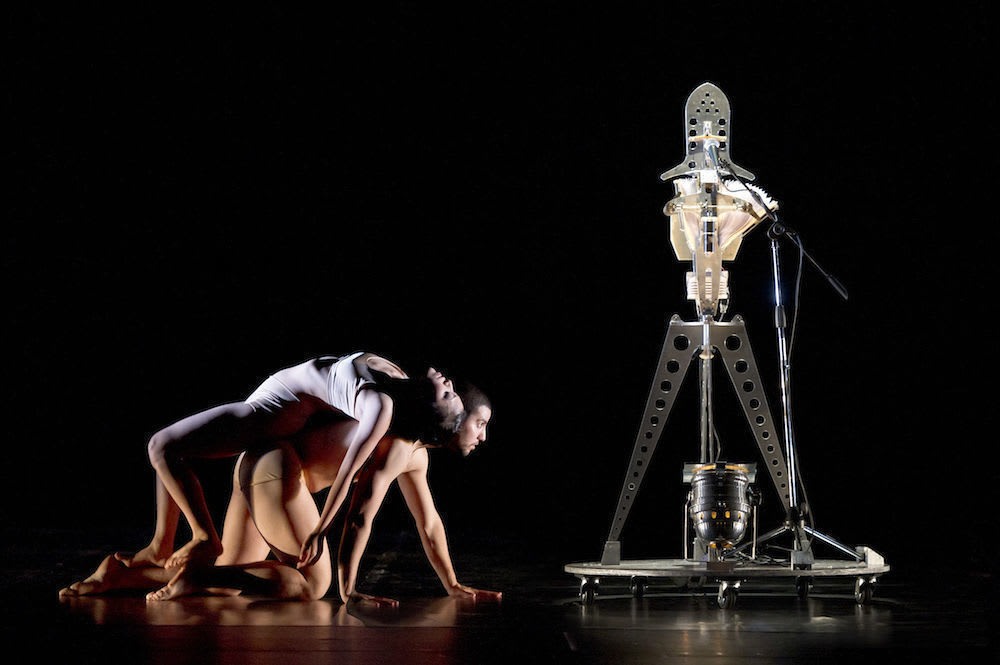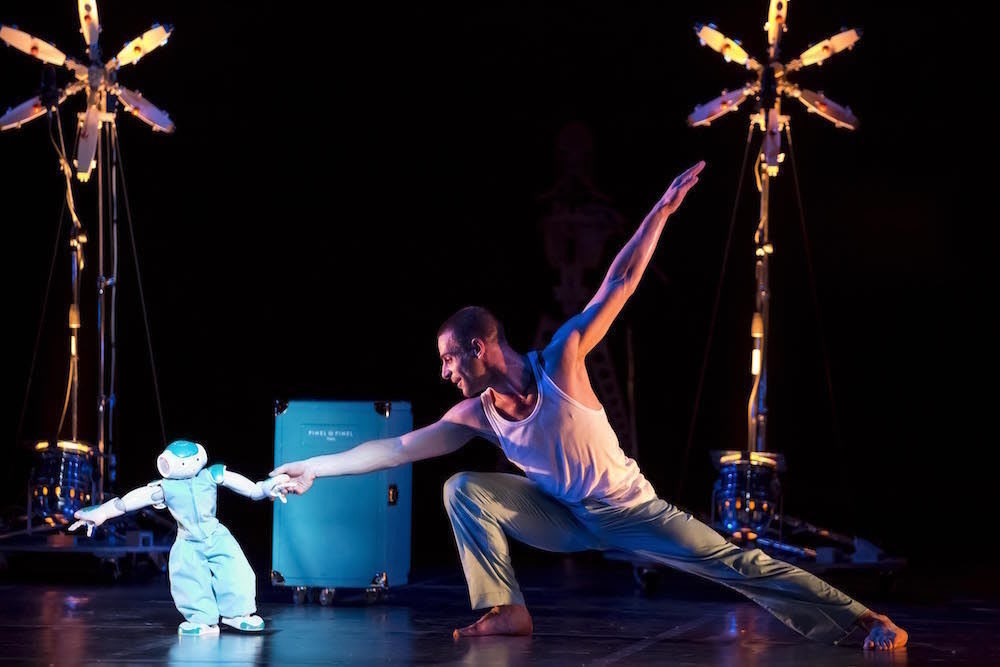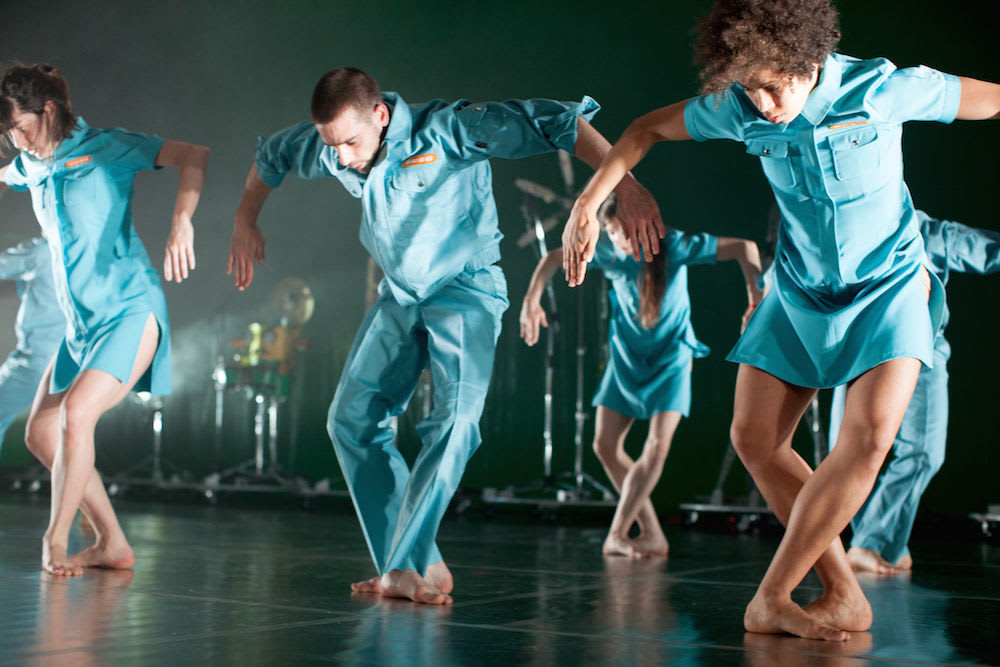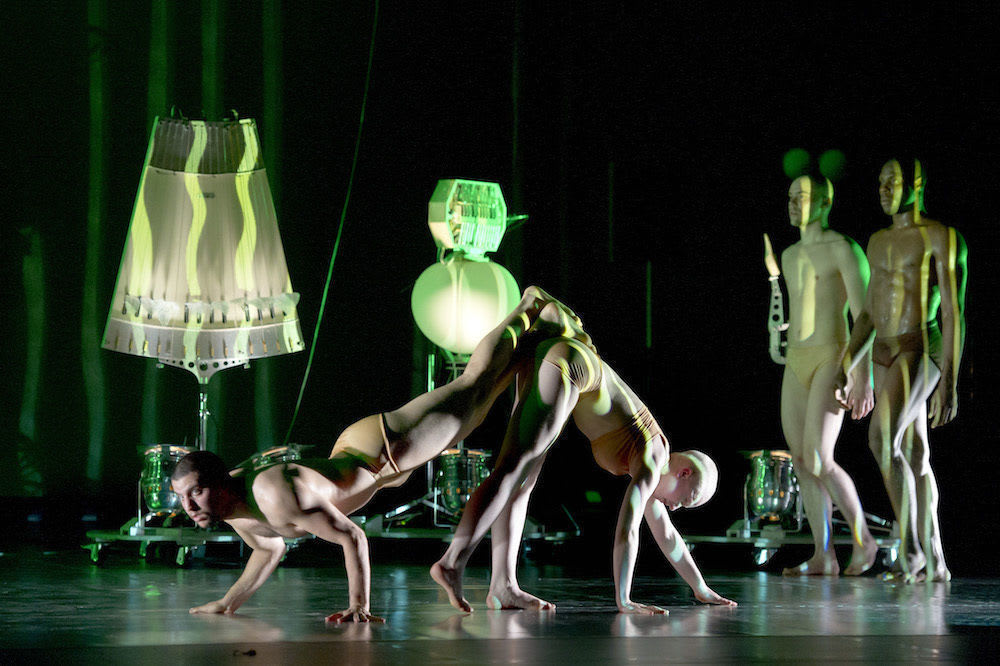 Never perform with children or animals, actors are told. One might add, nor with cute vocal NAO robots. The toddler-size robots, five of them, draw oohs and ahs from the audience, taking the eye away from the dancers. It must be a staging nightmare trying to avoid fallen robots.
For fall they do, but pick themselves up and carry on. One performs a charming mimetic duet with a human male; one shows off his press-ups to a pretty girl; another in pink feather boa sings Besame Mucho. Five of these toys, emerging from their individual boxes, do a messy chorus line—like two-year-olds in a dance class.
They hug, they fist bump, they pop and lock, but there is only so much they can do. The novelty factor wears off. If proof be needed, the incredible human machine with its intellect and muscle memory is still in control. Creation, evolution, coding and algorithms that increasingly control our lives come into play. What a piece of work is a man!
This point is made in the opening projection on to a static body: internal organs, internal machinery, outer armour plating, we are the prototype. And the eight dancers, four male, four female, are programmed into routines of dance.
Dressed as technicians, they have their own frantic daily schedules. Aren't we robots all—the word, a root for 'work' in most Slavic languages, was coined in 1920 by Czech writer Karel Čapek. Meyerhold's biomechanics also come to mind.
But it's the dance-eclipsing beautiful self-playing music-making machines that interest me—a wonderful orchestra line-up created by Maywa Denki, "influenced by kinetic art and techno-pop". Made of resin and aluminium, he says, with no electronics involved. A funky drum kit; two starry percussive 'singers', a feathery piano, a steel effigy with delicate chest bellows, a clapping machine, one that can take off an accordion, harpsichord and guitar; there's hands that beat on stacks of boxes; and more.
Ninety-minutes is just long enough for children—age seven plus is advised—the young lad next to me fell asleep. There are some longueurs after the excitement of seeing tiny robots interact with large humans (costumed by Armando Sanchez and Maywa Denki).
The contemporary dancers (Yacnoy Abreu Alfonso, Rémi Benard, Iris Florentiny, Yann Hervé, Africa Manso, Margalida Riera Roig, Gaël Rougegrez and Yui Sugano) are athletic, acrobatic, versatile, as they shift and pivot in pop routines: one folds herself into a satchel shape and is carried like a backpack. Conjoined in twos they make unusual creatures themselves, in double fours they are a useful projection screen.
Charles Carcopino's video work is delightful and pertinent—his cogs and wheels remind me of Charlie Chaplin's 1938 film Modern Times. But then, robots have figured in films, too many to list, since the beginning of film. Fascination with automata goes back centuries if the Robot exhibition at the Science Museum is anything to go by. In ballet, too, one only has to think of Coppélia and La Boutique Fantasque.
The mechanics of the piece are visible and behind the scene operators have to make an appearance occasionally. The dancers carry on serenely, as even the lighting rig joins in the dance: all good-natured fun under Jacques Chatelet's lighting on Pierre Attrait's set, which ends up with lots of robot hardware and junk littering the stage.
Choreographer and director Spanish-born Blanca Li has not been on my radar before, but apparently she is big in France and extremely well connected. She dabbles in many spheres: "best known for her choreographic work with Daft Punk, Beyoncé and Pedro Almodóvar, she crosses genres and styles". Founded in 1993, this is only the company's second visit to London.
For sound designers and techies out there, the music is by Tao Gutiérrez and Maywa Denki; musical machines by Maywa Denki and Yoshimoto Creative Agency; robot programming by Thomas Pachoud; NAO robots by Aldebaran Robotics.
More in the 2012 comic Robot and Frank than the 1927 Metropolis or the 1982 Blade Runner vein, Li's bright Robot is the light sweet sorbet between Complicite and Schaubühne Berlin's recent intellectually stimulating brief visit to the Barbican stage and Toneelgroep Amsterdam's Roman Tragedies soon to come.
Reviewer: Vera Liber