Rocío Molina: Fallen from Heaven (Caída del Cielo)
Choreographer, musical director Rocío Molina
Dance Umbrella Festival
Barbican Theatre
–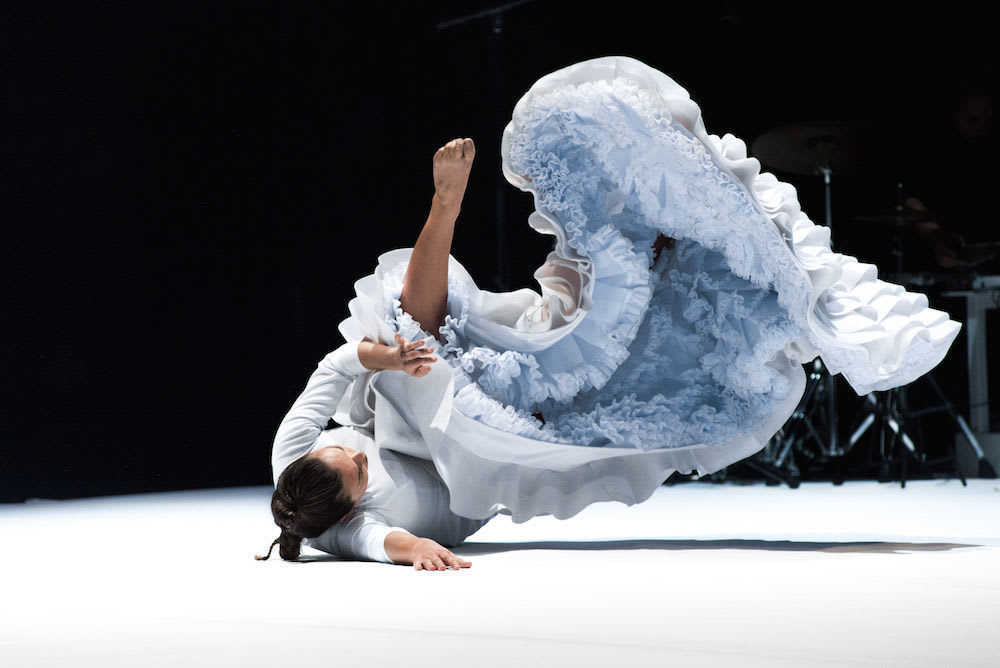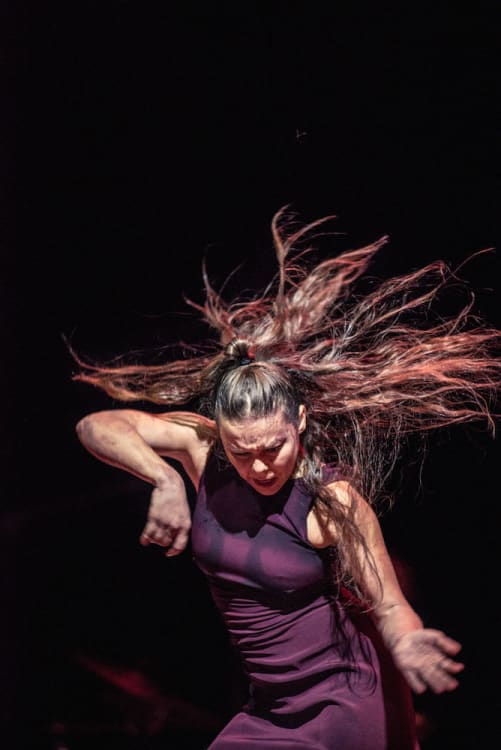 Rule-breaking flamenco virtuoso Rocío Molina's last visit to the Barbican in 2014 earned her an Olivier Award nomination. I missed it, so tonight was a must, and was the place buzzing: expectations were very high, her fan club substantial, she could do no wrong. She was not what I expected.
Like Picasso, one has to know one's art very well before one can play with it. And play Molina does, with her polished skills, with the audience, with sexuality, with gender. She is at once demon and angel, human and animal, but above all she is supremely confident in her control over every element of her body.
Onstage singer and musicians, four men who play acoustic and wailing electric guitars, and percussion, provide the complex rhythms and beats for Molina's narrative arc, but it is she who commands centre stage. The Jimi Hendrix of flamenco, she can do it any which way you like—juggle the ingredients, parody and lampoon male and female stances, turn them into new art.
A compact figure she appears in white bata de cola, a traditional flamenco dress with long ruffled train, and stands marble statue still, owning the silence, sways, leans, tilts, shudders into life, look at my arms, hands, wrist, fingers.
Origami, her body folds down on to the floor into the white rose petals of the dress. Relaxed, resting on one arm, in no rush, she examines the floor, crawls backwards, squats, articulates first one foot then the other, these are my tools. Balance and control, power over oneself, a strong woman, of that there is no doubt.
In incremental moves and gestures, she builds a mysterious persona; slithers on the ground, a serpent, a scorpion flicking its tail, a sphinx, a creature of the night, under the full moon's silvery light (lighting design Carlos Marquerie).
She sheds her dress, her skin, rises and stands naked like Venus from Botticelli's shell. Whilst José Ángel Carmona provides cover with his anguished song, she dresses herself in matador style and she's off, drumming her feet from every angle, clicking her fingers. The sky turns pink; she is back on her back, a beetle, a praying mantis? Dalíesque surreal.
She puts on an S&M harness—all the better to show off her manhood—a packet of crisps stuck to the cod piece. Don't touch; the men flick her hand away. A mockery of macho men: she spills her crisps, slaps her thighs, swings her bum, and dances a storm. Runs off eating those forbidden crisps: she could have those four men for dinner any time.
Back in a bathrobe, phallic staff in hand for those extra beats, she's definitely got cojones. The moon turns red; she turns samurai. With her Japanese topknot and long thin plait she could be a small sumo wrestler.
Time for play—would that be child's play or a Lorca play? In black bra and pants she steps into a small box, draws up a transparent skirt and steps out, the skirt and her feet sticky with brown red goo—is she a snail leaving a trail or is it menstrual blood that she is smearing across the floor, a canvas for her Yves Klein 'Anthropometry' body painting?
There's that scorpion sting again. Point made, skirt comes off, she is washed down gently by Pablo Martín Jones, her drummer, her feet dried by a disciple… Ready for the long body-hugging burgundy dress for her next incarnation, electric guitars cranking up the visceral, her hair flies free, she is out of it, somewhere else.
Rock diva transforms into Dionysian goddess: men bring her a basket of grapes and flowers. Bedecked she dances a greedy bacchanalia. There'll be some cleaning up to do—the floor is bespattered with crushed grapes, flowers and sweat.
Her backing group dons red shirts and shades, as she entices with a flower between her teeth and swaying hips in black gauze hula skirt, a wild gypsy girl making contact, attracting holiday trade, clichés and conventions satirised and scorned.
Fallen From Heaven (Caída del Cielo) won the 2017 Awards for Best Female Dancer, Choreography and Lighting Design at the Spanish Max Awards for the Performing Arts. This is its UK première as part of Dance Umbrella"s "flagship of international dance" programme which runs from 11-28 October.
An expressive, episodic, personal take on "womanhood" developed through improvisation—I'd say there could be more to it than that. What will she come up with next to top tonight's uninhibited collage?
Reviewer: Vera Liber