Rocket to the Moon
Clifford Odets
RNT Lyttelton Theatre
(2011)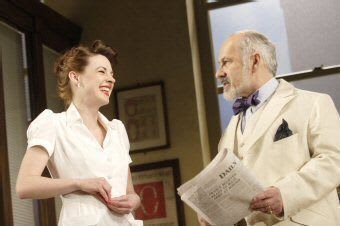 Rocket to the Moon has all of the ingredients of a screwball comedy and, with its setting in Manhattan between the Depression and the War, could easily have been a socially conscious drama.
What Clifford Odets has actually written is an intricately observed exploration of love and lust amongst the middle classes that is sometimes as steamy as the New York August in which it is played out.
The central figures are a middle-aged dentist who seems to have no paying clients and Cleo, his new, young secretary who has the seductive powers of Helen of Troy or the Egyptian Queen with whom she shares part of a name.
For 2¾ hours we watch as a series of suicidal moths flit around the ingénue's lovely flame, each desperate to gain something different.
Joseph Millson plays Ben Stark, the meek dentist who lives in fear and obedience under the eagle eye of his fearsome wife Belle, portrayed by screen favourite Keeley Hawes.
Ben is the link between Belle and her wealthy father, a bearded rake whom she believes killed his wife with brazen unfaithfulness.
Every time that Nicholas Woodeson appears as the old man, he grabs the attention, playing one of life's genuine characters, a man who has the intonations and charm of Groucho Marx and even some sharply comic lines that would not sound out of place emerging from that legend's mouth.
Mr Prince is dapper to say the least, always carrying a cane or umbrella and seemingly forever fighting the inclination to twirl it around in acknowledgement of his zest for life. All that he, like every other poor male sap in the play, needs is the love of a good woman.
While the publicity headlines Miss Hawes who only has a cameo role, it is the lesser-known Jessica Raine as Cleo who constantly catches the eye of the audience, as well as her character's admirers.
The dental secretary is a red-headed fantasist who wants to be rich and find love but has an unexpected resilience when all that is on offer comprises a man 40 years her senior, a sleazy impresario, a timid husband, a drunk and a loser.
The man that she wants is married Ben and the main issue of the play is whether he will have the courage to forsake his wife and his respectability for rejuvenation.
Joseph Millson gives a brave performance as an archetypal dullard, allowing those around him to deliver all of the fireworks. It is Jessica Raine who should get most of the plaudits for her sustained portrayal of an ordinary girl who wants to better herself but doesn't really know how to do so, even if the opportunity arose.
Anthony Ward's set, as so often on this stage, is a faithful reconstruction. In this case, he has created a perfect New York dentist's surgery of the period. The main space is built around a leather sofa that has seen better days and this is flanked by two tiny cubicles, one an office, the other where the business takes place. That has its own aura for the audience who gave off an audible frisson after the interval of Angus Jackson's production as, at last, the drill whirred into terrifying action.
Clifford Odets does not go in for deep characterisation and the plotting of Rocket to the Moon is fairly thin, making for an enjoyable but not terribly demanding evening.
Playing until 21 June
Reviewer: Philip Fisher