Rock of Ages
Book by Chris D'Arienzo
Shaftesbury Theatre
(2011)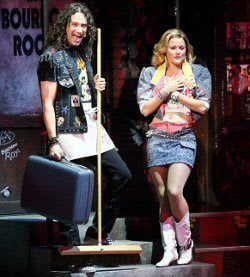 Rock of Ages will almost inevitably be a long-running hit in London as it is in New York. It may be no more than a jukebox musical with pretensions to be a small-scale tribute rock concert but already, such is its appeal, a movie is being produced starring Tom Cruise and Catherine Zeta Jones.
Nobody (including its creators who keep their tongues in their cheeks throughout) believes that its storyline is artistically challenging, but then that puts it in the same place as most other musicals. These days, though, it is something of a novelty to have a show written for the stage rather than converted from film.
What we get is high quality entertainment for anybody who is into rock hits from the 1980s. In only 2½ hours, as well as a predictable love story and a little social commentary, no fewer than 28 songs, most of them instantly recognisable, are crammed in and belted out.
Designer Beowulf Boritt recreates LA's Sunset Strip circa 1987, somehow combining sleaze and glamour in exactly the right proportions, aided by some fairly low-budget computer-generated images.
At the back is rock quartet Arsenal (behaving about as badly as the average footballer) playing their hearts out.
There are two main plot strands. First, we witness the burgeoning love between shy, likeable Drew/Wolfgang, an aspiring rocker played by Oliver Thompsett, and wannabe actress Sherrie, at this performance understudy Natalie Andreou, who have in common a love of cherry slush puppies and unexpected sweetness of character.
They meet in Dennis Dupree's Bourbon Bar, as grungy as you like (or don't), manned by popular celebrity Justin Lee Collins, seemingly having great fun and avoiding embarrassing himself in a cameo part.
This is the era of money making so it is inevitable that within minutes of the opening, a father and son team of German property tycoons are seeking to raze the whole district including the bar to build a shopping mall.
The two stories take their routes to inevitable endings, while along the way the two youngsters see their lives heading towards degradation, as cleaner and scrubber respectively, before unlikely rescues are invented.
The younger German, Sandy Moffat's seemingly camp Franz, and a protester, Regina played by Jodie Jacobs who is one of the night's stars, end up in an unlikely coalition, while the bar is saved thanks to the unwilling efforts of sex fiend superstar Stacie Jaxx, usually played by Shayne Ward, who was indisposed on the night under review and replaced by Dylan Turner.
Comedy is injected both by a manically neurotic narrator, Simon Lipkin as Lonny, and a strip club manager with a heart of gold (the original fairy godmadam??) and powerful soul diva voice, Rachel McFarlane.
Forgetting the story, the music and light show (magically designed by Jason Lyons) is awesome for rock fans both of that generation (now say 40 to 50) and everyone born since with a taste for the genre.
The performers make a good job of delivering a stream of classics that somewhat surprisingly often do illuminate the story, mixing ballads such as 'Oh Sherrie' with much harder edge songs from the likes of Bon Jovi, Whitesnake and Slade, with Pat Benatar's' Hit Me with Your Best Shot' bringing the house down.
The choreography by Kelly Devine is also something to behold, having all of the un-PC sexiness of a rock concert then and today and delivered with panache by a team of dancers who are also required to step into acting roles not only as understudies but also as part of their nightly work.
Rock of Ages may well get a critical panning but the producers are unlikely to be too concerned as happy punters' word of mouth ensures that bookings at the Shaftesbury will make them rich over the next few months and possibly years.
Philip also reviewed the Broadway production in 2010
Visit our sponsor 1st 4 London Theatre to book tickets for Rock of Ages
Reviewer: Philip Fisher