Rocky Horror Show
Richard O'Brien
Howard Panter for Trafalgar Theatre Productions; Mallory Factor for Hill Street Productions and Rupert Gavin in association with APOTA Productions
The Lyric, Theatre Royal Plymouth
–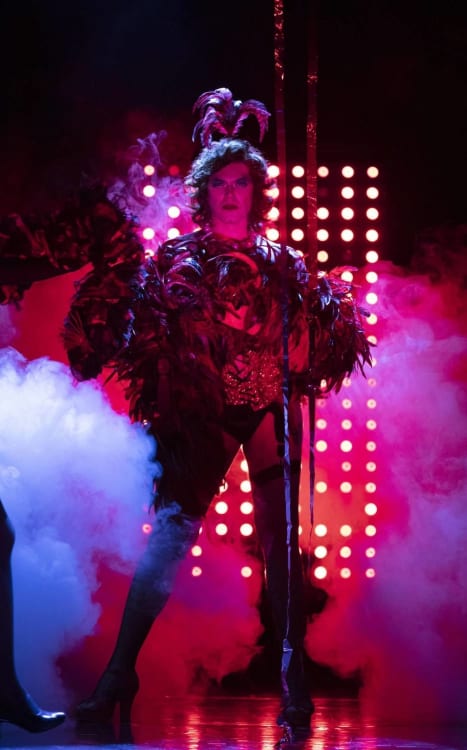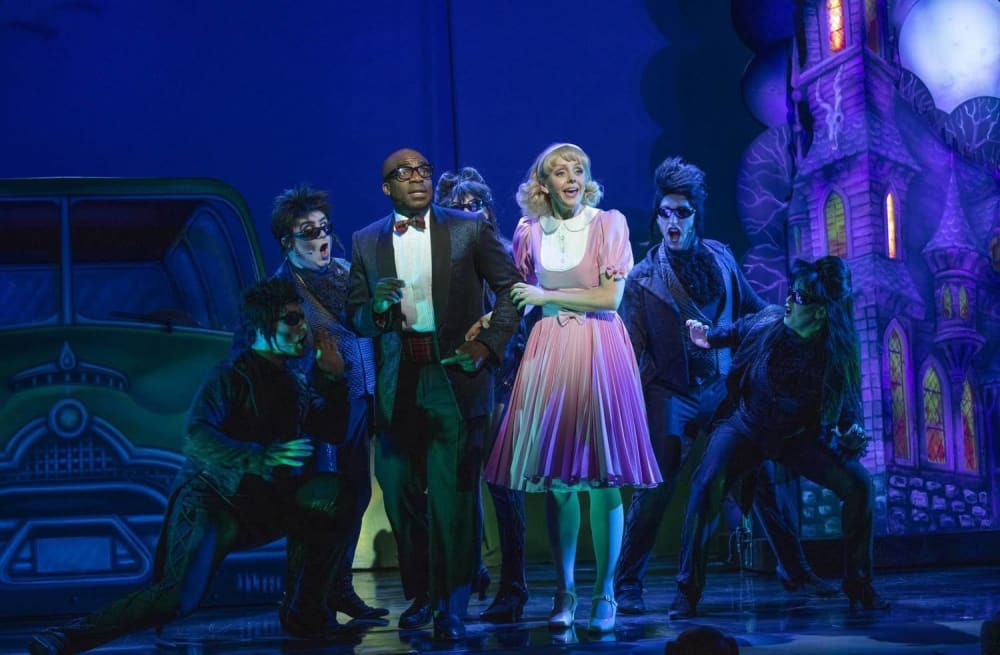 Break out those boas and basques, the iconic Rocky Horror Show is back with much strutting, sleaze and fabulous frenetic fun.
Richard O'Brien's tasteless timewarped sci-fi cult classic, inspired by 1950s B movies, last landed here in 2019 with the same Christopher Luscombe production as has toured for some 15 years and is back as part of its 2021 world expedition. As before: all very grotesquely glorious.
Hugh Durrant's set remains simple and apposite with curling filmstrips along the gantry, shimmering curtains and cartoon cut-outs of church, car and castle. Simple, clean-cut lab accessories, sumptuous suites and rare hunting trophies adorn the Gothic pile moved into place or turned about by dark-clad dancing phantoms.
Award-winning director and BBC radio regular Philip Franks (Darling Buds of May) is a polished Narrator, quick with the political quip, ready with a retort as the audience steals the lines and rehearsed in local references to bring moments of respite from the frantic cross-dressing, undressing and general disgraceful conduct.
There's a lithe mini Charles Altas on the slab, a missing satanic mechanic, a chainsaw massacre and much sensual pleasure to be had, ETs to be unmasked, innocents to be seduced and lots of fishnets, tremendous songs and—of course—a full house "Time Warp" to be danced (several times).
Greg Arrowsmith directs a very competent band sitting directly above the sexy shenanigans on stage romping through the all the favourites: "Science Fiction—Double Feature", "Damn It, Janet", "Sweet Transvestite", "Time Warp", "Sword of Damocles", "Touch-A-Touch-A-Touch Me" and more. Such a tremendous playlist.
Haley Flaherty (Chicago, Mamma Mia) is a shrill-voiced yet demure Janet touched for the very first time—and wanting more—shedding naivety along with her inhibitions and knee-length gingham frock to frolic with the outrageous hedonistic host. Boy-next-door Brad is This Morning's Ore Odura (Curtains, Grease) whose abs are as clean cut as his character and whose voice is a delight.
Stephen Webb (Jersey Boys, Legally Blonde) has honed Frank N Furter to perfection: lewd and crude, pouting and carnal—pursuing pleasure with a raunchy swagger upon towering stilettos, preying upon the innocent, newly engaged surprise visitors.
High-kicking Lauren Ingram (Beauty and the Beast, My Fair Lady) superbly passes the tough mad moment test as cooky Columbia, Ben Westhead makes a sweet Rocky in his first professional tour as an adult while Joe Allen (Little Shop of Horrors, Charlie and the Chocolate Factory) doubles up as Eddie—ssshhh—and the Nazi-saluting Dr Scott.
The perennial (more than 1,800 performances) Kristian Lavercombe (Jesus Christ Superstar, Jersey Boys) is consummate as the slurky Riff Raff and oh so reminiscent of O'Brien, assisted by Sue Blane resurrecting the original show and film costuming, while Suzie Headam is raunchy as maid Magenta and superbly opens and closes the show on more than one high note as the Usherette.
It may be 48 years old now but it's a show that is timeless. A true classic.
Reviewer: Karen Bussell