The Rocky Horror Show
Richard O'Brien
Comedy Theatre
(2007)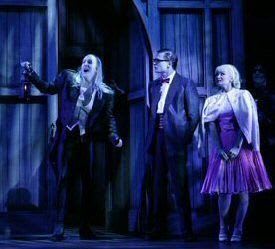 This touring production, on a brief visit to London, is a pale shadow of The Rocky Horror Show that has been a cult for decades.
At its best, this was a major event at which, like football fans, large swathes of audience members would ape their heroes by dressing like them. Rather than nylon shirts with foreigners' names on them, both men and women would proudly wear thick make-up and fishnets.
In the 2007 version, only a single couple had made the effort on the night of this review and the cynical might wonder whether they were paid by the producers for their troubles.
On stage, there is just one focal point, the outstanding David Bedella playing Frank 'N' Furter. This is the star who created the role of Satan in Jerry Springer - The Opera. He sings well and gives Tim Curry a good run for his money as the transvestite castle owner in search of love, devotion and, above all, sexual domination. In spangly high heels and not too much else, Bedella balances camp and kitsch perfectly, seducing (in every sense of the word) his audience.
His attempts to create a beautiful, muscly monster go well, the result - Rocky played by Julian Essex-Spurrier, looking like a bleached blonde Tarzan in tiny leopardskin briefs.
The invasion of nerdy engaged couple Brad and Janet, Matthew Cole and Hear'Say's Suzanne Shaw begins the fall of the house of Frank 'N' Furter. They are hardly enthusiastic about the bloody end that befalls rocking Eddie (Nathan Amzi) and struggle with the kinky stuff too.
They do though have their moment of bliss as each is bedded, vertically, by their host, much to their shock and then wild orgasmic delight.
The evening is narrated by a series of guest stars, on this occasion the very dry Steve Pemberton from The League of Gentlemen, although fans of Danny Baker will note that the DJ closes the run at the end of the month.
The music is at its best with the big rocking guitar riffs but serious sound distortion means that it is often hard to understand the lyrics, which immensely diminishes the enjoyment.
Even the big hit of the night, The Time-Warp, led by eerie Riff-Raff (Ian Davey), fails to ignite the audience until it is repeated as an encore and, at long last, they are literally singing and dancing in the aisles.
The production quality generally lets things down with technicians making unexpected appearances and the heroine dissolving into a fit of giggles at the start of her big number.
If you are a Rocky Horror Show junkie, tart yourself up and get a reminder of the good old days. However, you may be better off waiting until the next revival or nipping into HMV just up the road and spending three quid on the DVD.
The BTG has reviewed this production on tour in Woking, Newcastle, Sunderland, and at London's Playhouse Theatre.
Reviewer: Philip Fisher