Rodgers and Hammerstein's Carousel
Oscar Hammerstein II
Applause Theatre Book Publishers
Released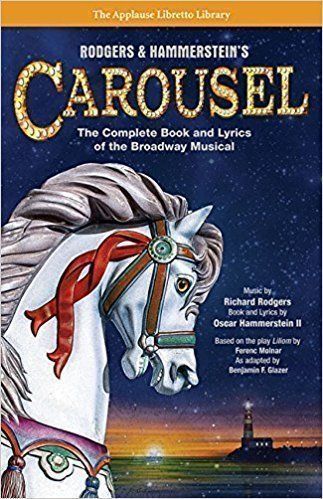 While the Applause Libretto Library is primarily intended for those wishing to stage productions of the iconic musicals in its list, stage fans can also still derive a great deal of pleasure from reading the books and lyrics of their favourite musicals at leisure.
As the subtitle explains, this volume comprises the complete book and lyrics of one of the most popular Broadway musicals, which was based on the play Liliom by Ferenc Molnar. All that is missing is Richard Rodgers's compositions, which are readily available on CD and various online services. Indeed, if you go to Spotify for example, it is possible to listen to a choice of versions of his music at no extra cost, while reading this book.
As the introduction is proud to boast, Time magazine named Carousel the best musical of the 20th century which, given 100 years of competition, is quite a claim.
Readers will have their own views on the veracity of this number one rating and some may have other preferences. However, listening to the music and having an opportunity to read both the story and lyrics certainly gives one the opportunity to conclude that the sad tale is up there with the very best.
On stage, Carousel comes across as a tempestuous love story depicting the difficulties that an apparently nice girl, Julie Jordan, faces when she falls in with a good for nothing carnival barker, Billy Bigelow.
What seen as much clearer on the page is the love that the wastrel feels for her and also gives more of a clue to his motivation in attempting the kind of armed robbery that was always destined to be a disaster.
By the closing stages, 15 years on when the angriest of young men is given a heavenly opportunity to make amends, albeit a generation late, there really is a strong possibility that anyone but the hardiest musical fans will shed a tear, which is a good indicator of the quality of Oscar Hammerstein's writing.
In addition to the words, this well-produced paperback also features an assortment of photographs from productions starting with the original Broadway version in 1945 and running through the film and other versions in London and New York right up to the Lyric Opera of Chicago's production in 2015.
The debate about whether Carousel really is the best musical of the 20th century and, by extension, probably of all time, might conceivably and in fisticuffs but anyone picking up a copy of this book, published in the United States but readily available in the UK, should at least conclude that it is worthy of nomination for that esteemed title.
Reviewer: Philip Fisher