Romance
David Mamet
Almeida
(2005)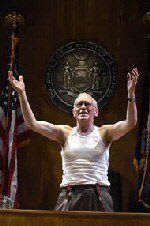 Visitors to London theatres must fast be coming to the conclusion that every American courtroom has been infected with the spirit of the Marx Brothers. In A Few Good Men, a military court dissolved amidst chuckles all round for no apparent reason, at least in Romance the farcical elements are deliberate.
Mamet and his regular English director Lindsay Posner are straight into the action as the lights come up on Peter McKintosh's classically designed contemporary American courtroom. Another Mamet favourite, Nicolas Woodeson plays a prosecutor desperate to get his man.
He contrasts with Colin Stinton as his opposite number, a man resigned to defeat before he came into court for no better reason than the fact that his client had clearly committed the crime. What that crime is, remains a mystery for the length of the play and eventually becomes an irrelevance.
Mamet's subject-matter is not the court case, nor the protagonists, but intolerance and prejudice in every guise imaginable. Some really offensive views are put forward but generally defused by an air of comic ineptitude that owes much to the star of the night, the judge. This blundering buffoon, whose attention is anywhere but in court, is played by Frasier's dad, John Mahoney, who has had a successful stage career with the world famous Steppenwolf Company of Chicago.
It takes some time to adjust to a standard courtroom drama that is no more than a metaphorical structure for the propagation of views on religion, peace, homosexuality and quite a lot more.
At various stages, Nigel Lindsay as the Mamet-lookalike defendant, speaks volubly on behalf of the whole of the Jewish race, Woodeson's prosecutor with the assistance of his lover Bunny, played in a nice cameo by Paul Ready, stands up for homosexuals and the dotty old Judge makes a pretty strong case for retirement at a much younger age than he has achieved. This last point seems particularly relevant at present, as the US Supreme Court debates a couple of new appointments for life.
There is some excellent acting in Romance and devotees of Frasier will not be disappointed by John Mahoney's performance as the nutty, pill-popping Judge who comes to all of the right conclusions for all of the wrong reasons.
In little more than 80 minutes of playing time divided by an interval, Mamet covers a lot of ground. There are many sharp lines as one has come to expect from this playwright and some astute analysis of the ways in which we critically view others, particularly those from minorities.
Whether the sometimes very funny knockabout comedy is the best means of achieving the playwright's goals rather than his more usual style epitomised by serious heated debate will be a matter of individual judgment.
Reviewer: Philip Fisher