Romeo and Juliet
Choreography and production Johan Kobborg, music Sergei Prokofiev
Polunin Ink
Royal Albert Hall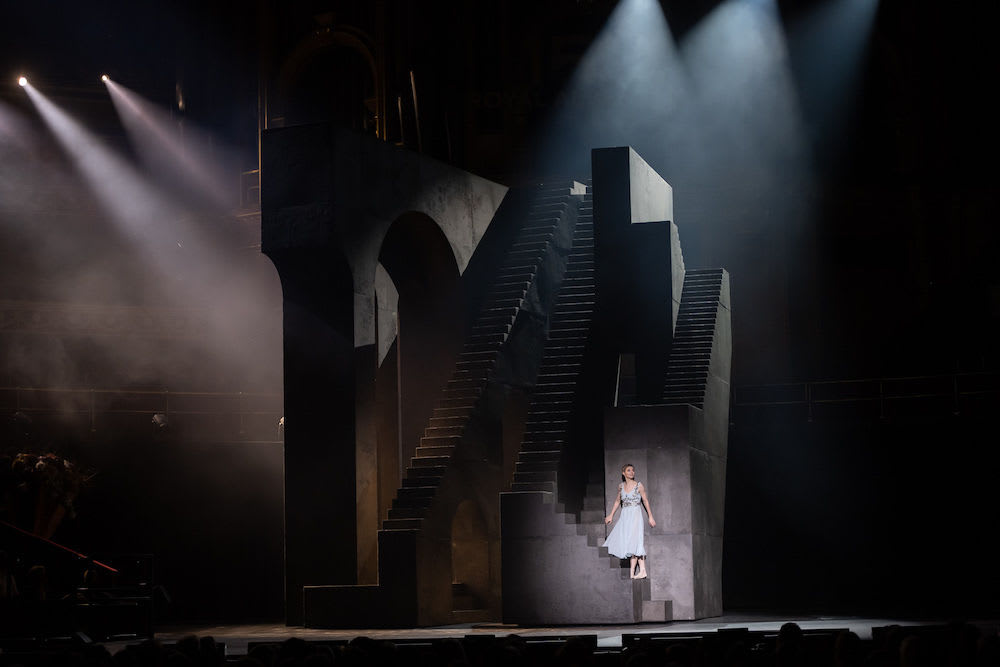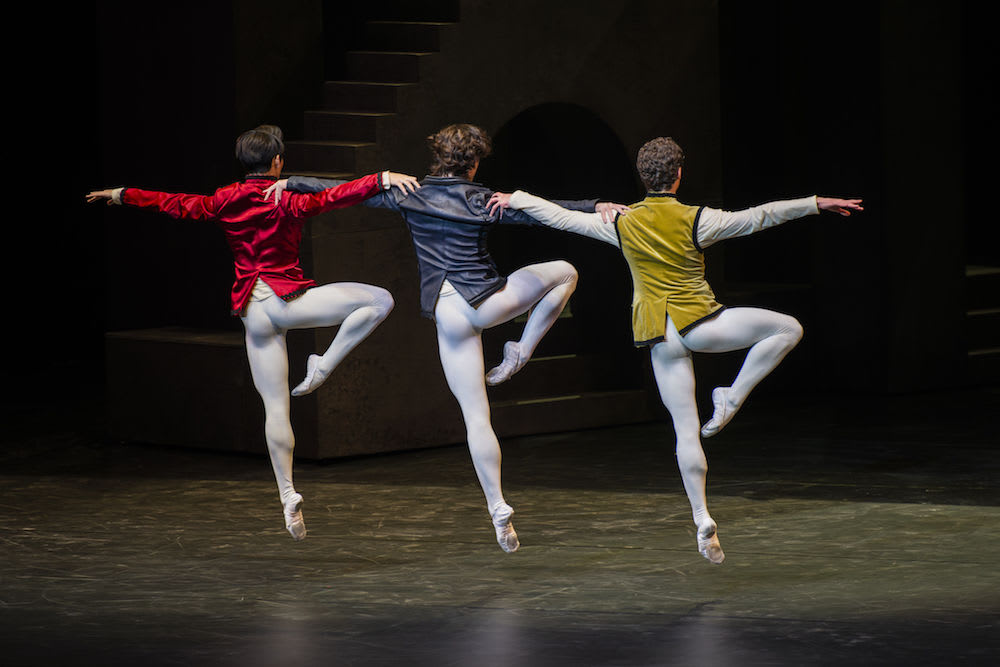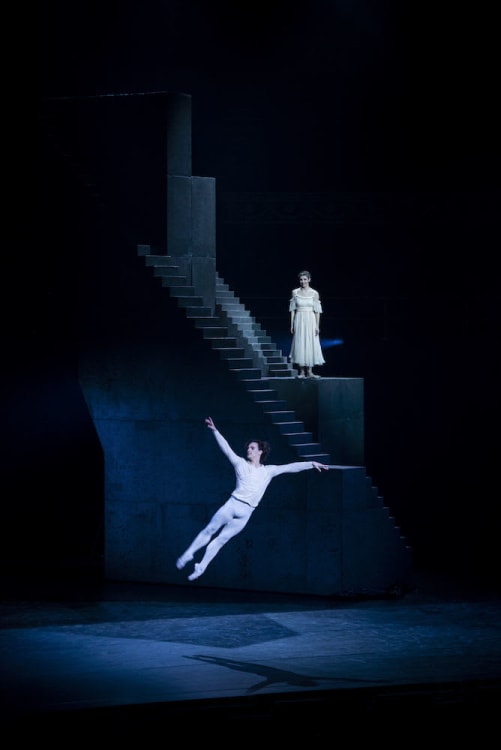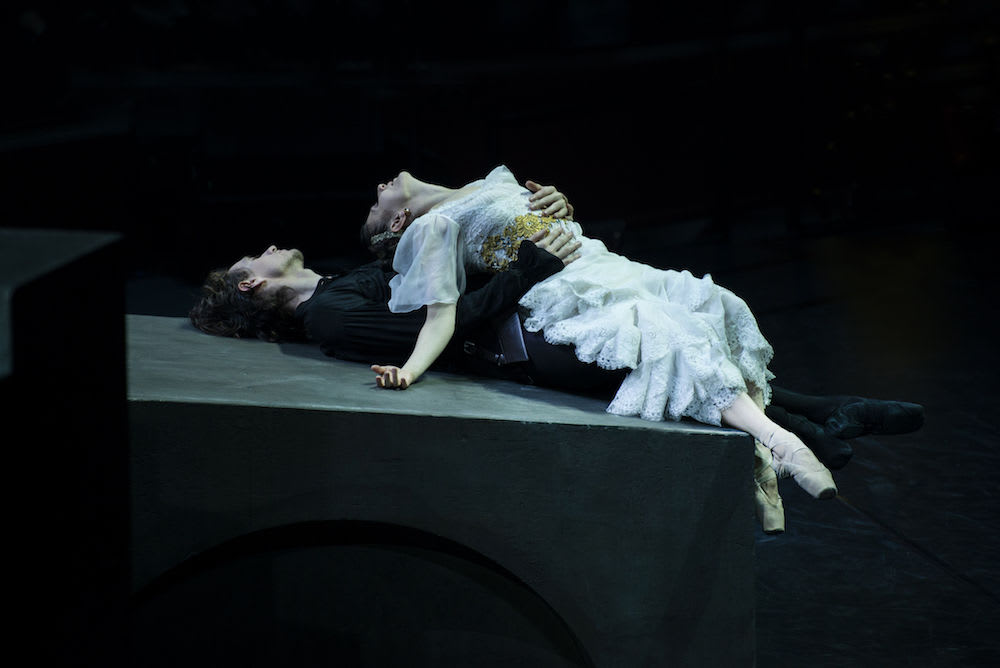 What a long wait to see Sergei Polunin make his UK Romeo debut… many years ago, in 2012 to be exact, he was down to perform him at the Royal Ballet with Lauren Cuthbertson, but he fled before that could happen. I remember him there as a wonderful Benvolio in 2010.
This is his second only performance as Romeo; the first was in the Verona Arena 26 August 2019. COVID interrupted plans to bring it to the Royal Albert Hall, but here they are at last, the trio of Royal Ballet escapees, Polunin as Romeo, Alina Cojocaru as Juliet, a role she has danced from the tender age of nineteen in five different productions, and choreographer Johan Kobborg, her real-life Romeo.
Kobborg's simplified 90-minute no interval version to a mixed tape score and soundscape is Kenneth MacMillan-lite, but what does redeem it is David Umemoto's positively operatic, monolithic stage design. A massive concrete cathedral of stairs, landings and arches that can be reconfigured, it is a brilliant piece of imposing architecture. Romeo and Juliet play hide and seek in and around it, parallel scenes unfold simultaneously, which speeds up the action. And there's outstanding dancing from Daichi Ikarashi as Mercutio and Nikolas Gaifullin (who could pass easily for Polunin at a distance) as Tybalt.
The concept is cinematic, a Murnau-esque film of shadows, black and white—the spare splashes of colour dramatic, red a particular signifier. Polunin is in white almost throughout until he comes to mourn the dead Juliet when he is in Hamlet dark weeds of woe.
Snapshot scenes accumulate. The arranged marriage betrothal to Paris scene is over in a flash: four figures stand under spots, Lord Capulet, a violent man in this reading, his flirty wife, demure Juliet, and Paris, who hardly registers. The speeded up storyline is not entirely clear, but the assumption must be that everyone knows it well enough. The focus is on the doomed lovers.
Kobborg's version opens with the lovers already dead on the catafalque in the family crypt, then lights out. Back we rewind to the beginning with a solo to introduce Romeo and then another for Juliet. A vehicle for Polunin to show off his leaps and turns, and Cojocaru is a marvellous emotive dancer, but I can't feel any passion, ardour, or pity. It could be the vastness of the venue, the five thousand plus seater Royal Albert Hall, granted not as big as the Arena di Verona with a potential seating capacity of nearly thirty thousand… a huge gulf to cross...
The dance of the knights is much reduced, as are the market square dances, four commedia dell'arte figures make up the Mandolin dance, and there are no Lord and Lady Montague. There's a touch of Hamlet in the fencing duel between Tybalt and Romeo: is that a change of foils I see? Is one tipped with poison? They make good work of it. Mercutio's solos are outstanding and one is genuinely sad to see Ikarashi go.
Romeo's suicide is remarkably swift. Juliet awakes from her fake death and this slight girl manages to haul him up on to the tomb, where she dies on top of him, wrapping his arms around her in final embrace.
Visually interestingly (lighting by Konstantin Binkin) with a fine small ensemble, there are some well-considered creative ideas in play, especially in the theatrical positioning of characters on that central structure, but I'd like to see it in greater closeup. So, credit for vaulting ambition, but characterisation is lost to daunting space.
Polunin has said that he wants to broaden the appeal of classical ballet, to bring the magic to a wider audience, which is commendable, and one can only wish him well.
Reviewer: Vera Liber