Romeo and Juliet
William Shakespeare
Stratford Festival Theatre, Ontario
Stratford Festival Theatre, Ontario
From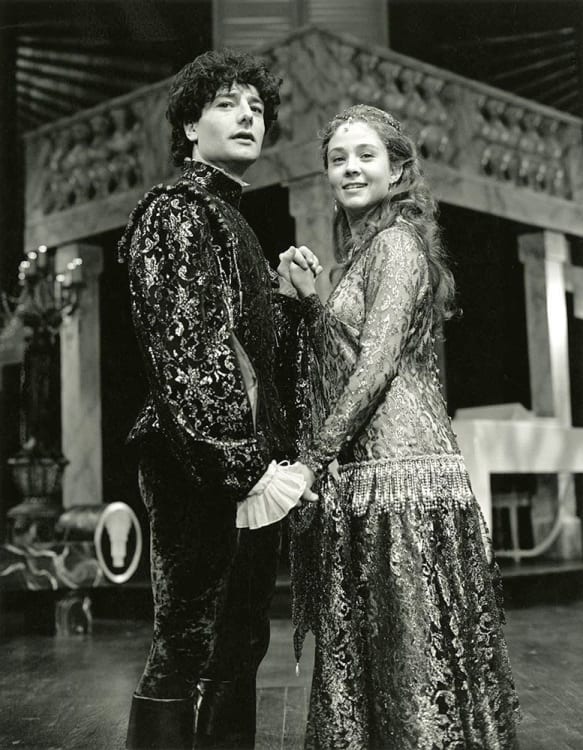 Stratford Festival's second Romeo and Juliet of the last few months is a classic recording from 1992. It just happens to feature in a title role the theatre's current Artistic Director, Antoni Cimolino, opposite Megan Porter Follows as his shy, immature paramour. Recorded on the theatre's thrust stage in front of a live audience, the performance is directed by Richard Monette.
This 2½-hour-long version has been stylishly updated to the Edwardian era with the assistance of designer Debra Hanson and located in a city that might have Ruritanian or central European influences, given the beautifully accoutred military men, largely from the Capulet side.
The dress may be modern but the verse speaking style, as exemplified by Lewis Gordon's Capulet, is more traditional, emphasising the poetry rather than using a more naturalistic approach as has become common today. The actors chosen are particular good at conveying character, giving us a cautious, thoughtful Romeo, at least until he is afflicted by love at first sight, contrasting with Colm Feore who is a bold, worldly wise and frequently comical Mercutio. It is perhaps inevitable that this outspoken soul should end up in conflict with Juliet's explosive kinsman, the fiery Tybalt, played by Lorne Kennedy.
The romance between the two young lovers works particularly well, as the pair seem so well matched, with the balcony scene exceptional in its ability to convey their mutual affection and desire, thus sowing the seeds of a tragedy that is almost painful to watch, so convincing are the central performers.
Humour is not forgotten and stretches beyond the efforts of Barbara Bryne in the role of the Nurse to a number of subsidiary characters and also odd moments of directorial inspiration such as a rather lovely a cappella Montague departure from the Capulet ball. The sword fighting is also worthy of note—as good as you could hope to see on a stage.
In addition to the Nurse, the other facilitator of a love that overcomes familial opposition is kind, calm and sincere Friar Laurence, sympathetically portrayed by the versatile Bernard Hopkins.
Yet again, Stratford Festival has managed to deliver an imaginative but also truthful Shakespearean production that will be most remembered for the touching efforts of Antoni Cimolino and Megan Porter Follows in the title roles.
If you were unable to catch the free stream, which ended at lunchtime on 14 November, a vast selection of top-quality Stratford Productions is available on subscription at the special introductory price of Can$10 a month. Until just before Christmas, new videos are available free every Thursday for 36 hours starting at 11:30PM London time.
Reviewer: Philip Fisher