Roméo et Juliette
Choreography Jean-Christophe Maillot, music Sergei Prokofiev
Les Ballets de Monte Carlo
London Coliseum
–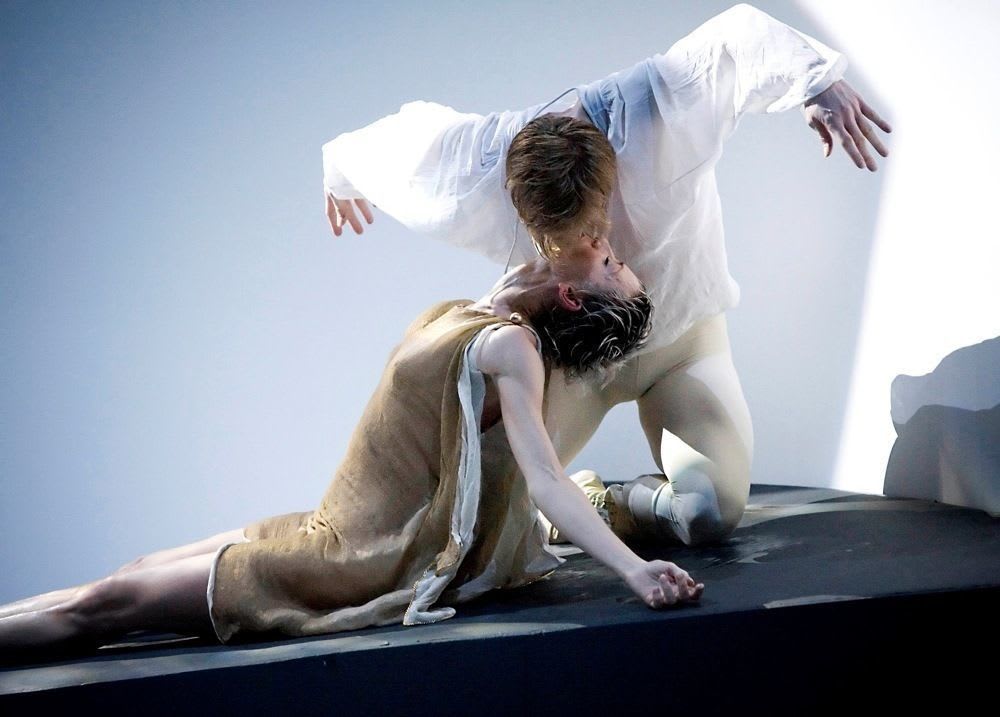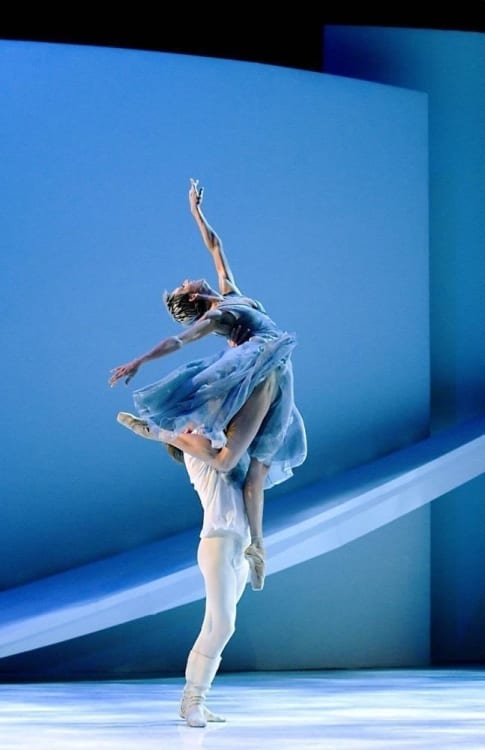 Choreographer, and artistic director of Les Ballets de Monte Carlo since 1993, Jean-Christophe Maillot reckons everyone knows the story of Romeo and Juliet, so let's freshen it up, take a new approach, let's make it accessible for those reluctant fathers of ballet-mad daughters.
Maillot's disinterred 1996 Roméo et Juliette does just that with tremendous energy. Makes it accessible, too, for partners of ballet-mad spouses, I might add. Mine loved it—Maillot is on to something here.
On Ernest Pignon-Ernest's minimalist set, all sliding curves and Constructivist geometric shapes (a black Malevich rectangle for the ball scene where the problem lovers meet), lit superbly by Dominique Drillot, watercolours washing over Pignon-Ernest's white canvas, shards of light piercing a tragedy unfolding with poignant hindsight.
Friar Laurence seems to be the troubled soul remembering. Is this his penance, reliving what was and shouldn't have been? If he knew then what he knows now, would he have done it differently, wise after the event?
Or has he another agenda? Desire for Juliet? In a prologue opening scene his agonised black-clad body held in cruciform by two acolytes in white suggests he knows just what he has done. His scream will last for all eternity.
Complicit, he lurks close to the walls, spying on the citizens of Verona, privy to all their secrets, confessor to their and his own sins.
And Verona is a vibrant licentious city, its volatile young men and women bursting with sexual tension and vigour. Maillot does not have the young men down as vicious, just too full of testosterone. There are no knives, swords, just fists and a puppeteer's club to the temple.
A play within a play puppet dumb show retells the story of the doomed lovers. The past in the present, the present in the past: rivalry, family conflicts, arranged marriages, whores for the boys, purity for the well-bred daughters. Sensually dressed in Jérôme Kaplan's monochrome costumes, complementing the set, the girls are easy prey.
Lady Capulet—Mimoza Koike all sharp angles and high kicks—lusts after Tybalt, and who wouldn't, Gabriele Corrado smoulders with a virile intensity, and knocks spots off boyish Romeo (dark and handsome Stephan Bourgond).
The Nurse, Maude Sabourin deliciously sexy and funny, and the naughty teasing boys Mercutio and Benvolio (athletic Christian Tworzyanski and Daniele Delvecchio sparkle with their ballon, leaps and splits in the air) bring excellent characterisation to their roles, as they must when the cast has been reduced to the essentials.
Rosaline (Liisa Hämäläinen) and Paris (Ediz Erguc) are still in play, but Capulet and Montague fathers are gone, as are Lady Montague and the Prince.
But who cares about them? What of Juliet? Anja Behrend gives her everything she has, great acting, a development of character from pubescent girl with budding breasts (Nurse's face is a picture when Juliet slips off her top) to besotted lover who takes the lead in the plot to outwit her family.
Hands flutter, bodies soar and tremble, time stands still. Romeo's fingers lift Juliet in ecstatic back-arching erotic wonder. Do I see a brief nod to Kenneth MacMillan's version in their final ardent love scene?
But how do the lovers kill themselves if there are no knives? You may well ask. They die of love, of course, and heightened emotion.
Romeo takes a run at Juliet's arrow-shaped, black granite catafalque (her bed's drapes pulled off to reveal it—all that time they were making love over a grave), and Juliet garrottes herself with a red scarf pulled from his entrails. Takes guts to do that. Tragedy could so easily trip into farce.
Scenes overlap and meld, time is stilled, frames freeze in stage picture snapshots, filmic language (credits on a screen) is imported, but it is Prokofiev's dramatic score cinematic in its driving power that holds it all together even in a recording. Imagine a live orchestra—it could have raised the roof of the Coliseum.
No matter, thank goodness I made it to the final performance. Three days only is too short a visit. Let's hope London gets a chance to see Maillot's Taming of the Shrew, which has just won three Golden Mask awards in Moscow—rare for the Bolshoi to invite an outside choreographer.
The first time Maillot has choreographed for another company other than his own and he has a palpable hit. He has that too with his Roméo et Juliette 'ballet in three acts': a stylish fusion of talents, a moving (in every sense) artwork, a visual pleasure. The dancing, corps and leads, is fresh, dynamic, and the classical/contemporary crossover choreography has wit aplenty.
Reviewer: Vera Liber