Roméo et Juliette
Charles Gounod, libretto by Jules Barbier and Michel Carré, based on the play by William Shakespeare
Metropolitan Opera
Metropolitan Opera House, New York
–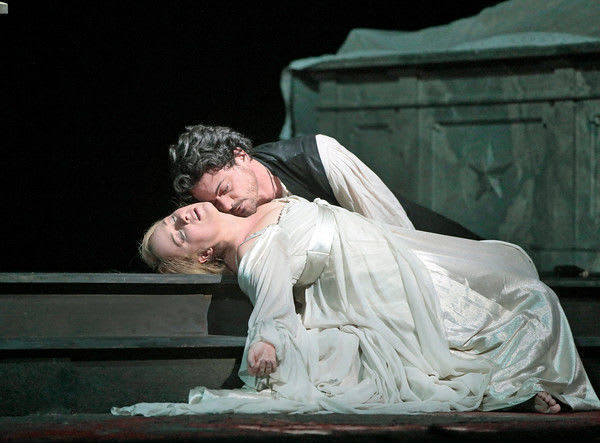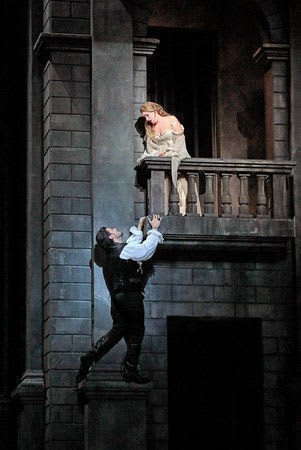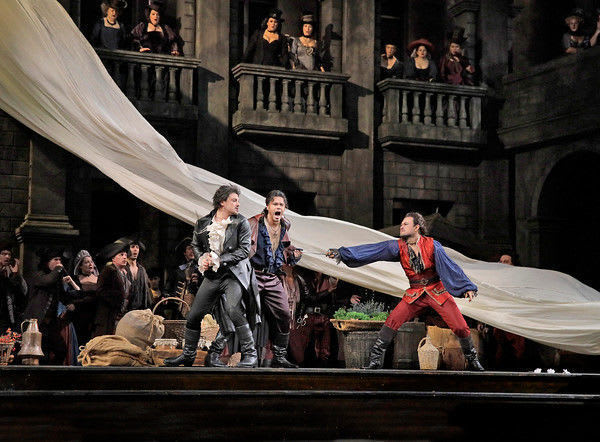 With this new production for the Met directed by Bartlett Sher, Charles Gounod's Roméo et Juliette is celebrating its 150th anniversary.
The main strength of the piece and of this production lies in the opportunities that it offers to the leading performers.
Before stepping back in March, Diana Damrau makes her role debut as Juliette opposite Vittorio Grigolo's Roméo in performances that are well-balanced musically and express the dangerous but irrepressible passion of the young lovers throughout.
They work in a traditional setting with a large chorus. The story should not need any introduction, though much of Shakespeare's detail tends to disappear on an operatic stage.
Instead, there is a broad brush approach that conveys the essence of the fateful tale of lovers from warring families.
The early scenes and in particular the party at which the young couple first spy each other, are spectacular, making the most of the large Met stage space and filling it with largely red and blue costumes, although throughout Juliette favours virginal white. This is also where conductor Gianandrea Noseda and his orchestra begin to shine.
The scale also makes the balcony exchange impressive, the young lady darting around in the kind of opulence which says much about the family's circumstances, while her suitor sings passionately from far below.
By this stage, the audience will have recognised the spectacular singing abilities of tenor and soprano, as their characters fall desperately into a forbidden love.
The problems that arise thereafter lead to the kind of dramatic sword fighting for which opera directors are hardly renowned, eventually resulting in deaths, including Elliot Madore's proud Mercutio, and the downhill slide towards the evening's dramatic climax.
Before that, two cameos enable bass, Mikhail Petrenko as Frére Laurent, and mezzo Virginie Verrez, a star in the making playing the page Stéphano, to make their marks.
By the end of three hours, viewers will understand why the central pairing has been chosen and recognize the star qualities and great voices that they bring to an opera which sometimes seems to have been written more to show off the performers than a drama that does eventually take off as Shakespeare intended building to a really tragic ending.
Thanks to the wonders of modern technology and the groundbreaking efforts of the Met in this field, the performance on 21 January will be available in cinemas across Britain live in HD and also on BBC Radio 3.
Reviewer: Philip Fisher