Romeo & Juliet in-the-round
Choreography by Derek Deane, music by Sergei Prokofiev
English National Ballet
Royal Albert Hall
–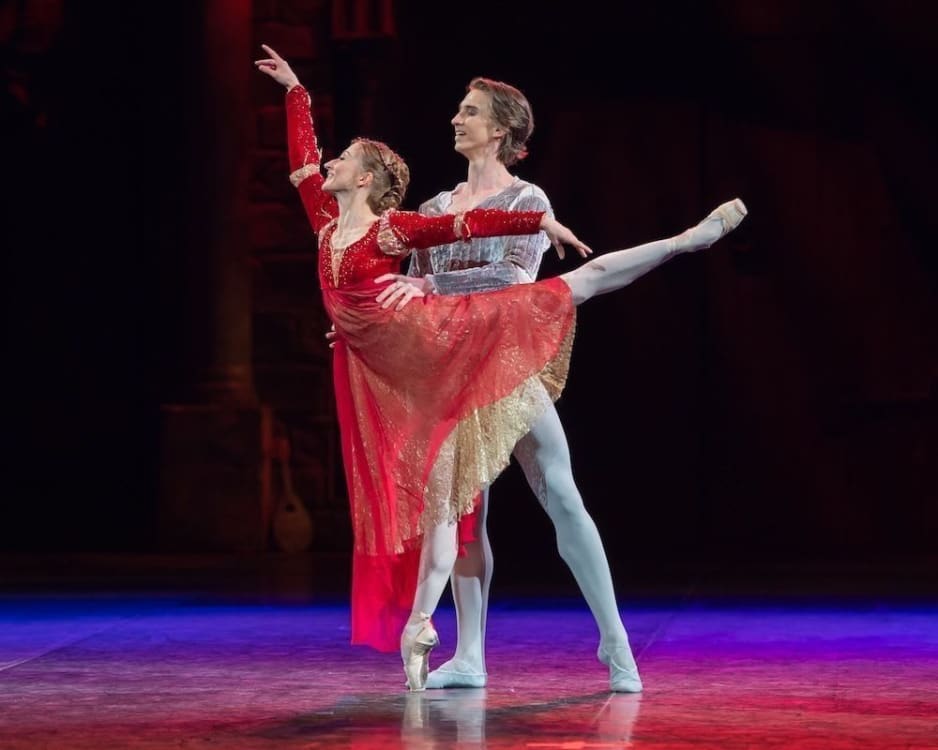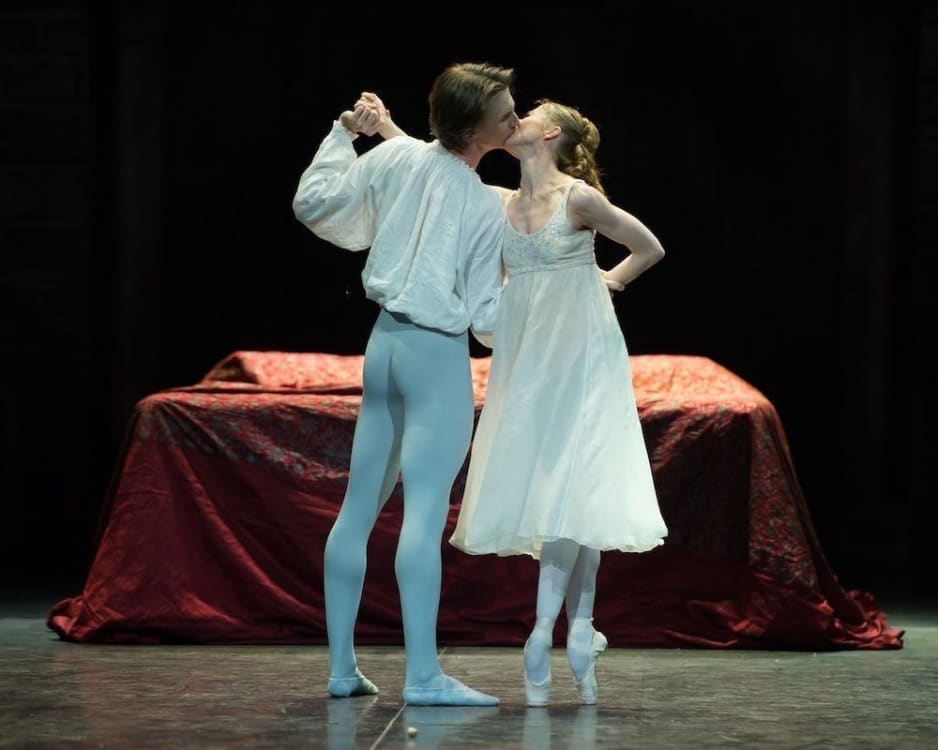 It may seem odd to choose the tenth night of Romeo & Juliet in-the-round out of only fourteen performances (some matinées) to review. But choose it I do, because Juliet is Daria Klimentová, whose last role this is. It needs to be marked.
She is retiring from performance at the peak of her powers, if tonight's performance is anything to go by. Many will miss her.
Lead principal with the English National Ballet since 1996, 22 June matinée will be her last performance ever; 23 June she hits forty-three, only three years older than Tamara Rojo, ENB's artistic director and prima ballerina.
The last time we shall see her partnership with Vadim Muntagirov, now with the Royal Ballet. Almost twenty years her junior, Muntagirov was Nureyev to her Fonteyn. I went to bow my head to an endearing partnership.
ENB has such a store of riches in its company it was not an easy decision to make. How could one miss Rojo dancing with Carlos Acosta (he is retiring in 2016), and Alina Cojocaru partnered by Friedemann Vogel guesting from Stuttgart Ballet? If only one could review them all.
Derek Deane created Juliet on Rojo in 1998 and it is right that she lead Romeo & Juliet's first night cast. Partnered by her former partner at the Royal Opera House, by all accounts they gave a searing dramatic reading.
The second night cast Cojocaru and Vogel apparently broke hearts with their emotional intensity. Romeo & Juliet takes on as many colours as there are ballerinas to interpret Juliet, for this is indeed Juliet's ballet.
Juliets still to come are lead principal Erina Takahashi partnered by principal Arionel Vargas, lead principal Fernanda Oliviera and principal Begoña Cao partnered by junior soloist Junor Souza, a rising star. None is to be sniffed at.
Nor is Deane's spectacular arena production in the five thousand plus seater Royal Albert Hall. In every sense, this is ballet for the many, not the few.
Renaissance Verona, recreated by Roberta Guidi di Bagno in all its vivid richness and grandeur: heraldic tapestries over the castle walls, a bustling market at its feet, crowd scenes of at least sixty (the programme says 120), children too. Sword-fighting so realistic that I saw the front row cower as the fight came too close.
Juliet's coming-out baronial ball is huge—no wonder Romeo and his friends can slip in unseen among so many. But where is Juliet? At the other end of the room, far far away. Focus divided and constantly shifting, easy to lose sight of the principals.
Eyes only for Rosaline (Alison McWhinney), it is some time before Romeo comes upon Juliet. And then bang—it's that moment in a crowd where everything else fades. Stillness amongst the noise. It happens again during the balcony scene—they just stand and stare at each other, as if looking weren't enough.
Deane relies on Prokofiev's devastating music, played by the full Orchestra of the English National Ballet conducted by guest conductor Gerry Cornelius, to do much of the choreographic work, using it like a cinematic score, underlining emotion.
Dance theatre, dance drama, Deane marshals his vast cast (many imported from outside ENB) to face all corners of the globe. His formation-dance masked ball and the two dozen hooded monks that circle Juliet's catafalque with candlelight are quite something, but his efficient choreography does not afflict the soul as Kenneth MacMillan's does.
And maybe that's why Muntagirov seemed so subdued and understated in his performance as Romeo. A noble dancer, long-legged, beautiful feet, and yet, and yet, I've seen him deliver fireworks before. Tonight he was plateauing.
The fireworks came from James Streeter as Tybalt, Fabian Reimair as Juliet's cruel father and Stina Quagebeur as her cold mother, more in love with Tybalt than husband and daughter. And Ghuilherme Menezes (Benvolio) has come on by leaps and bounds.
Michael Coleman is a gentle, white-haired Friar Lawrence with his basket of herbs and potions, tenderly stroking Juliet's face. And the four harlots (Laurretta Summerscales, Crystal Costa, Marize Fumero, Adela Ramirez) are always good.
But it is Klimentová, tiny and alone in that vast cathedral chasm of an arena confronting love and death, filling it with her sweet presence, light and lovely, young and wise, reaching beyond the lights (Howard Harrison), that gives it heart.
Reviewer: Vera Liber