Romeo & Juliet
Choreography Rudolf Nureyev, music Sergei Prokofiev
English National Ballet
Royal Festival Hall, Southbank Centre
–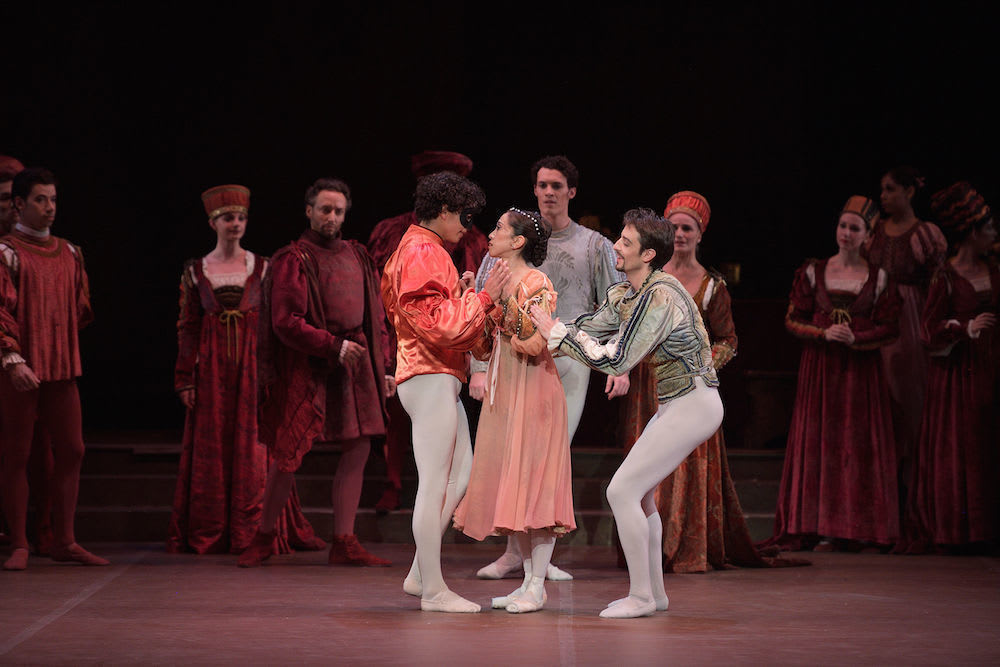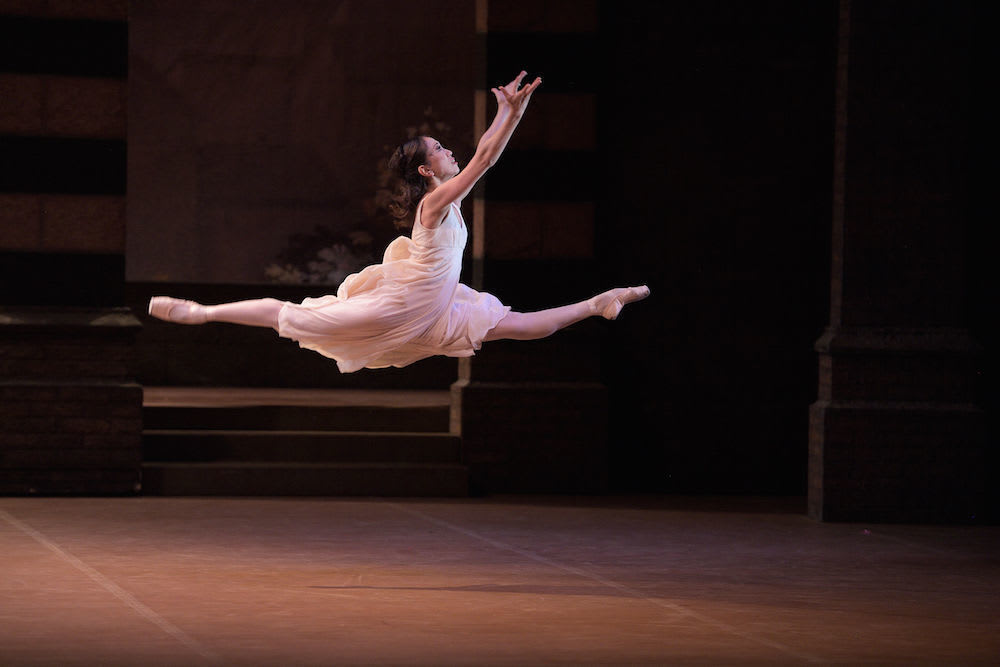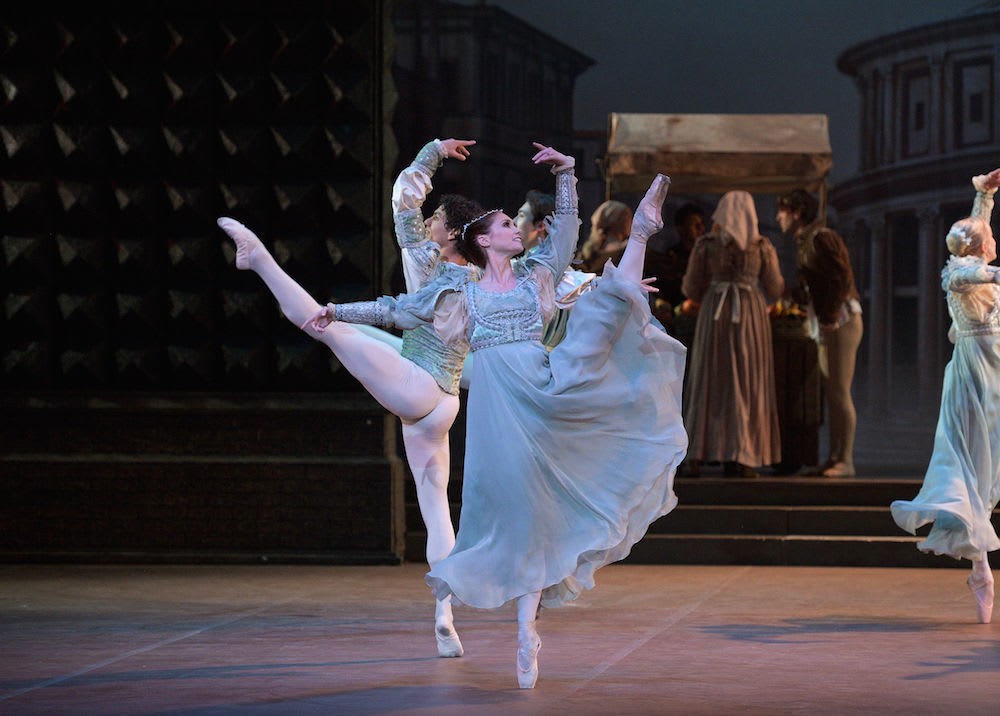 For all its rich colours, fine art and fancy clothes, death stalks the Renaissance city state of Verona: Rudolf Nureyev's Romeo & Juliet never lets you forget that the lovers are doomed from the start. Death and the turn of the wheel of fortune—however one spins it, death awaits.
Tharon Musser's lighting, candlelight dim, makes one strain to see the four shadowy, sinister figures rolling the dice that open and close the sorry tale. But the lumbering cart with its heavy load of stiff corpses that traverses the market square leaves one in no doubt this is a pestilent place.
Death takes Juliet to bed as she builds up courage to drink the sleeping potion; ghosts of the dead Tybalt and Mercutio dance with her; Hamlet-like Friar Lawrence contemplates a skull, Friar John is killed and robbed en route to deliver Father Lawrence's letter to Romeo. Memento mori images abound, as do sexual innuendo and vulgar jocularity.
The life force lust for blood and sex: much grabbing of crotches and breasts, the Nurse is seen making whoopee with another servant in the Capulet household, whilst Juliet awakens to her own desire. But then her parents are giving her to the highest bidder, to stolid Paris (Emilio Pavan)… The posturing men are macho; the women are there to be taken. Is Tybalt's relationship with Lady Capulet more than that of a close relative?
Romeo's role is showy, demanding: one easily sees an ostentatious Nureyev in the part and his Kirov-training in the choreography. As Isaac Hernández confirms in an interview, there are many steps to learn. And he gives all of himself to them, but he is a sweet boy, still hanging out with his gang of six friends, joining in their street pranks though he's not full of volatile young bloods bravado like the rest of them, Mercutio (good characterisation from Fernando Bufalá) the prime example.
Stricken by first love, away from Juliet he dreams of her dancing before him, whilst the split stage shows her in death's despair. But I don't feel a connection between the two of them in their pas de deux. Erina Takahashi's Juliet is considered, her dancing light and elegant, but one doesn't get a sense of ardent abandon.
James Streeter, Takahashi's real life husband, supplies that in his larger than life Tybalt. His acting is dramatic, vigorous, commanding: a standout performance.
Maybe it is the venue—the Royal Festival Hall stage is too exposing and cramped for dance—the crowd scenes and group dances don't have room to breathe. And at times there is more visible drama in the orchestra and in Gavin Sutherland's superb conducting. My musician companion is quite taken by the action in the brightly lit pit.
The overture sends tingles down the spine. Prokofiev's music, so familiar not only from Kenneth MacMillan's 1965 Romeo and Juliet but Leonid Lavrovsky's 1940 version for Galina Ulanova, both of which Nureyev knew well, so moving with its recognisable motifs that it transcends any staging.
Created in 1977 for English National Ballet, then London Festival Ballet, to celebrate the Queen's Silver Jubilee, Nureyev's ENB Romeo & Juliet today celebrates not only its 40th anniversary but also the 90th birthday of the woman who commissioned it, Dame Beryl Grey.
Her autobiography, For the Love of Dance, recounts the many rows between choreographer and his designer Ezio Frigerio, who to my eye has reproduced the quattrocento era in painterly strokes. A demanding task master Nureyev, a fiery intelligent temperament, it was all on a knife-edge till the very end, but first night drew a standing ovation.
Restaged by Élisabeth Maurin and Lionel Delanoë, both formerly dancers at the Paris Opéra Ballet when Nureyev reigned supreme, I am pleased to have seen it, the ENB dancers are good, but this Romeo & Juliet doesn't engage my heart. I'm still trying to understand why. Is it too academic? Too autocratic? Does this revival need more time to settle?
The cast changes every night and I'd like to see them all: Cesar Corrales as Mercutio, Yonah Acosta as Romeo and Mercutio, Laurretta Summerscales and Alison McWhinney (a lovely Rosaline) as Juliet, and the new additions to the team.
Reviewer: Vera Liber