Romeo & Juliet
William Shakespeare
The Flanagan Collective in association with York Theatre Royal
St Olave's Church, York
–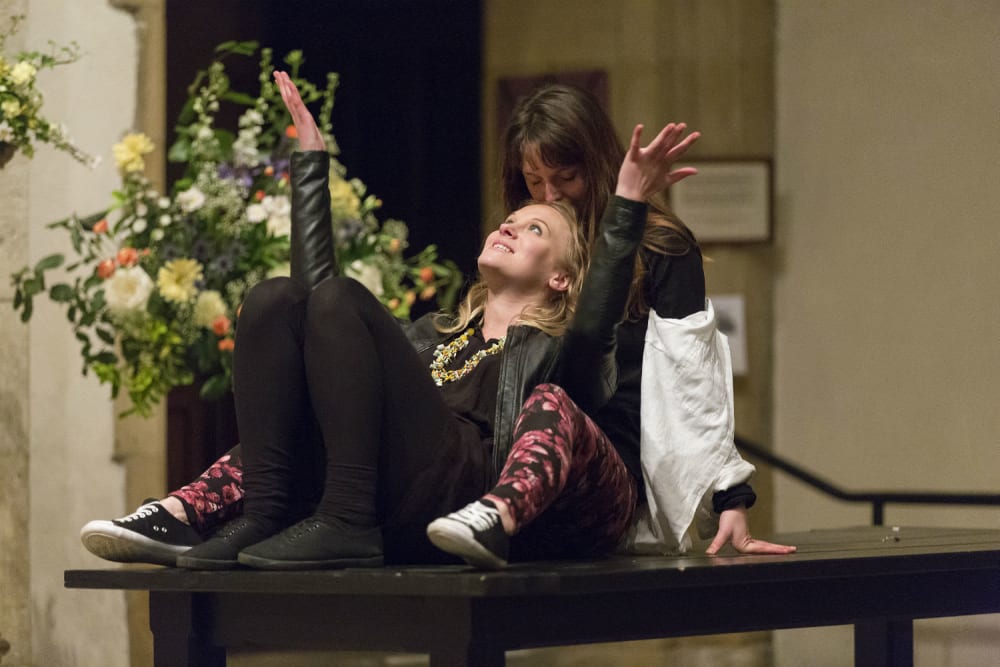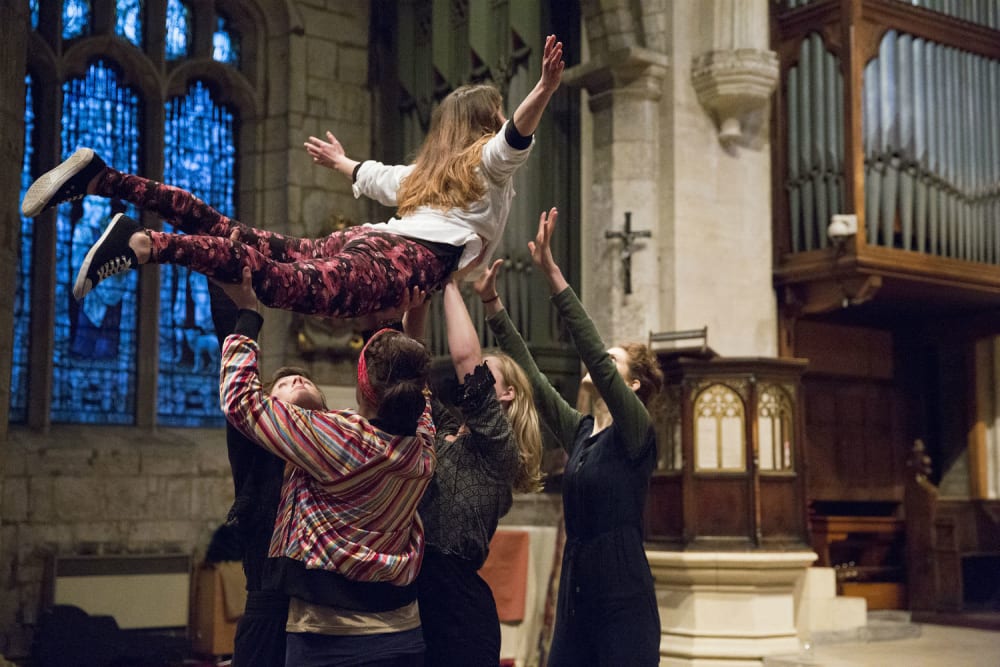 The cavernous St Olave's Church is overtaken by an energetic party, soundtracked by some top tunes and presided over by six boisterous young women. Audience members are called upon chummily to help inflate balloons and festoon bunting round the church's pillars.
Some might suspect that director Alexander Wright has shares in a party supplies shop, as shiny conical hats are as prominent here as they were in the company's recent Sherlock Holmes. But all of this preamble provides a connection between audience members and performers and deliberately shakes up the venue from its everyday connotations of religion and calm.
In this way, Wright has achieved his stated ambition of creating a story "about recklessness, passion and energy". His Romeo and Juliet is streamlined, punchy and all played by the aforementioned six women, forming a clearly well-attuned ensemble. These are no breeches roles, and the text has been adapted to refer to Romeo as 'she' and elide the difference between Lord and Lady Capulet, for instance.
There is some gorgeous choral singing throughout, with the cast's six-part harmonies resonating round the church in a powerful way. The choice to interpose songs from Twelfth Night is fine, if somewhat puzzling in a world which might as well reappropriate Björk. In the acting, too, there is a variety of playing levels and volumes in what is a difficult space to dominate.
There are, however, some beautifully simple staging ideas—the barest of costumes are hung over pew-ends ready for action, much of which takes place along the central aisle rather than at one end or the other.
These are intensely likeable performers all, and each of them has her moments of joyous connection and engagement. But as the first half continues there's a sense that much more could be mined from the text, and at times the delivery goes against or across the meaning of the line in ways which detract from the story rather than updating the verse.
In a way, Amie Burns Walker's Juliet suffers the most from this requirement to play generalised washes of emotions rather than precise line-by-line meanings. She is made to emote from the pulpit during Juliet's key scenes, in speeches which would benefit from much closer attention to the twists and turns of emotion and logic.
The balcony scene, from both her and Emma Ballantine's Romeo, is thus painted with a general wash of "lovers in love"; the danger, the yearning, the luscious torture of the relationship are not acknowledged. In this world oaths don't carry the weight they did in Shakespeare's, and it is hard to grasp the stakes behind Juliet's concern for Romeo's being caught by the Capulets.
Likewise, in the compatriots' mockery of Romeo, meanings do not quite hit home, as the puns and ripostes on 'marking' and 'marksmen' are scurried over in a generalised wave of joshing.
There are some joyous moments, and the sparkling Ballantine does succeed in enticing the audience into Romeo's thought processes as she scampers along and over pews. Burns Walker is a similarly engaging lead, and Hannah Davies doubles well, creating instantly differentiated characters and showing the firmest grasp on the sense and verse. She extracts humour and humanity as the Nurse, yet gives Tybalt a surly streetfighter's swagger.
It is a shame that the brawls themselves, given lithe caginess by the employment of a capoeira-esque physicality, are almost entirely lost due to the nature of the moves, which takes the fighters down below the sightlines of the majority of the audience. There is some slick gestural work in Mercutio (Holly Beasley-Garrigan) and Benvolio's (Yoshika Colwell's) scenes as well as a couple of soaring lifts, but again it is a puzzling part of a physical patchwork which doesn't ultimately add up to greater meaning.
The second half, by contrast, is markedly freer of musical and other incursions—it's almost conventional in contrast—though when the five- or six-part harmonies return they are always stunningly arranged and executed. Wright seems to have difficulties with endings: similar problems marred last year's Sherlock, and here we have a rushed and low-key pair of suicides followed by a wrong-footing off-beat of a climax which I hope may be tweaked in forthcoming performances, to provide a surer-handed, more confident ending. The intention was clear, but for me the execution was hesitant.
So, as an exercise in youthful exuberance this production can be commended. But its apparent assumption that audiences will know the intricacies of the story already, and thus that finer detail in the telling does not matter, mis-serves those communities it's seeking to reach out to in seeking to capture the 'sheer relevance of falling in love'.
Reviewer: Mark Smith