Romeo + Juliet
William Shakespeare
The Watermill Theatre
York Theatre Royal
–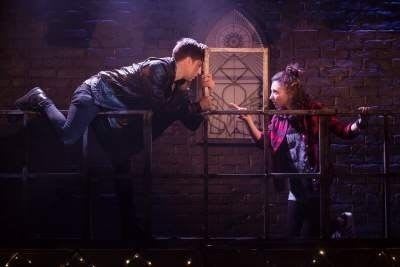 It's been 21 years since Baz Luhrmann's iconic film version of Romeo and Juliet brought Shakespeare's tragedy bang up-to-date, with Leonardo DiCaprio and Claire Danes playing star-crossed teen lovers in Verona Beach, California. Paul Hart's production, first staged at the Watermill Theatre last year, has a similar energy and crackle, portraying the vivacity of youth in a contemporary setting.
The play begins with a skirmish between the Capulets and the Montagues, two of Verona's most prominent families. Angered by their ongoing feud, the Prince intervenes and orders that they must not break the peace again, under pain of death.
Romeo (Stuart Wilde), a Montague, is persuaded by his friends, Benvolio (Victoria Blunt) and Mercutio (Offue Okegbe), to gatecrash a Capulet party. While there, he encounters Juliet (Aruhan Galieva), a Capulet, and the two teenagers fall hopelessly in love.
Director Robert Icke, who staged a memorable production of Romeo and Juliet in 2012, once likened the play to "an episode of Friends in which Joey gets shot in the head halfway through". Tybalt's (Peter Dukes) needless slaying of Mercutio derails the love story completely and sets the star-crossed teens down a path of murder and suicide.
Like Luhrmann, Hart appreciates the power of music, so sets the action of the play in an underground bar/music venue. This works a treat because it acknowledges the integral role that music plays in the lives of the young, particularly when it comes to overcoming emotional inarticulacy. Kate Lias's set design is terrific, perfectly capturing the grungy nature of such venues and paying tribute to Luhrmann's film with an eye-catching neon cross.
The play features a fine rock score from Johnny Flynn (so brilliant in Martin McDonagh's Hangmen), but the most memorable musical performances consist of covers. Whereas Luhrmann gave us Garbage and The Cardigans, Hart offers up The Vaccines and Mumford and Sons. My musical highlight was an energised cover of The Hives' "Hate to Say I Told You So". Crucially, all of the songs are performed by the multi-talented cast who sing and play various instruments, including guitar, piano, banjo and drums. These performances bring another level of dynamism to the production.
Hart captures the vigour of Shakespeare's play by casting young actors, many of whom are recent drama school graduates. The two leads, Stuart Wilde and Aruhan Galieva, both do a fine job of capturing the title characters' teenage angst. With his eyeliner and emoish haircut, Wilde manages to put across Romeo's emotional volatility, Equally striking is Galieva's tomboyish Juliet, who possesses both an inner core of steel and a lovely singing voice.
Romeo and Juliet portrays a particular type of teenage love—one that borders on obsession, even insanity. Unfortunately, Wilde and Aruhan don't quite have the chemistry of other Romeos and Juliets I've seen, which rather undermines the play's dramatic power.
There are some lovely performances from the supporting cast. Victoria Blunt's Benvolio is one of the finest I've ever seen, bringing warmth and common sense to a traditionally macho role. Jamie Satterthwaite excels as Juliet's despicable father, highlighting his abusive nature. Emma McDonald's neglectful Lady Capulet is pleasingly elegant and jaded.
Peter Dukes brings swagger and ferocity to the role of Tybalt. Rebecca Lee lends Friar Laurence the requisite gravitas and Mike Slader is surprisingly touching as the sweet, ill-fated Paris. Lauryn Redding's larger-than-life northern nurse undercuts the production's seriousness with her warmth and jollity.
Mercutio is the best part in the play, but Offue Okegbe's interpretation of the part is surprisingly subdued. I would have preferred a more exuberant take on the character, so when he dies you have the feeling of a Catherine wheel burning out.
I was impressed by the use of movement in Hart's production, particularly the scene where Juliet drinks the poison and is spirited away by hooded figures. However, I was slightly dubious about some of the fight scenes, which fell between the stools of realism and dance.
Overall, I thought this was a dynamic, visually striking production that manages to capture the youthful spirit of Shakespeare's play, if not always the heart.
Reviewer: James Ballands