Rookery Nook
Ben Travers
Menier Chocolate Factory
(2009)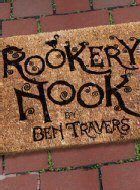 Ben Travers is back from a long spell in the theatrical wilderness and with help from Terry Johnson and a perfectly chosen cast, surely his old haunts in the West End beckon.
Rookery Nook seems an odd choice for the usually adventurous Menier, the traditional British tone of this "Aldwych farce" more obviously suited to the Orange Tree. However, the classic has been lovingly resurrected and is almost continuously funny for just short of 2¼ hours.
Farce is a tricky form and when done badly can be a chore to sit through. Terry Johnson's work can seem like a modern equivalent and that makes him an ideal director for this 1926 smash hit stage adaptation of Travers' 1923 Wodehousian novel.
Rookery Nook is a charming Somerset cottage recreated in great detail down to the trellises of climbing roses by Tim Shortall. It has been rented out to the newly-married Gerald Popkiss (Gussy Longhampton in the book!), a dim type played by Neil Stuke, who hasn't the nous to philander even if he has the nose for it.
His cousin Gerald is quite another matter, Edward Barker-Duly rendering him as a cross between Terry-Thomas and Leslie Phillips.
Chance presents itself in the petite but exceptionally pretty form of the excellent EastEnder Kellie Shirley's Rhoda Marley, an innocent, pyjama-clad sweetie escaping the clutches of Nick Brimble as a wicked German stepfather with the figure and charm of Frankenstein's monster.
This little group is suitably stirred up by the Twines. Sarah Woodward makes Gertrude into a veritable dragon, while Mark Hadfield is in danger of winning awards as the meek, henpecked Harold. Mr Twine is a man who shakes and stammers at the drop of the straw hat that he is in the habit of nibbling.
Ben Travers combines perfect farce construction with a witty premise and a love of language that ensures hilarity. Whether all of the visual gags are his or Johnson's is less certain but whoever created them has put the icing on to a scrumptious cake.
Unusually, without detracting from the main players, their support is universally good, right down to an invisible cat and ferocious dog, each of which would be scene stealers in weaker company.
On the human side, Lynda Baron as a harridan daily woman, Alan Thompson portraying a nutty old Admiral, Victoria Yeates playing a charitable local floozy named Poppy Dickie and Claire Wilkie in the guise of wronged Clara all have their moments. Even venerable Venetia Barrett as a practically dead mother-in-law gets a good laugh - albeit not until the curtain call.
To date, the Menier's biggest successes have been with musicals, best of all Sunday in the Park with George, which left Southwark for Broadway via the West End.
In Credit Crunch Britain, we all need some good old fashioned escapist comedy. Rookery Nook is just that and deserves a long life at the Chocolate Factory and before too long, at a venue across the river.
Reviewer: Philip Fisher