Room Service
John Murray and Alan Boretz
Soho Playhouse, New York
(2006)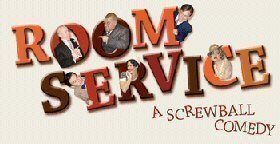 How can you criticise a production that, by the end of two and a half blissful hours, has its tightly-packed audience collectively rocking with laughter?
This early 1930s play was filmed in 1938 starring three of the Marx Brothers, as well as Lucille Ball and, for better or worse, you can almost see them as you watch the actors rushing around the stage.
Peccadillo Theater was set up to rediscover "forgotten American classics" and audiences will be grateful that this time around they have done so, and then some.
Their revival has already moved from a tiny theater to a small one and shows every sign of taking at least one more step up. This must be a necessity if the talented 12-strong cast are to have a little more space to move around and, more importantly, get paid properly.
Room Service is screwball comedy that borders on farce and is set in the world of the stage. Gordon Miller, played by David Edwards, is a producer whose play (unseen) is bound to be a Broadway hit once it makes it on to the stage.
However, after seven weeks of rehearsals on a zero budget, the hotel manager, Gribble is becoming fractious about the ever-increasing bill, even though he is Miller's brother-in-law. When Wagner, a company official, rolls up in the guise of the superbly over-the-top Sterling Coyne, larger (and much redder) than life, eviction and possibly arrest beckon.
To spice things up, we are introduced to producer, director, star and the impossibly innocent young writer (Scott Evans), all of whom pack the stage and elicit laughs.
There are great gags such as a moonlight flit wearing seven layers of clothes, a human chimpanzee's tea party and multiple disappearances through the four doors that this small hotel room, designed by Chris Jones, boasts. The funniest moments of all, though, inevitably revolve around an unscripted collapsing door frame, which should be written in immediately.
There are also numerous subplots about rich backers and their floozies, Russian actors, debt collectors; and false cheques and doctors.
After a somewhat slow start, director Dan Wackerman ensures that the pace quickens to breakneck with jokes coming thick, fast and very funny until a miraculously happy ending with a little love; and a palpable hit both for the onstage show and the one that we are watching.
The cast members all play their parts with Fred Berman and a taciturn but not silent Robert O'Gorman a good double act (in the Chico and Harpo roles) as Miller's assistants, Kim Rachelle Harris adding glamour in the Lucille Ball part and Louis Michael Sacco amusing as the Russian waiter/Stanislavskian actor.
As a character announces at the end when the Broadway show becomes a hit, Room Service might be "The funniest play I ever did see". If you can get to this zany comedy do so. It is guaranteed to leave you laughing out loud.
Reviewer: Philip Fisher