RoosevElvis
Rachel Chavkin, Libby King, Jake Margolin, and Kristen Sieh, with Matt Hubbs, Andrew Schneider and Nick Vaughan
The TEAM
Royal Court Theatre Downstairs
–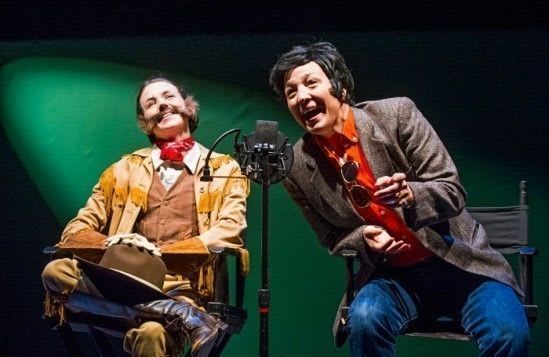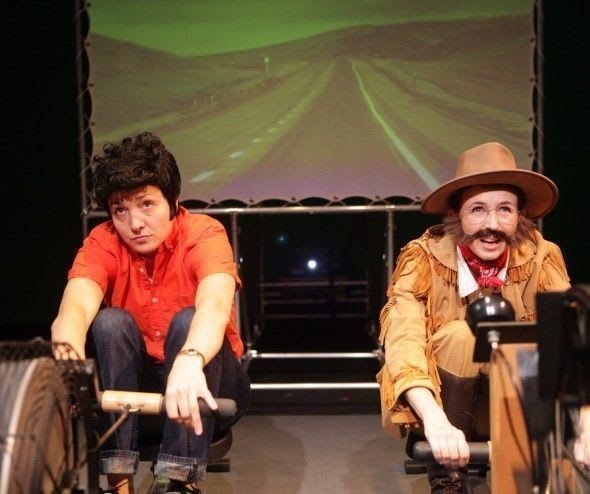 The TEAM from New York, celebrating its 10th birthday in 2015, is in some ways a throwback to an earlier, avant-garde era when Happenings created by what were effectively collectives were in vogue.
Knowing what to expect on a visit to the theatre, i.e. the totally unexpected, audiences derived their own pleasure from the experience without worrying too much about fully (or in some cases even partially) understanding the underlying meanings.
RoosevElvis features a pair of actresses, not that you would necessarily know it from the opening scene in Rachel Chavkin's production. That is because the performers play the incongruous duo of Theodore (Teddy) Roosevelt and Elvis Presley, initially trying to out-boast each other at the same time as identifying congruities in their life stories.
This frothy bit of fun should prove informative to Londoners, especially regarding the 19th century president.
This melts away into a contemporary domestic scene in which Libby King as Ann, a beer-swilling meat grinder, is visited by her new (gay) Internet lover, the less repressed taxidermist Brenda, played by Kristen Sieh.
The pair then transform into their own Thelma and Louise, embarking on a lengthy picaresque trip from their Dakotan heartland across the United States towards the home of the "King", Graceland, at the same time taking a parallel journey across their own collective psyches.
The presentation, featuring a set design by Nick Vaughan and videos from Andrew Schneider, is periodically amusing and makes good use of multimedia techniques, which combine with versatility of the actresses in delivering a complex, interwoven series of stories and set piece speeches, which probably say more about the creators' views on gender than the two men sharing the title.
It therefore seems a good bet that the purpose of this devised piece is, as ever with The TEAM, to comment obliquely on the vacuity of American society today, while also observing the emptiness and purposelessness of the lives of relatively stereotypical, working class women.
While many viewers might find themselves baffled for much of the 100-minute running time, devotees of this company, which has proved particularly popular on the Edinburgh Festival Fringe, are likely to lap up this typical example of their output.
Reviewer: Philip Fisher