Roots
Caroline Finn, Lee Johnston, Matteo Marfoglia
National Dance Company Wales
Dance House, Wales Millennium Centre
–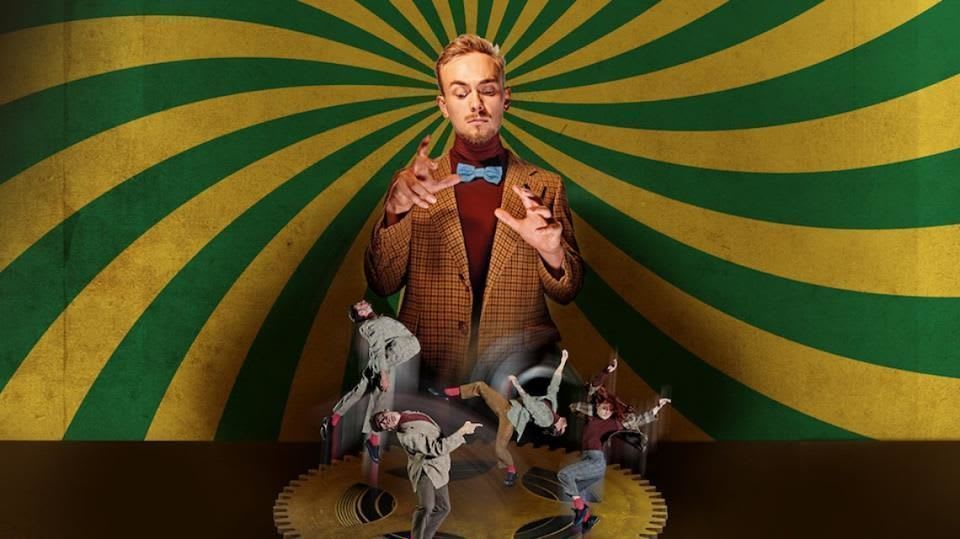 The biennial Cardiff Dance Festival is currently in full swing, presenting work from an impressive range of international companies, as well as open studios, film screenings and workshops. Roots is National Dance Company Wales' contribution to the festivities.
This show comprises four contrasting small-scale pieces, each of them fifteen minutes or less in length and, as with all of the company's work, designed to appeal to the general theatre-goer as much to aficionados. Before the lights go down, artistic director Caroline Finn explains to us that what connects these works is a concern with universal human struggles; the publicity material is similarly exemplary in its clarity.
Finn choreographs the first of them: Beside Himself, which was first conceived as a piece for two women in 2011. Now, it is a duet for men, which initially prompts a few titters from the largely tweenage, female audience (many of them aspiring dancers), as the performers stomp across the stage in boxer shorts, vests and Morrissey-style spectacles (costume design is by Finn herself). This seems not entirely unintentional, since they seem to mirror one another's movements in a manner which calls to mind the classic Groucho Marx sketch.
Beside Himself, perhaps the most intellectually ambitious of the quartet, is about the uneasy co-existence between the ego and the alter-ego. Under the low-hanging lights (design by Adam Cobley), differences emerge, and conflict occurs, although the physical hostility doesn't get much more intense than a bout of finger-biting.
Accompanied by a soundtrack which is both rhythmic and folk-inflected, the two selves struggle, apparently without success, to find a resolution. In the post-show Q&A, a perspicacious youngster asked which was ego and which was alter-ego, and Finn was obviously in two minds on the issue.
After a brief interlude, we move into decidedly darker territory with Matteo Martoglia's powerful Omertà, inspired by the women behind the men behind the Mafia. The four female dancers, clad in traditional Mediterranean black (costumes by Rike Zoellner), commence underneath separate, flashing spotlights, playing out individual dramas as a clock seems to tick loud and slow (sound design by Sarah Everson, lighting by Leighton Thomas-Burnett).
As matters progress, and the confrontational music of vocal quartet Faraualla kicks in, the dancing becomes more frantic and collective—the head-coverings are removed, and buckets of water signify the domesticity behind which they hide the Family secrets. There is anguish and possibly guilt—we are left with the impression that they are victims rather than co-conspirators.
After the interval, we are treated to the most fluently balletic piece—They Seek To Find The Happiness They Seem. Its title a riff on the lyric to Irving Berlin's Cheek To Cheek, Lee Johnston's piece, inspired by classical Hollywood duets, follows a loving couple as they progress from seamless unity, to apparently leading separate lives.
Even without music, this would be a deeply moving segment, the casually-clad dancers (costumes by Zepur Agopyan) easy to relate to. A plaintive soundtrack by the brilliant Max Richter, however, intensifies the emotion still further.
After a brief pause for sniffling, comes another piece by Caroline Finn—Animatorium, her take on another familiar ballet subject; the doll-maker. We commence with the four "puppets", dressed in near-identical suits (costumes by Finn), spinning slowly as though on turntables, watched by their master.
He then proceeds to manipulate them, seeming to form intimate attachments, then tire of them. Inevitably, the dolls rebel, overpowering their master, eventually taking psychological control over him.
In the post-show discussion, we learn of the standard which each dancer has to reach to be chosen as a member of NDCW (there are 500 applicants for every female position, 300 for the men). Needless to say, the ensemble—Robert Bridger, Àngela Boix Duran, Cyril Durand-Gasselin, Camille Giraudeau, Ed Myhill, Evan Schwarz, Elena Thomas and apprentice dancer Marine Tournet—are, to my untutored eyes, flawless.
Roots is a beautifully-judged selection of pieces; intelligent but not forbiddingly so; accessible without being undemanding; and enjoyable on a number of levels.
Reviewer: Othniel Smith