Roots
Suzanne Andrade
1927, Edinburgh International Festival, HOME Manchester, Spoleto Festival USA & Théâtre de la Ville Paris
HOME, Manchester
–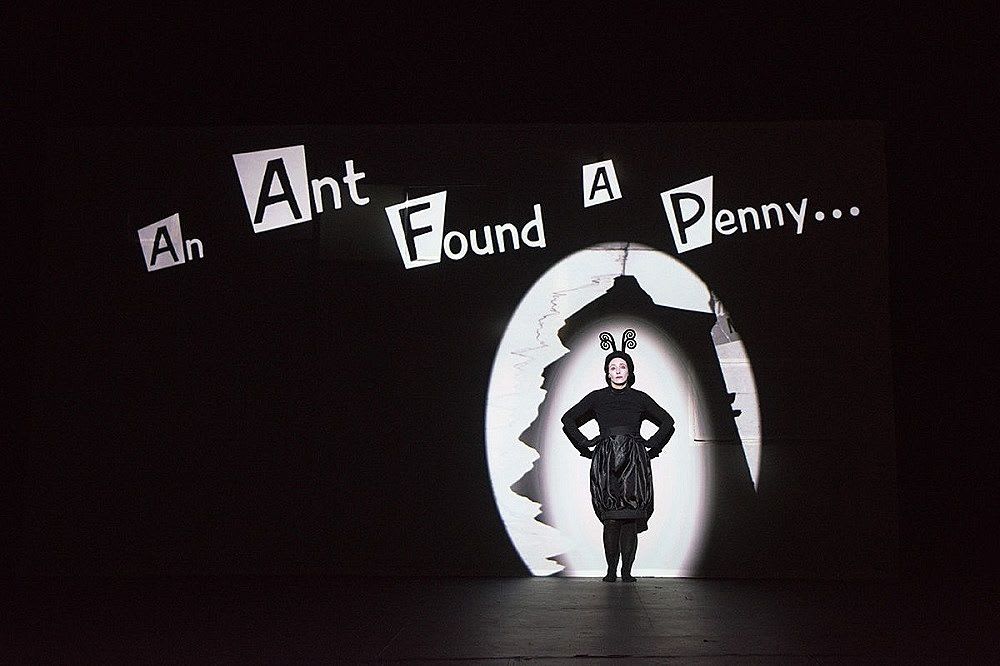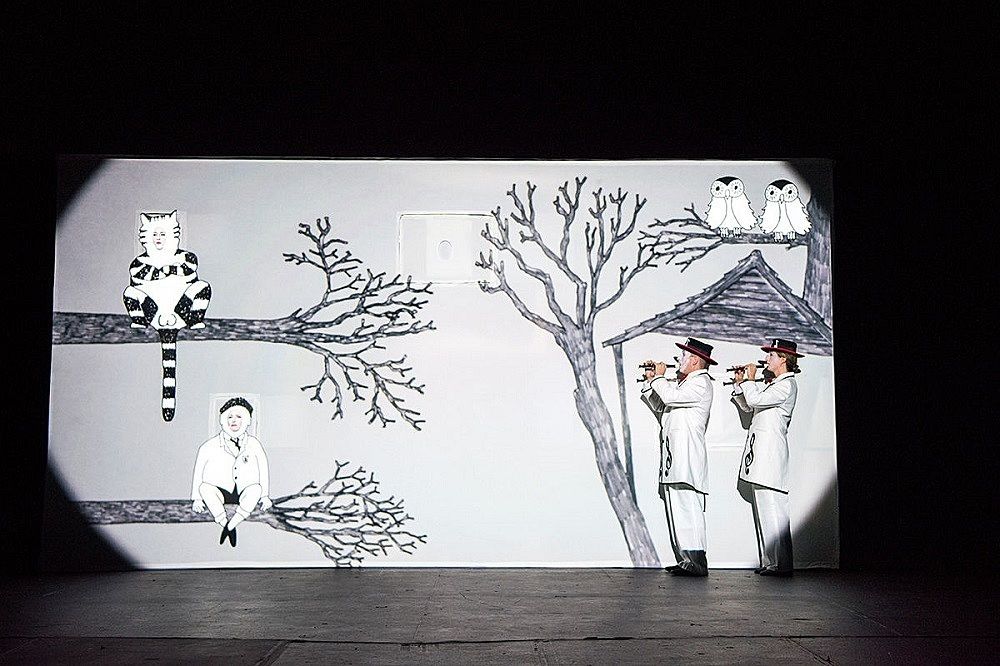 Folk tales are a do-it-yourself type of entertainment suitable for easing children to bed or captivating audiences around a campfire. The success of the stories is, therefore, very much dependent upon the personality of the storyteller who can choose to make them funny, disturbing or moving. 1927 is so committed to achieving authenticity that the thirteen 'folk jokes' contained in Roots are recounted by friends of the company rather than professional actors. This is apparent as one storyteller concludes her reading by asking if she can have another go.
The rough and ready approach to storytelling is very much in accord with the presentational style of 1927. There are no physical sets—the four members of the cast (David Insua-Cao, Francesca Simmons, Genevieve Dunne and Phillppa Hamby) perform in front of projected images by Paul Barritt. The images are bright and cartoony like a child's storybook come to life and the cast use them as backing, interact with them or merge into them—becoming greedy cats or Parisian ants. The most successful interaction between the cast and the projections is in a tale of a married couple who become jealous as they alternate in gaining magical powers, with the projections featuring flying dogs and blasts of magic.
Lillian Henley's score has an otherworldly aspect but remains rooted in traditional music. A basic piano backing, which brings to mind the soundtracks to old-style silent movies, is enhanced with droning strings and some decidedly odd instruments: Peruvian prayer boxes, donkeys jaws and musical saws.
Author Suzanne Andrade, who co-directs with Esme Appleton, takes a non-judgemental approach to the stories that may not accord with contemporary sensibilities. The tale of a king who demands his wife demonstrates her submissiveness to set an example to all women is told without irony or disapproval. Justice does not always prevail—when parents decide to drown their child purely to increase their food supply, the narrator remarks, "wouldn't that be nice?". However, some elements of social commentary do creep into the stories. The tale of a rapacious Fat Cat, whose greed destroys the whole world, may be a comment on rampant capitalism or consumerism.
The humour in the tales is dry and pushed to the background. A seaside postcard has the caption "Kismet Quick?" and a woman we are told is unremarkable has the word stencilled onto her clothes.
With cartoonish larger-than-life settings and fantastical tales, Roots contains many of the features one would associate with festive entertainment. Yet other traditional seasonal elements are missing—there is no audience singalong and smutty schoolboy jokes are definitely not available. There is nothing to cause offence (although the cast taking bows while in body stockings may raise an eyebrow), but younger children may struggle to connect with an approach so unfamiliar to the pantos to which they are accustomed.
The only real limitation to Roots is that it remains a collection of short stories without an overall interconnecting theme and does not, therefore, move to a climax so much as run out of steam. Actually, the show runs past what seems like a natural ending—where the storytellers slip out of their roles to chat about the company—to end on a dark note.
Roots blends authenticity with imagination to create a bracing series of stories unlike anything else in theatres at this time of year. It is, therefore, ideal for audiences bored with being force-fed festive cheer who are willing to step out of the mainstream.
Reviewer: David Cunningham