Rose Campion and the Stolen Secret
Lyn Gardner
Nosy Crow
Released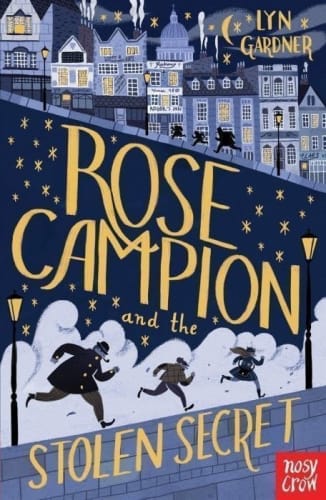 After a wildly successful and highly enjoyable series of six Olivia books for youngsters, Guardian theatre critic Lyn Gardner has simultaneously moved onwards and backwards.
The onwards is to a new series, the first of which is Rose Campion and the Stolen Secret. The backwards is in time, since Rose Campion hails from the age of Queen Victoria and seems to relish the kind of adventures that were known at the time as Victorian Sensation.
The 13-year-old does seem rather like a great-great-grandmother to Olivia, getting into many similar scrapes and, with the assistance of a bunch of other streetwise kids, ensuring that a happy ending is likely to result at the end of the 300 or so pages.
The theatrical connections still come thick and fast, with Rose residing in Campion's Palace of Variety and Wonders, a music hall somewhat down on its luck as the genre is beginning to go out of fashion.
However, her guardian the redoubtable Thomas Campion is the kind of man who deserves to succeed whatever happens and, often with Rose's assistance, manages to bring the audiences flooding back.
Along the way, an ageing Infant Phenomenon, a painted bicycle and a cross-dressing tot all do the trick.
As well as depicting music hall life, with many Shakespearean allusions, Lyn Gardner's tale contains rip-roaring thrills and spills, thanks to a series of mysterious coincidences involving a dastardly toff, a Dickensian villain who oozes evil and Lizzie, a backstabbing, gin swilling blackmailer.
Through all of this, Rose rises to the challenge assisted by her friends Aurora and Effie, helping an inheritance to find its way back home, saving lives and ensuring that the baddies get their just comeuppance by the end of another moving, exciting and at times funny novel which bodes well for what could is likely to be a lengthy Rose Campion series.
Reviewer: Philip Fisher