Rosmersholm
Henrik Ibsen in a New Adaptation by Duncan Macmillan
Duke of York's
–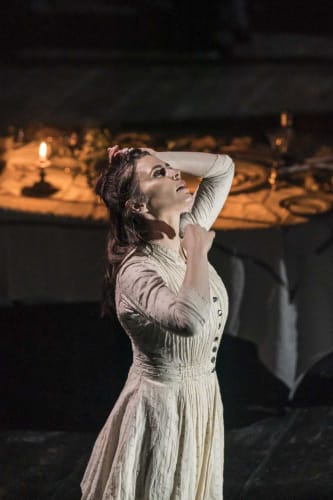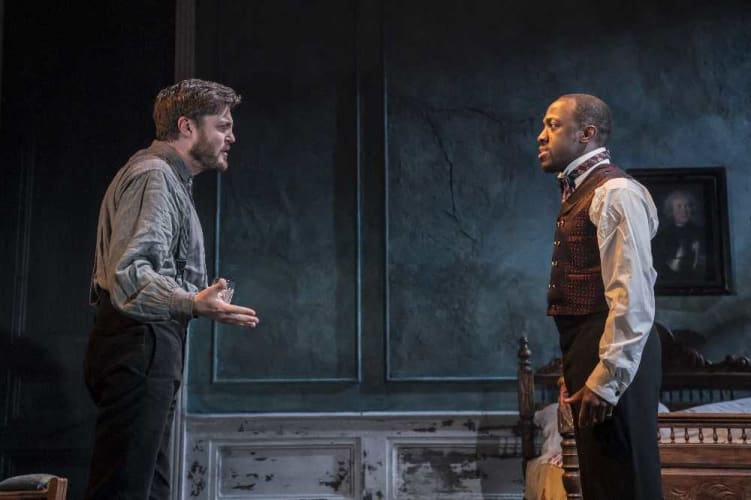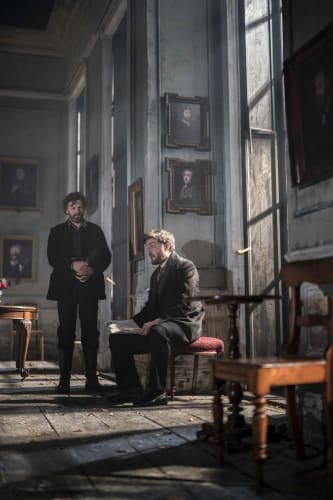 It may seem an unusual and unnecessary opening gambit but director Ian Rickson and playwright Duncan Macmillan are to be congratulated on presenting a version of Ibsen's drama about guilt, shame and politics in a wholly traditional fashion.
Far too often at the moment, playwrights and directors seem desperate to to stamp their own, modern interpretation on plays from the past, often diverting them far from their intended directions and targets.
Having said that this is a traditional production, the political debates between Tom Burke's newly radicalised former pastor John Rosmer and his erstwhile friend Governor Andreas Kroll played by Giles Terera drew gasps and titters from the opening-night audience, so directly did they comment on current events in our divided country.
The catalyst for the wealthy pastor's loss of religious faith and his new belief in a communist-style philosophy is Hayley Atwell's Rebecca West.
After the suicide of his wife in the mill race by a house which, in Rae Smith's magisterial design impeccably lit by Neil Austin, has the trappings of a stately home, complete with a set of family portraits in wide-ranging artistic styles, Rebecca has become a confidante for the widower and potentially much more. However, despite his imprecations, she holds back whenever intimacy or marriage are mentioned.
Instead, the forceful young proto-feminist is happier to control Rosmer's mind. As a result, the reactionary Governor is afraid of losing an election if his friend announces public opposition.
However, the editor of the local newspaper, who has had previous run-ins with the man of God, seems little happier to find a new ally at such a crucial moment. Completing the political confusion is Brendel, a drunken, destitute former lecturer, who has lost his way in every sense.
Between them, the members of this group symbolise much about Ibsen's views of society at the kind of crossroads that often features in Chekhov, as the landed gentry begin to find themselves challenged by those promoting egalitarianism and freedom for the previously disenfranchised.
Rosmersholm features a series of powerful and impassioned speeches, in one case a terrifyingly bold and revealing confession, which both show off the talents of the actors and reach deep into the souls of their characters. Collectively, they enable viewers to recognise traits that will be familiar from themselves, their friends and some of today's hypocritical politicians and media pundits.
Ian Rickson has delivered a beautifully judged production, which benefits from perfect timing and some memorable performances. Hayley Atwell brims over with passion as Rebecca West, while Tom Burke broods and suffers playing Rosmer, literally unable to laugh due to a genetic weakness.
Around them, Giles Terera catches a politician's pomposity to perfection, while Lucy Briers convinces as a stern, disapproving housekeeper and Peter Wight imbues the sad drunken idealist with a sense of desperation.
This fine production is a great reminder that classics presented as the original playwrights intended can make for compelling viewing and often be far more satisfying than many much more radical and fashionable modern interpretations.
Reviewer: Philip Fisher