Rosmersholm
Henrik Ibsen in a new version by Mike Poulton
Almeida Theatre
(2008)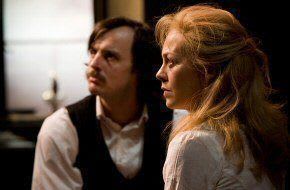 Rosmersholm is a play entirely populated by unhappy people. Written in 1886, the drama centres on the relationship between Johannes Rosmer and Rebecca West, the latter a kind of practice run by Ibsen for Hedda Gabler.
The back-story on this occasion is just as important as what is witnessed on stage. The conservative Rosmers have for 200 years been pillars of their community, representing authority that has not always been benign.
This doesn't necessarily bring inner peace and the late Beate Rosmer, Johannes' wife, eventually threw herself in the mill race while of unsound mind.
As the play opens, we meet Paul Hilton playing her husband, a year later in the elegant, if rather cold, drawing room that Hildegard Bechtler has created for the occasion.
By then, he is a pastor who has lost his faith having been seduced by the attractions of radicalism. In this, he has been aided, if not exactly pushed by his wife's devoted companion, Helen McCrory's blonde-haired Miss West. Although platonic, their relationship is as close as any between lovers.
The first half of the play sees a strenuous political debate between left and right, each wishing to use the latest Rosmer as a figurehead. Malcolm Sinclair is particularly good as Kroll, a stuffy, calculating man of the right who spouts the kind of policies that one might easily associate with David Cameron.
His antithesis representing the left is Peter Mortensgaard, Peter Sullivan playing a man renowned as "an atheist and a common adulterer", which of the two finding less favour with his rival being a moot point.
Perversely, the happiest character is Paul Moriarty as Brendel, a former lecturer turned drunk, who can be cheered by the price of a drink and made euphoric by a night's worth.
The final two acts, following the second of the evening's intervals leave the party politics behind for the more personal variety. These scenes bring out the best in the leading actors, as Rebecca West's family secrets are revealed and the tale moves inexorably towards a tragic ending.
Rosmersholm is yet another characteristic Ibsen drama that, bucking the trend of the period, has a really meaty part for a woman. Anthony Page's 2¾ hour revival not only allows Helen McCrory to shine but also proves once again that Ibsen was a master of tragedies of love and loneliness.
Playing until 5 July
Reviewer: Philip Fisher