Rough Crossings
Simon Schama, adapted for the stage by Caryl Phillips
Headlong Theatre
Lyric, Hammersmith
(2007)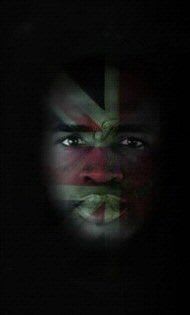 Rupert Goold is having a big week, with two London openings of major productions. While his Macbeth is an almost unqualified success, if anything Rough Crossings is an even more ambitious project.
This play attempts to take a big book with many strands and meld them into a satisfying three hour play. It seems that despite the efforts of novelist and sometime playwright Caryl Phillips and Goold, Simon Schama's indictment of slavery and the British attitude to it in the late Eighteenth Century is too diffuse to make for a coherent drama.
That is not to say that Headlong Theatre's production does not have fine moments, especially after the interval, when the play concentrates almost exclusively on a head-to-head confrontation in Sierra Leone between polar opposites.
Before that, we enjoy a rollercoaster ride of short scenes more suited to television, as a strong cast introduce numerous different angles on this pernicious but profitable traffic in people who are regarded by their "owners" as little better than animals.
Goold has a good eye and ear for what will give pleasure. He opens with a lovely piece of physical theatre showing slaves seemingly tossed around in a rough ocean, depicted on a backdrop looking like an out of shape trampoline.
From there, the action moves into two scenes where wealthy British abolitionists are represented by classical singing led by soprano Miranda Colchester's Eliza Sharp, which blends into a beautiful slave's spiritual with a soulful Dawn Hope equally memorable.
The play then dips around between London, The American War of Independence, slave colonies, freezing Nova Scotia and the first failed attempts to create a settlement in Sierra Leone called Freedom, which soon belies its name. This all feels impressionistic and doesn't stop anywhere for long enough to make its point.
The second half takes place in Freetown, Sierra Leone, viewing an experiment in multi-racial living that constantly teeters on the brink of failure.
The four main figures tend towards generic types representing different aspects of the Black and White experience. John Clarkson (played by Ed Hughes) is an ineffably good man with an unshakeable belief in total equality but an Englishman's misplaced faith in establishment structures.
He is challenged beyond any reasonable limits by Thomas Peters, who could easily have been a Black Panther leader two centuries later. Filled with a sense of his own rightness and without a shred of diplomacy in his body, Patrick Robinson's character antagonises all and ultimately, begins to stretch credibility.
The negatives of this pair are the Christian Black Man, Peter De Jersey as David George, who seeks to pacify and avoid confrontation; and White Doctor Falconbridge, played by Mark Jax as a man who cannot hide his contempt for an inferior people, especially as the constantly topped-up alcohol begins to talk. He gets ironic comeuppance when his wife unexpectedly leaves him for a former American slave.
No satisfactory conclusion is reached, primarily because history did not resolve the issue of slavery for many more generations.
Rupert Goold's production might well be remembered for a brave attempt to do the impossible. It does though offer many powerful visual effects presented by a combination of a tilting platform stage and Lorna Heavey's video and projections, often accompanied by sweet music. As well as the sinuous swimmers of the opening, there are many memorable scenes of inhumanity whether it is men and women in the hold of a ship, being bought and sold or whipped.
Cecily Boys reviewed this production at the West Yorkshire Playhouse, Leeds
Reviewer: Philip Fisher