A Round-Heeled Woman
Written by Jane Prowse based on the book by Jane Juska
Produced by Brian Eastman
Riverside Studios
(2011)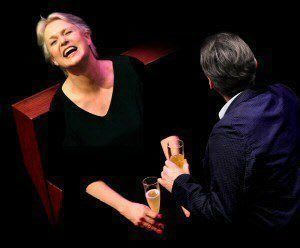 The "I talk tough and I wear pink" technique Sharon Gless adopted for her character in the TV cop series Cagney and Lacey echoes in A Round-Heeled Woman in which she now stars at the Riverside Studios.
Following a brief broken marriage, thirty years of celibacy and a lot of booze and pills, Gless' character, Jane Juska, decided that she'd had enough of being a frightened, lonely old woman and advertised for a sexual partner in The New York Review of Books. "Before I turn 67," read her ad, "I would like to have a lot of sex with a man I like. If you want to talk first, Trollope works for me."
Economical, witty and to the point, this is Juska all over. Her choice of publication reflects her love of literature and her hope of finding a man like herself, of some education and intelligence, and her reference to Victorian novelist Anthony Trollope is more than just a risqué quip. His Miss Mackenzie provided Juska with a romantic heroine and a lifelong literary companion for the lonely nights, whose situation often parallels her own.
The seventh is not the most obvious decade of adult life in which to launch oneself into a journey of sexual promiscuity but it's probably as good as any and if, like Juska, you know the rules you want to play by - no Republicans, no kinky sex etc - then you just have to jump right in and do it.
In response to the ad Juska had over 60 replies from men in their thirties up to their eighties. And she seems to have had sex with a lot of them. The outcomes weren't all wholly positive but when you have an orgasm after fearing that no-one will ever touch you again there is a sense of hope as well as of triumph for older women the world over.
Juska reminds us of the rejuvenating power of being desired but men don't come off well here. Their characters are written for scenes no longer than sketches and they are presented as exploitative, ready to feed their own appetites, emotionally thoughtless and all too willing to misinterpret Trollope for trollop. This leans towards painting all men with the same dick-led brush, throwing doubt even on the apparent unselfish intentions of young suitor Graham, who endearingly has Jane Austen's Darcy as his own literary soul-mate.
Sharon Gless is wonderful as Jane Juska. Excellent support comes from a terrific Jane Bertish who plays her friend Celia and Jane's controlling mother and Beth Cordingly who excels as Miss Mackenzie. They all feel fully at home with this funny and cleverly-constructed script by Jane Prowse.
Barry McCarthy, Neil McCaul and Michael Thomson play a multitude of male parts between them, finding subtle characterisations to distinguish between them. Of them Michael Thomson's well-considered Graham and petulant son, Andy, stand out.
However many men there are, what we all know is that there is more to life and happiness than sex and A Round Heeled Woman works its way to an uplifting ending in which Juska starts another journey of learning and redemption. As she says, "life keeps coming at you".
"A Round-Heeled Woman" is showing Tuesday to Saturday with Thursday, Saturday and Sundays matinées until 20 November. It runs 90 minutes without an interval. Adult themes.
Reviewer: Sandra Giorgetti