Round the Horne ... Revisited
Special Christmas Edition by Brian Cooke
The Venue
(2004)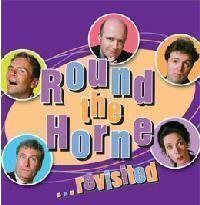 As with all of the best, long-running radio shows, the stage-based Round the Horne ... Revisited has produced a Christmas extravaganza. Once again, the audience is transported back in time to the mid-1960s and the Paris Recording Studio just around the corner in London's Lower Regent Street.
The formula is exactly the same, a re-enacted episode before the interval and another afterwards. Strangely, with so much material available, the second episode, with the exception of an absolutely brilliant Julian and Sandy (it really helps to be a fan or at least try BBC Radio 7 before you start), feels a little thin and does not have the spark that one has come to expect. Even then, it has enough laughs to justify its existence.
The performances from this excellent group of character actors have, if anything got even better since the original show opened earlier in the year. Quite how Robin Sebastian has made himself look and sound even more like Kenneth Williams is a mystery. Particularly when he is seen in profile or heard neighing, he could be mistaken for the long lost son of the sadly lamented comedian. The only problem is that on occasions, there is a danger that he will take over the show. However, this may not be all that different from the great man himself.
His colleagues do nearly as well, with Jonathan Rigby impeccable as Kenneth Horne and Nigel Harrison nearly as good playing Hugh Paddick particularly when he is paired up with Sebastian. Kate Brown takes on Betty Marsden and, with a combination of vocal tricks and an unbelievably malleable and toothsome face, provokes roars of delight from the audience.
Indeed, the nature of this show is that the audience will have a whale of a time bathing themselves in the nostalgia of their collective youth. An appearance by Rambling Sid Rumpo, Julian and Sandy or Dame Celia Molestrangler has them applauding and in paroxysms of laughter before a word is uttered.
The two longer set pieces are reworkings of classics. The story of Oliver Stick (not Twist - think pontoon) in the first episode is extremely funny and very imaginative, inevitably featuring the song Hello Ollie. The nouveau Cinderella after the interval is also funny but not quite to the same extent.
The main characters are well supported by Charles Armstrong as announcer and straight man Douglas Smith and actress Julia Webber, operating the sound effects and smiling a lot.
The formula works and all fans of the radio show will love this Christmas Special. It will take them back in time to what might have seemed the innocent days of the 1960s. However, given that almost all of the best laughs are generated from double entendres or sexual innuendo, maybe in future, the older generation will have to more careful when criticising the more liberal attitudes of their children and grandchildren.
Reviewer: Philip Fisher