Royal Danish Ballet Soloists and Principals
Choreography by August Bournonville
Sadler's Wells, Peacock Theatre
–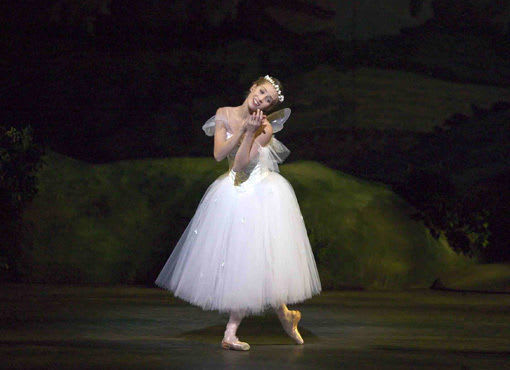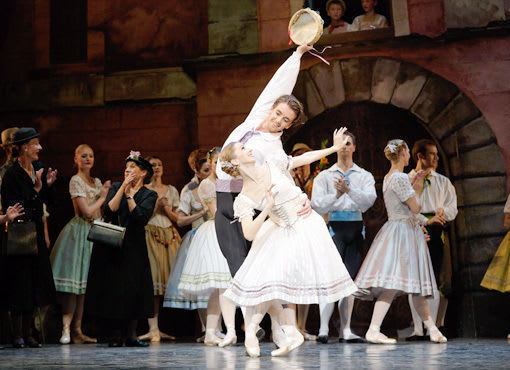 A small troupe of twelve and the legendary Sorella Englund from The Royal Danish Ballet are travelling light: no sets, no props, no orchestra, just costumes and the lighting skills of Maarten K Axelsson.
What they do bring with them are their remarkable talents for lightness and a marvellous projection of the bliss of dancing August Bournonville's airy 19th century choreography.
Influenced by his French and Italian dancing tuition, choreographer and ballet master Bournonville (1805-1879, contemporary and friend of Hans Christian Andersen) created more than fifty works for The Royal Danish Ballet, preserving the early elegant French style. And this is the graceful signature style the RDB has preserved to this day.
In that London has not had a visit from them in ten years, any chance to see them has to be grabbed with both hands. Only three performances in London: lucky New York is getting seven next week at The Joyce Theater.
Four short pieces, A Folktale; Flower Festival in Genzano; Jockey Dance; La Sylphide Act II, before the interval and two longer, Conservatoire; Napoli Act III, after, the evening is two hours of pure delight, tambourines opening and closing the show.
Entranced by their buoyancy, precision and nimble feet, a smile never leaves my face. And I do believe one of the boys, Sebastian Haynes with the dazzling grin, is flirting with the audience: is he making eyes at us? Talk about engagement. But they are all totally engrossed in their roles and each other, unwaveringly in the moment and completely focussed.
Enchaînements of quick delicate steps, battements, balances, arabesques—the full balletic vocabulary spun with gossamer filigree—and a veritable batterie of jumps and turns (my companion, a basketball player in his youth, remarks on their astonishing high leaps from standing position...).
A Folktale's celebratory pas de sept shows off their vibrancy, long legs, stylishness and speed. Diana Cuni and Andreas Kaas (replacing an indisposed Alban Lehndorf) bring a youthful exuberance to Flower Festival in Genzano.
Utterly exposed on a bare stage against a blue cloudless background, their enthusiastic pleasure in the dance lifts the spirit. A happy Giselle and her beau, a lover and his lass, he a leggy youth, she feather light.
From Bournonville's last ballet the Jockey Dance male racing duet is all about jaunty jockey boys and their competitiveness. Cheeky chappie Sebastian Haynes tries to see off determined Marcin Kupinski. Two different personalities vie for our attention. And get it.
La Sylphide we know. Originally created for Marie Taglioni, it opened in Paris in 1832. Bournonville created his own version in 1836 after seeing it in Paris in 1834. The ballet has been the stay of the company since.
Inevitably it had to be part of this potpourri of dance. The dramatic Act II, the tragic denouement with Madge the witch in control, brings Sorella Englund, who has been performing this role for a quarter of a century, to the stage in full flamboyant mime. James's nemesis, she controls the stage with her remarkable presence. Did he and the Sylph ever have a chance?
Ulrik Birkkjaer and Gudrun Bojesen as James and the Sylph make up for the lack of set and context with emotional characterization. She floats and he sets his kilt a-swinging with amazing entrechats and jumps. Sylphs Susanne Grinder and Kizzy Matiakis dance in attendance.
The pas de trois from Conservatoire (1849) is Bournonville's memory of class in the Paris Opera: Gudrun Bojesen and Diana Cuni in white tulle and black velvet ribbons round their necks have Ulrik Birkkjaer as their ballet master.
The evening ends with what is considered to be Bournonville's most important work, Napoli (1842), which is a constant in RDB's repertory: the pas de six and the tarantella from Act III, refreshing sunny dances to insulate us against London's windy rainy streets.
Dancers fill the stage and evoke the missing Napoli set with the force of their vivacious dancing. Surefooted, mercurial, inexhaustible energy and fabulous ballon, this is a party piece to end all party pieces. Each performs a variation to supplant the previous one—Kizzy Matiakis catches my attention.
No favourites, though, they all dazzle and infect us with Bournonville's firm belief in the harmonious joy of dance, Gregory Dean, Amy Watson, and Femke Slot, too. There, I've name-checked them all. What a showcase: if you ever need a reason to travel to Copenhagen, this is it.
Reviewer: Vera Liber