Ruined
Lynn Nottage
Almeida Theatre
(2010)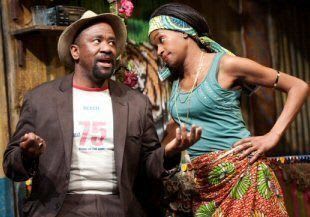 Mama Nadi, the central figure in Ruined, is an African Mother Courage. As war rages all around, she runs her bar cum brothel offering succour, liquor and girls to whichever side is in the ascendancy.
The conflict in DRC (the Democratic Republic of the Congo), a mineral-rich country in the grip of poverty, is a bitter tribal war characterised by acts of unspeakable inhumanity that can leave a girl traumatised and, as the title suggests, ruined.
The remarkable achievement in this Off-Broadway import is the way that, through the medium of a bar on the frontline, we are given an understanding of the horrors faced by all in DRC but especially innocent women for whom a brothel becomes a haven safer even than a missionary church.
Jenny Jules gives what may well be the best performance of her career to date as Mama. She combines the inherent toughness that can stare out a soldier with a machine gun with hard-nosed business acumen and even a soft heart, though that is usually buried deep beneath the tough surface.
As ignorant soldiers from both sides pour through, it is the girls' heartrending stories that emerge. Sophie, played by Pippa Bennett-Warner, has been so badly violated that she can only perform as a singer. Kehinde Fadipe is Josephine, an old lag who at one time was the daughter of a local chief and still retains some pride despite her degradation.
Michelle Asante's Salima suffered horribly after being kidnapped by the militia and kept chained as a communal slave for five months, only to be spurned by the family on returning and, to cap it all, discovering that she is pregnant.
The men are portrayed as either cruel murderers or crafty businessmen, the latter group best exemplified by Christian (Lucian Msamati). He is a humorous wheeler-dealer making a crust pretty harmlessly as the world collapses around his ears.
The soldiers have been driven by a kind of one-upmanship to the point where they behave like animals with one side's bestiality taken a stage further by the other in a terrifying surge of collective hatred for humanity.
Congratulations should go to designer Robert Jones who has created a totally realistic corrugated iron hut on a revolve to keep the action moving and Christopher Shutt whose soundscape completes the impression that if only the temperature were as steamy as the story, we could really be in the DRC bush.
Lynn Nottage may veer towards melodrama at times but the overall impact of Ruined should not be underestimated. This is the kind of work that makes the supposedly civilised world understand what is going on in countries that are far too rarely featured in the media or the arts. For that, Indhu Rubasingham's powerful production should be commended to anyone with an interest in politics or the plight of women in paternal societies.
Playing until 5 June
Reviewer: Philip Fisher